Father's Day is a great time to show the special dad in your life just how much they mean to you. Celebrate your dads by getting crafty with your Father's day gift ideas:
DIY Fathers Day Gifts from the Kids
Now let's take a look at these amazing DIY Father's Day gifts you can make with the kids!
Make Dad a Rockin' Frame
This post may contain affiliate links. As an Amazon Associate I earn from qualifying purchases. For more information, see our disclosure.
This craft is not only easy but also gets the kids outside for part of it. Pick up a basic picture frame from Amazon or even the dollar store. Have the kids either draw a photo to put in the frame or print off a favorite picture of dad and the kids.
Use a very strong adhesive glue and allow the kids to glue the rocks they found outside all around the frame. Let them get creative with the pattern and design. You can also paint the rocks before gluing them on to the frame for an added effect.
Tree of Life
On a large piece of poster board or sheet paper, have the kiddos draw a basic tree. Be sure to include a truck and branches, but no leaves.
On a few different paper plates, give the kids a choice of colors. Have each child dip their hand in a color and imprint their hand on a branch of the tree to act as the leaves of the tree. Under each hand print, have the child write their name and age. Add a "Happy Father's Day," marquee across the top and voila!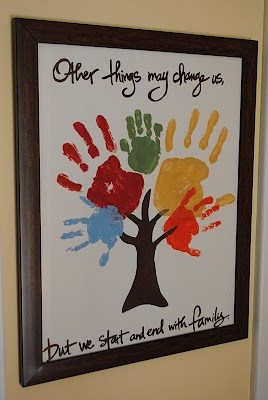 Self Portrait of Dad
Gather up construction paper, old magazines, scissors, glue and markers. Let the kids create their own "self portraits" of what dad looks like in their eyes.
This can be a very fun and memorable way to mark the day. This is also a great imaginative and fine motor activity for younger children.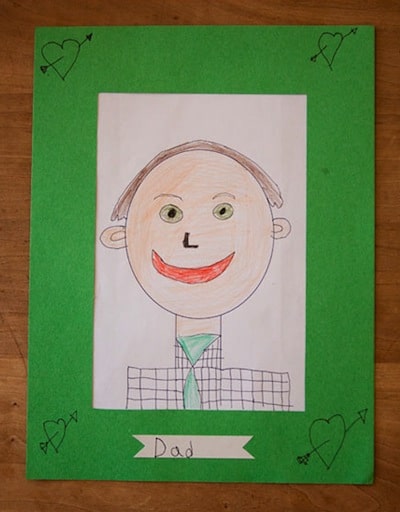 Hand Painted Coffee Mugs
At Amazon or the dollar store, pick up a couple basic white coffee mugs. You can also use portable coffee mugs for this activity, too! Allow the kids to color, draw and write on the mugs. Encourage them put things that remind them of their dad or grandpa.
Do the writing for any little ones that don't yet know how to write or spell. Be sure to pickup some ceramic paint or paint pens for the kids to use, so that the mugs can be washed by hand after use.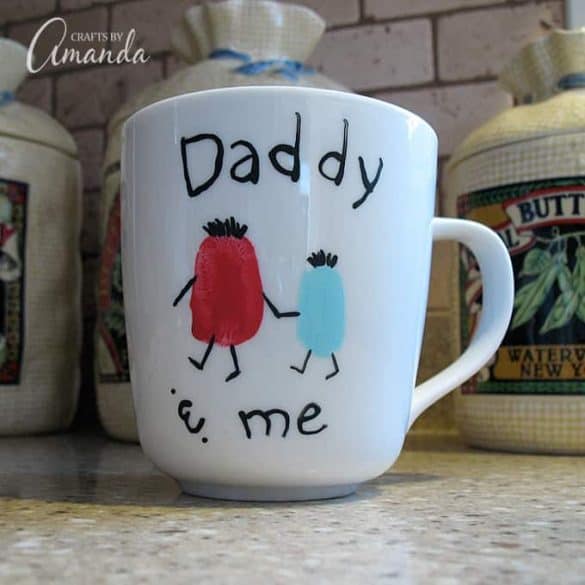 Thumbprint Key Chains
Any kind of modeling clay will work well for this gift idea! Cut out small pieces of the clay for each child. Make sure they are small enough to be made into key chains. Have each child put their thumb print on each cut out piece.
Do a key chain for each child. Use a toothpick to write their name or a message to dad on it. Be sure to poke a hole on the top or a corner of the clay before allowing it to dry. Typically, most clay can dry by simply being left out or in the sunlight.
Sculpting clay can be used instead and baked in the oven if you are seeking a quicker drying method. Once your design is dried, loop a key chain through it. Finally, allow the kids to paint it if they so choose and then this project is complete.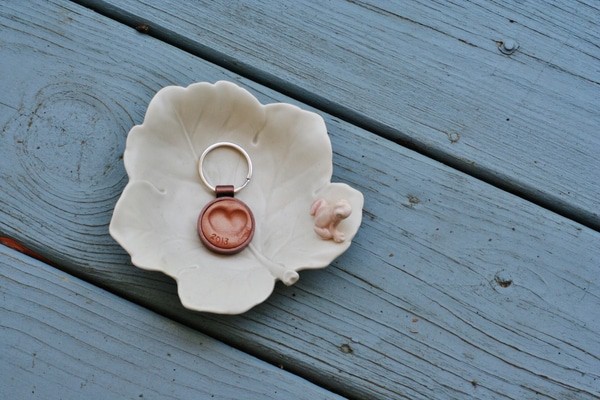 Make the dads in your life feel extra special with these Father's day gift ideas! Your kids will love helping to make something handmade.