National Donut Day (or "Doughnut" Day) is celebrated on the first Friday in June, and this year it lands on June 4th. This tasty holiday was created by the Salvation Army in 1938 in honor of those who served donuts to soldiers in World War I. It started as a fundraiser for the local Salvation Army in Chicago, to help the needy during the Great Depression. Now it is celebrated across the country. (I think this is definitely a holiday worth keeping!)
Here are five fun ways to celebrate National Donut Day.
Make your own donuts.
First, the obvious one! Have your kids help you make homemade donuts. I have many fond memories of helping my mom make donuts. Not only were they delicious, but I loved using the donut cutter and popping out the donut holes. Your kids are gonna love it, too!
This post may contain affiliate links. As an Amazon Associate I earn from qualifying purchases. For more information, see our disclosure.
Perhaps the thought of making your own home-made donuts feels a bit intimidating. It's actually not as hard as it sounds. You will need to have a donut cutter and deep fryer, but that is all the special equipment you will need. (And even if you don't own a donut cutter, you can use a biscuit cutter as well.) Here are a couple of recipes to try:
Cinnamon and Sugar Donuts
Ingredients
3 eggs
1 ¼ cups sugar
¼ cup butter (melted)
1 cup liquid buttermilk (you can buy buttermilk in a carton or mix it from buttermilk powder)
2 teaspoons baking powder
1 teaspoon baking soda
½ teaspoon salt
1 teaspoon vanilla
4-5 cups of flour
Vegetable oil
Cinnamon/sugar mixture (about 1 cup)
Directions
Beat eggs thoroughly.
Add sugar and melted butter.
Stir in buttermilk, flour, baking powder, soda and salt until smooth.
Add vanilla.
Chill dough for two hours.
Roll dough out on floured surface until it is ½ inch thick.
Cut with a donut cutter.
Deep fry at 375 degrees for about two to three minutes on each side.
Set on paper towels to cool down.
While still warm, roll donut holes and donuts in cinnamon and sugar mixture.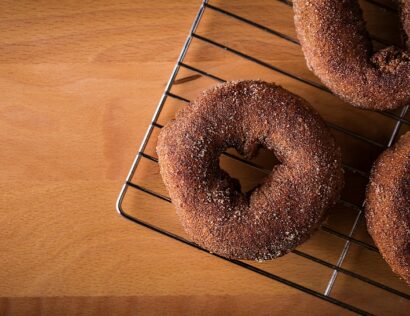 Glazed Donuts
Ingredients – Dough
¼ cup plus 1 teaspoon granulated sugar, divided
1 packet or 2 ¼ teaspoon active dry yeast
1 cup whole milk
½ teaspoon kosher salt
6 tablespoons butter, melted
2 large eggs
½ teaspoon vanilla extract
4 ½ cups flour (plus extra for rolling surface)
Canola or vegetable oil, for frying
Ingredients – Glaze
¼ cup whole milk
2 cups powdered sugar
½ teaspoon pure vanilla extract
Directions
Microwave milk until lukewarm, about 40 seconds. Add a teaspoon of sugar and stir. Add yeast and let sit until frothy, about 8 minutes.
In a medium bowl, whisk salt and flour.
In a large bowl, whisk together ¼ cup sugar, butter, eggs, and vanilla.
Pour in yeast mixture, and mix.
Add dry ingredients, stirring with a wooden spoon until dough forms.
Transfer to a lightly floured surface and knead dough for about 5 minutes, adding in a teaspoon of flour at a time if needed. Dough should be slightly tacky.
Form into a ball and place in greased bowl. Cover with a dish towel and let rise until doubled in size, about 1 hour.
Punch down dough and then roll out on a floured surface about ½ inch thick. Cut out with a donut cutter or biscuit cutter.
Place donuts and holes onto a baking sheet covered with parchment paper. Cover with a dish towel and let rise again, around 40 minutes.
While donuts are rising make your glaze by whisking together milk, powdered sugar, and vanilla until smooth.
Heat 2 inches of oil in a dutch oven over medium heat until oil reaches 350 degrees. Cook donuts in batches, until golden brown on each side. (About 1 minute per side).
Transfer donuts to paper towels. Once they are cooled slightly, dip donuts into glaze and place onto a cooling rack.
Donuts are the best when fresh, so if you have lots of extras, share them with your neighbors! I'm sure they will be more than happy to celebrate National Donut Day with you!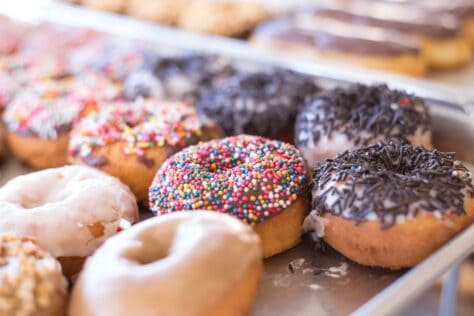 Watch videos about how donuts are made.
Here are two YouTube videos that you can watch with your kids. The first video shows how different types of donuts are made, and the second video showcases the deliciousness of Krispy Kreme donuts. Beware. . . these will make you want to eat a donut! (or 2).
Read some donut books with your kids.
Grab a warm, freshly made donut, a cold glass of milk, and settle in for some donut story-time.
There are so many fun stories about donuts to share with your kids. If you are able to, plan ahead and check a few of these out from the library ahead of National Donut Day. If you don't have time to visit the library, I have included the links to some videos below.
The Hole Story of the Doughnut by Pat Miller, illustrated by Vincent Kirsch. You can view the video here.
Arnie the Doughnut by Laurie Keller. You can view the video here.
Dozens of Doughnuts by Carrie Finison, illustrated by Brianne Farley. You can view the video here.
Get Crafty
Have your kids create their own special donut using items you more than likely already have around the house.
Items needed:
paper plates, scissors, paint/paintbrushes, glue, small pieces of paper for sprinkles (optional: glitter, glitter pens, markers, colored pencils)
Directions:
Cut a hole out of the middle of the paper plate so it resembles a donut. (If you have younger kiddos, you might have to help them with this step.)
Paint the paper plate a light brown color, let dry.
Using a different color, paint "frosting" on top of the donut, let dry.
Add sprinkles (glitter, small pieces of confetti, etc.) If you want to skip using glue, you can just have them use markers or colored pencils to add the sprinkles.
Visit a donut shop.
If all else fails, and you don't have time (or the desire) to make homemade donuts, take a trip to your local Krispy Kreme or Dunkin Donuts (or your local donut shop). Many donut establishments give out free donuts to customers in honor of National Donut Day. Now that's a sweet deal!