Food allergies can be awful. Peanut butter and jelly sandwiches are absolutely a popular snack. They are simple to make, affordable, and quite tasty as well. I remember hearing my mother explain to me how she found out I was allergic to nuts. She always explained how I almost stopped breathing and my skin broke out in hives. Thankfully, today we have more medicine and more studies to educate about food allergies.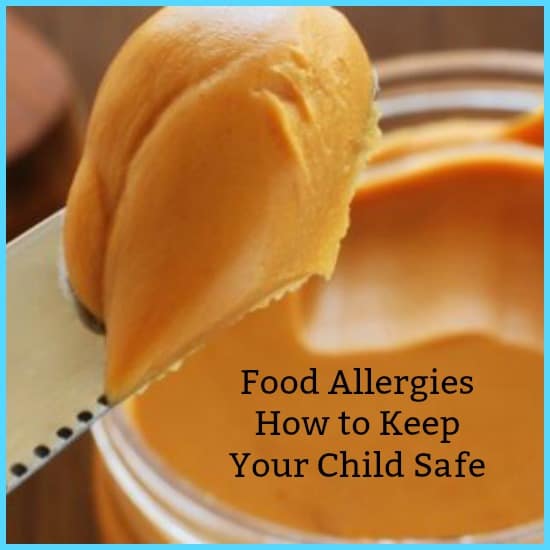 This post may contain affiliate links. As an Amazon Associate I earn from qualifying purchases. For more information, see our disclosure.
According to www.snacksafely.com 15 million people in the United States suffer from food allergies. Currently, there are no cures to food allergies in the United States or globally. In fact, food allergies are very common in emergency rooms. The Food Allergy Research and Education (FARE) states that food allergies can account for over 200,00 emergency room visits. Unfortunately, anaphylaxis (shortness of breath) is one of the major symptoms of an allergic rising. Parents must be aware of these symptoms which can be life-threatening.
What to know about food allergies
When you are allergic to a specific food your body starts to attack it as a dangerous invader. This is a defense mechanism your body uses to create antibodies and protect the immune system. Consequently, the symptoms of food allergens can cause severe symptoms depending on the allergic reaction. According to the Food Allergy and Resource Program at the University of Nebraska Lincoln.
The most common food allergies are:
Peanuts

Milk

Shellfish

Tree nuts (pecans, walnuts)

Wheat-Gluten

Soy

Fish with shells

Eggs
Prevent food allergies as a new mom
Although many people have written studies about prevention of food allergens in reality, there is no way to prevent a food allergy. However, the Academy of Allergy Asthma and Immunology states that breast milk strengthens the immune system and reduces the risk of developing food allergies. Don't forget to consult your doctor before introducing your child to solid foods.
Keeping your Children Safe
If you recognize that your kids have an allergy this is the time to consult with your doctor. It may be a wise decision to schedule an appointment with an allergist. A visit can help you as a parent on what to expect for allergies in addition to learning valuable lessons to help save your child's life.
SOURCES: