The entryway can be one of the biggest traps for clutter. Every family member that enters the front door is looking for the nearest spot to drop all their belongings. From backpacks, to car keys –
dog leashes, and extra jackets; how do you stop the pile-up? Try a minimalist style entryway. Minimalism design encourages simple and serene interiors, where less is more.
By taking a minimalist approach you entryway, you can ensure a clean and organized space where everything has a home. Check out these 8 beautiful minimalist style entryways for inspiration.
This post may contain affiliate links. As an Amazon Associate I earn from qualifying purchases. For more information, see our disclosure.
This space has everything you need to keep an entryway organized, and nothing more. A clean-lined console table holds a few decor items and serves as a place to drop your spare change or incoming mail. Keep purses and jackets out of the way by hanging them on a stylish wall hook. A basket can be a vessel for shoes or umbrellas.
Even if your house doesn't have a designated entry area, you can create one with a few simple elements as shown here. Wall-mounted shoe storage, a mirror, wall hooks and a pretty rug establish the space as a minimalist yet functional entryway.
As this space proves, a bench and a mirror are all you really need for an entryway. The bench provides a convenient spot to drop your purse, and shoes can be store underneath it.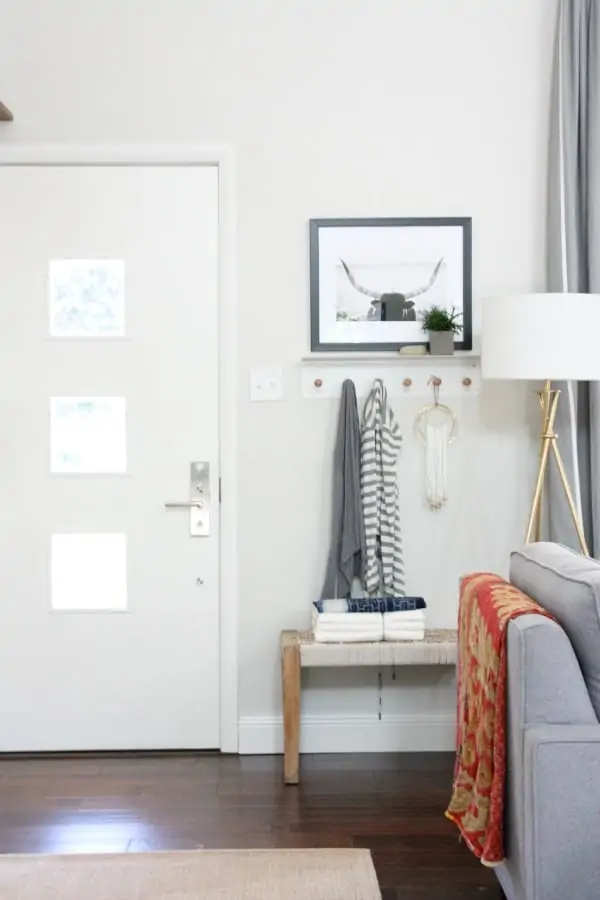 House Tweaking
This beautiful entryway features a petite woven bench next to the door, providing a perfect spot for slipping shoes on or off. Wooden knobs provide a spot for purses and jackets, while the wall ledge above can be a place to drop car keys.
Minimalism doesn't have to mean colorless and boring. This bright and happy space is full of color yet still simple and clean. A cute bowl on your entry table is the perfect catchall for jewelry, keys, and change.
It doesn't get much easier than this. A mirror, a row of wall pegs, a bench, and a couple of baskets. And voila a bright and organized space where everything has a home.
Wall hooks save the day again in this narrow hallway entry. Consider a picture ledge full of favorite family photos to add some personality to your entryway.
Can wall pegs be art? This space says yes. These black circle pegs steal the show, while also providing a functional spot for bags and hats. Shoes are stored under the bench. And a shallow basket is a great place for mail and other clutter.