Stylish, themed, and easy to make, these creative Homemade Pinata Ideas are the perfect inspiration for crafting DIY Pinatas for any birthday party, holiday or celebration!
Purchasing a store bought pinata is definitely one way to celebrate, but the possibilities are limitless when you do it yourself!
This post may contain affiliate links. As an Amazon Associate I earn from qualifying purchases. For more information, see our disclosure.
A DIY Pinata is a unique way to bring spark to a party—whether it is with a simple cardboard pinata made in the theme of a child's birthday party, an elaborate paper-mache creation, or another homemade wonder!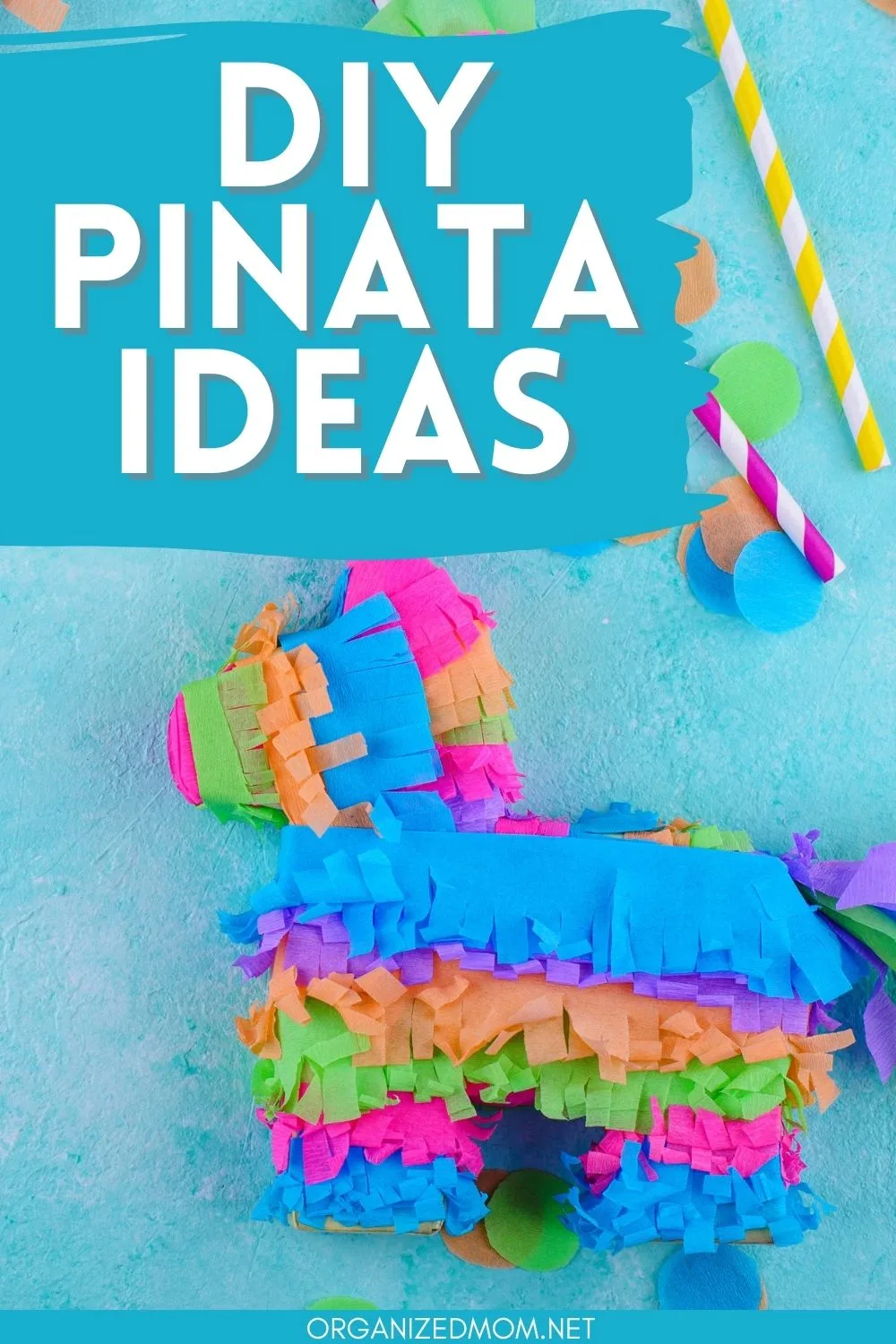 Creating your own pinata is an easy way to personalize the party decor specifically for the event or the guest of honor, and it means you can make it for any celebration or holiday!
A Christmas Pinata? Sure!
Halloween? Why Not!
Once you search through these seriously jaw-droppping party decorations, it will be easy to find your favorite style and add a touch of personality to all future parties and events.
Pinatas go great with balloons too—be sure to check out these awesome balloon decorating ideas!
Homemade Pinata Ideas—Awesome Themed DIY Pinatas
Now check out some of these amazing homemade piñata ideas!
DIY Unicorn Pinata
Do you believe in unicorns? If you don't already, you will when you create your own beautiful little unicorn pinata.
This adorable little friend has rainbow hair, a golden horn, and is just big enough to hold your favorite candy treats!
Day of the Dead DIY Skull Pinata
The thought of a skull pinata might sound a bit creepy, but when you see this smiling Day of the Dead Skull, you'll be pleased at how cheerful he seems.
With eyes surrounded by flowers and a sweet flower hat on his head, this sweet skull is ready to bring the life to your party!
You could also easily change the embellishments to make a Skull Halloween Pinata.
DIY Disco Ball Pinata
If you are having a dance party, this DIY Disco Ball Pinata will fit right in.
As glimmery and shimmery as any disco ball at the bar, this disco ball comes with the added bonus of being filled with candy or any other treats you want to share with your guests!
Easter Easter Bunny Paper Bag Pinata
It might surprise you to realize that you can make a pretty great pinata out of a paper bag, but once you see this adorable Easter Bunny pinata, you'll be a believer.
The handsome blue bunny looks so dapper in his bow tie, you might feel a little guilty about breaking him open!
This is a great place to start if looking for an easy homemade pinata—just change the top to look like any other animal or theme.
DIY Ghost Pinatas
If you are planning a Halloween party, you simply have to make some space for these precious ghost pinatas!
These spooky little friends will bring all the spirit to the party you could possibly want, especially if you fill them with everyone's favorite Halloween candies!
DIY Joker Pinata (Batman Themed Pinata)
If your birthday child is a fan of Batman, then get ready for his nemesis – The Joker – to crash the party!
With green hair and bushy eyebrows, the joker is all dressed up in his iconic purple suit and green tie.
We'd love to see kid wearing a Batman cape and mask while they smack into this one!
Easy DIY Star Wars Death Star Pinata
There isn't much of anything nice you can say about the Death Star from Star Wars, but when it's a Death Star pinata filled with candy, it becomes sweet indeed.
This clever pinata is the perfect party game for any Star Wars fan or May 4th party.
May the Force be with you!
Cute DIY Flamingo Pinata
For tropical-themed or summer parties, you can't go wrong with a friendly flamingo pinata.
This happy friend just brings joy to the party with long spindly legs and a pretty curved neck. But the happiest part of all is after you bust him open to get to all the treats inside!
DIY Bacon Pinata Tutorial
You may wonder what type of party would benefit from a bacon-shaped pinata. But if you love bacon, the answer is that EVERY party needs a bacon shaped pinata.
With this tutorial, you will now know exactly how to make one!
Cinco De Mayo DIY Taco Pinata
If you are decorating for Cinco De Mayo or simply for Taco Tuesday, you need one of these adorable taco pinatas in your life.
This thing almost looks good enough to eat, and even includes lettuce and tomato.
Just be sure to serve lots of tacos before hanging this pinata up, because it's sure to give everyone a craving!
No Mess & Super Easy: How to Make a Flag Pinata
When you plan a gathering to celebrate patriotic holidays like the 4th of July, one way to increase the fun is with a super-festive flag pinata.
The stars and stripes in pinata form is simply beautiful as it hangs in the breeze.
And when the kids gather around to break it open, the firecracker-like explosion will rain candy instead of sparks!
Cute Car DIY Pull String Pinata
If you have never seen a pull-string pinata before, you're going to love this little red car pinata.
So much safer for the little ones than sending them out with a baseball bat, this clever pinata still delivers all the joy when someone pulls the right string to release the candy!
Duct Tape Heart Shaped Pinata DIY
This heart shaped pinata is made with duct tape, making it appear quite a bit different from your usual pinata.
Perfect for every event where you might want to decorate with hearts – or bust hearts apart with bats – we can see this heart pinata at everything from Valentine's Day to break-up parties.
DIY Mini Rainbow Pinatas
Just between us, we think every party needs miniature rainbow pinatas all over the place.
These bright miniature pinatas may or may not contain any candy (that's up to you!) but they are certainly filled with happiness!
These brilliant homemade pinata ideas are just the start of what you could create given some cardboard, tissue paper and a bit of creativity!
Be sure to save this to your Party Ideas board on Pinterest so it is easily accessible when you need it.
And follow Party + Bright on Pinterest for all of the best holiday inspiration, party decor, and tips for throwing fabulous parties on a budget!
More Party Ideas to Make Planning a Party a Breeze!