Gather your favorite friends, family, neighbors or co-workers for a fun party. Here is all you need to know about how to host a favorite things party.
What is a Favorite Things Party
In short it's a gift exchange party. Each guests brings a gift that is something that is a favorite of theirs. Then at the party the gifts are exchanged and each guests gets to go home with another guests favorite thing.
How to Get Started
Set a Price
This post may contain affiliate links. As an Amazon Associate I earn from qualifying purchases. For more information, see our disclosure.
The first thing you need to decided when hosting a favorite things party is what price point you want your guests to stay in. We all have favorite things that we buy at the dollar store and those that have a bigger price tag. So let your guests know what value of gifts to buy.
There have been parties with a $5 price for the gift. Others have been $30 gifts. Know your audience on this one. You would never want anyone to feel excluded by the price being too high.
Decide How Many Gifts to Bring
This is where you can really start having some fun as the host of the favorite things party. You get to decide how many of the same gift for your guests to bring.
If your guests bring one gift to exchange then they will leave with one gift. If you have them bring two gifts (the same item) to exchange then they will leave with two gifts and so on and so forth.
You also have the option of having your guests bring enough gifts for each person at the party to take home one of everybody's favorite things. This works best if your guest list is very short.
When you choose how many of their gift to bring keep in mind your price limit. When bringing three gifts $5 is probably a good gift price. If you choose to go with a higher limit like $30 you may want to only exchange one.
If your guests are bringing a gift for each person in attendance you will have to set your price accordingly for how many people you plan to have attend so as not to make it a burden.
Theme
You do not need a theme for the gifts other than "favorite things". Yet, you could always add one.
For example favorite beauty product, snacks, things to do with the family, things that help around the house or accessories.
To Wrap or not to Wrap
When speaking of gifts we usually think of things that are gift wrapped. For your party you'll need to let your guests know if you would like the favorite things wrapped individually. Or if they don't need to bother with wrapping.
Let's Get This Party Started
Your guests have been invited. They know how many favorite things to bring and the price limit. Now what?
Let's say your guests have each brought 3 of their favorite things (same item). When they arrive have a bowl with slips of paper and a pen. Let them write their name on 3 separate pieces of paper, fold them up and put them in the bowl.
Next, when you are ready for the gift exchange the person whose turn it is will draw 3 names out of the bowl. Being sure not to get their own and not the same person twice.
Those will be the people receiving that person's favorite thing. If your guests gifts are wrapped they can open them first before the giver shares the reason for the gift. Or after, it's your call.
Then they get to share why what they brought is one of their favorite things. As hostess keep a list of each person's favorites and where they can be purchased to send out to guests after the party.
By the time each guest has had a turn sharing their favorite thing and drawing names to know who to give their gifts to the gift exchange is complete.
As hostess you could also give a small party favor to your guests of one of your favorite things (or treats).
A Few of My Favorite Things
IKEA Resealable Bags
I LOVE resealable baggies from IKEA. They are my favorite because they come in a variety of colors and sizes. Like super awesome sizes that you don't always find at the grocery store.
As host of a favorite things party this is the type of thing that would be perfect if you were doing a theme of kitchen or things that make your life easier.
Raw Sugar body butter
Another favorite thing is this Raw Sugar body butter from Target. It smells AWESOME and is silky and creamy and all the things I love at a great price.
Bringing this to a beauty products or health themed favorite things party would be a winner.
Gratitude Journal
This idea is something that was actually given at a favorite things party. It's a gratitude journal.
I love this thing! Each day has 3 lines to write what I am grateful for. It has been life changing and is now one of my favorite things.
If you are interested in learning more about practicing gratitude check out this post on 3 easy ways to start practicing gratitude today.
This book would also be an awesome addition to a book themed favorite things party. Or how about a self improvement themed favorite things.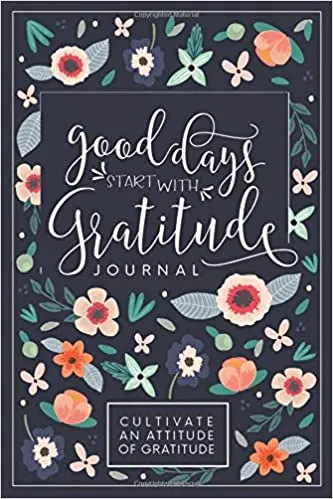 Dot's Pretzels
I have a deep love for these delicious pretzels. They have definitely been to a favorite things party with me. Perfect for a snack themed party or to have as a snack at the party.
They also come in a variety of tasty flavors like original, southwest, or honey mustard. Beware, they are seriously addicting.
You can host a favorite things party any time of year. It can be an annual event as our favorites change all the time. You can also spice things up by adding a theme. It's so fun to get to see what everyone loves and to get to take some new favorites home.