It's nice to go out for a fancy dinner on Valentine's Day. And spoiling your significant other with an expensive or elaborate gift can also be fun. But it's also nice (or quite frankly, sometimes necessary) to celebrate Valentine's Day in a way that is much friendlier on the budget. These inexpensive date night ideas can help.
If you want to have a simpler Valentine's Day this year, hopefully this article will help you find the perfect, less expensive way to celebrate with your honey.
Here are several inexpensive date night ideas for Valentine's Day.
Go to an arcade.
This post may contain affiliate links. As an Amazon Associate I earn from qualifying purchases. For more information, see our disclosure.
Sure, you might be the oldest ones there, but who cares? Recapture the fun of your youth with a little friendly competition with your significant other. Whoever wins the most games can give the other one a backrub when you get home!
And although date nights don't usually include the kids, if your sitter has to cancel at the last minute, this can easily turn into a night of fun family bonding time.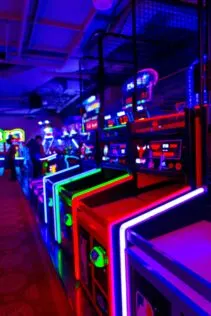 Recreate your first date.
Most couples probably didn't go out for a fancy dinner on their first date. My husband and I played pool on our first date at a local bar. At $1.00 a game, this was a cheap date at its finest! Think back on your own first date and see if you can recreate some of that same magic!
Meet for lunch.
Who says that you have to go out for dinner on Valentine's Day? What about a fun lunch date at one of your favorite restaurants? Split an entrée or take advantage of their lunch special to save a little moolah. This works especially well if Valentine's Day falls on weekday and you are both working because chances are, childcare is already in place. So no need to hire a babysitter!
Go roller skating or ice skating.
Live in a warm climate? Check out the local roller rink. Live in a cold climate? Lace up your skates for a spin around the ice. These are both fairly inexpensive activities that will probably have you laughing while you try not to drag the other person down with you! Just try not to break anything. 🙂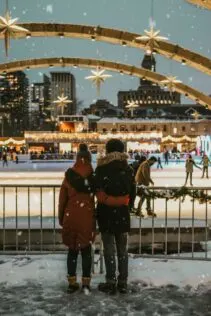 Get your bowl on.
When was the last time you laced up a pair of bowling shoes? Bowling is a pretty cheap (and highly underrated) fun activity. You can make it into a friendly competition to see who can get the highest score, most pins knocked down, most spares, or strikes. The only real skill you need in bowling is to not drop the bowling ball on your foot.
Go out for ice cream or frozen yogurt.
Skip the expensive dinner and go straight for the dessert instead!
Make home-made ice cream together.
This is actually much easier than it may sound (you don't need a fancy ice cream maker, just search for home-made ice cream recipes for directions—there are tons). Grab some of your favorite toppings when you buy the other ingredients and indulge in this sweet treat at home!
Look through old pictures.
Grab a glass of wine and some old scrapbooks or pictures from when you first met. It will be fun to sit down on the couch together and reminisce about old times. And while you're at it, take some new selfies to add to the mix. Keep out your favorite ones to show the kids the next day. They love to see "younger" versions of you.
Try a new outdoor activity.
If Valentine's Day falls on a weekend, it makes it a little easier to try a new activity, but it's o.k. to celebrate a few days early or a few days late. If you live in a snowy area, find some an outdoor store that has cheap rentals for cross-country skiis or snowshoes, or ask around and see if your neighbors have any you can borrow.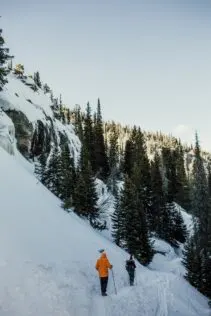 Go on a hike or walk.
If you live in a warmer climate and can't enjoy a new snowy activity, then why not get out and enjoy nature by going on a hike or a long walk? Spending time in nature is good for our mental well-being and that quiet time will give you a chance to have some meaningful conversations with your partner.
Volunteer together.
Find a local organization that could use some extra help (there are plenty of them out there) and set aside a few hours to volunteer together. Spending quality time with your significant other while also helping out someone in need will leave your heart so full. This could also become a regular thing you do together, or you could involve your kids in the future as well.
Hit up a local used bookstore.
Set a dollar limit and then peruse all the bookshelves looking for the perfect book for your significant other. You can try to find a book you think your significant other would really enjoy, or try to find the wackiest book you can. Then grab a cup of coffee somewhere and reveal what you chose for your partner.
Find a discount movie theater.
These aren't available in every town, but this is a good option if you still want to do something more traditional but don't want to spend a ton of money at a regular movie theater. Often these theaters will have 1/2 price seats and fairly recent movies. And some even allow you to bring in your own snacks!
Peruse Groupon prior to Valentine's Day.
Groupon is available in most cities, and they provide awesome discounts on all kinds of things from restaurants to massages, to wines, to local events. Typically, when you purchase a groupon, you can use it right away. There are exceptions, so be sure to read the fine print. But this is great way to save money on a date night.
I hope this list of inexpensive date night ideas will help you celebrate Valentine's Day in a simpler and less expensive way. When it comes down to it, it really doesn't matter what you do, as long as you take the time to let your significant other know how much they are appreciated.
Happy Valentine's Day!