Today we are going to talk about something we all have to deal with daily – laundry.
We all know it's a never-ending task, but it's also an important one that can take up a lot of time and energy if not properly organized.
This post may contain affiliate links. As an Amazon Associate I earn from qualifying purchases. For more information, see our disclosure.
I am going to share with you the importance of having a well-organized laundry room and the key role that laundry room cabinets play in making our lives a little bit easier.
We all know how busy life can get with kids, work and all the other daily tasks we have to manage. Having an organized laundry room can be a game-changer when it comes to making the most of our time and ensuring that our family's clothes are always clean and ready to wear.
That's why I'm excited to share with you some tips and tricks to make the most of your laundry room so you can save time during your daily laundry chore.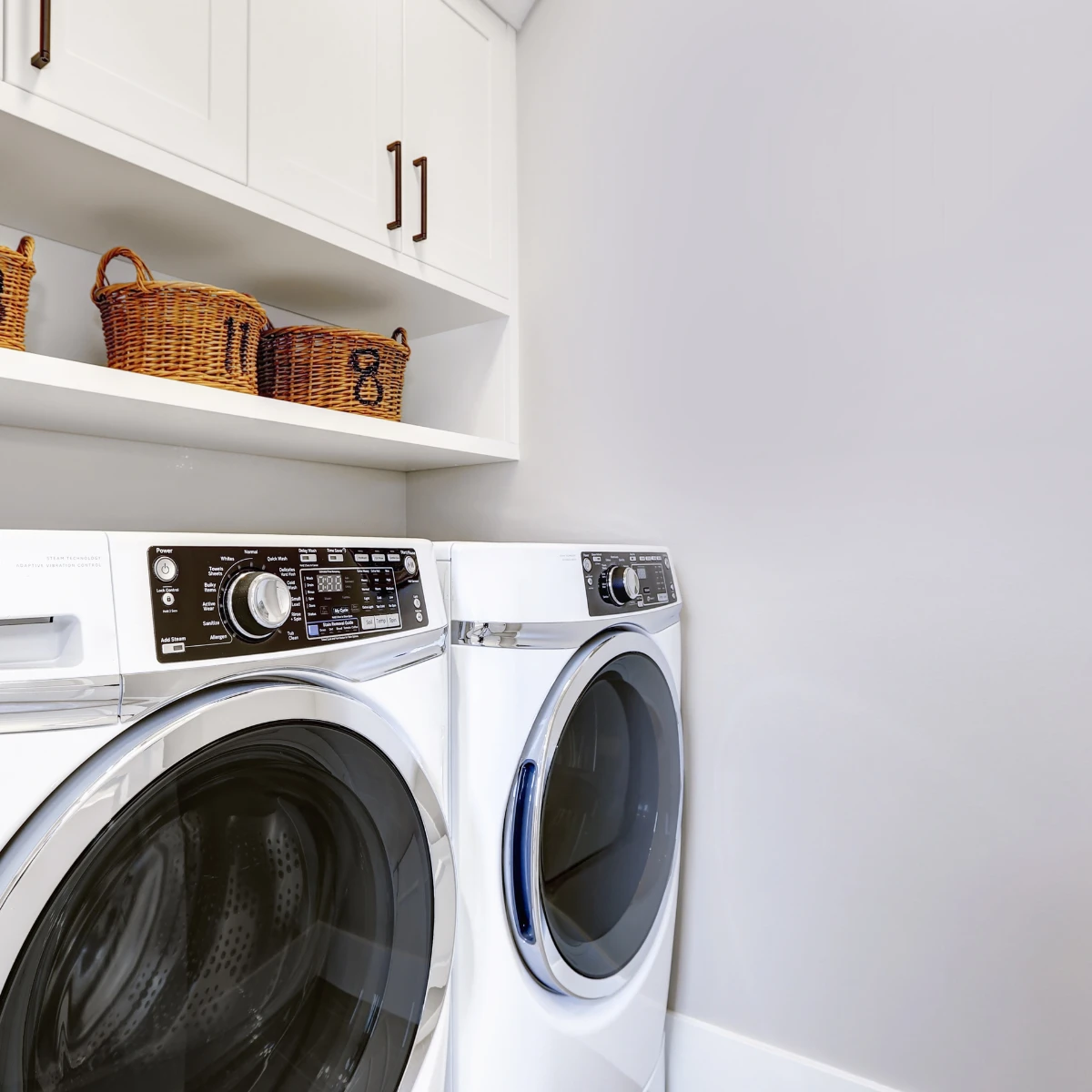 Maximizing Storage Space
As we all know, space can often be a challenge, especially in smaller laundry rooms. But don't worry, there are so many ways to maximize storage space and make the most of every inch in your laundry room – especially if we look up.
One great way to maximize storage space is to utilize hanging rods above the washing machine. Hanging rods are perfect for keeping your clothes off the floor and making sure they are easily accessible.
Another great option is making use of wall cabinets if you have the vertical space. Wall cabinets are a great way to keep your laundry room organized and to ensure that you have plenty of storage space for all your laundry essentials.
Open shelving is another great option for organizing your laundry room. This type of shelving allows you to see everything you have at a glance and makes it easy to grab what you need.
If you're looking for a more sophisticated solution, consider implementing pull-out wire baskets. These baskets are a great way to keep everything organized and easy to access.
Using clear bins and plastic containers is another example on how to keep your laundry supplies organized and easy to find. Clear bins are a great option because you can see what's inside, and plastic containers are a good choice because they are durable and easy to clean. You will now be able to make the most of your laundry room and have a more organized and efficient laundry day!
Best Solutions for Ironing Board and Laundry Baskets
It's time to tackle one of the biggest challenges in our laundry rooms: the ironing board and laundry baskets. Who wants to see a bulky ironing board taking up valuable floor space? There is also the issue of the never-ending pile of laundry baskets that seem to multiply by the minute. I've got some savvy solutions for you!
Let's talk about built-in cabinets. These beauties are a game-changer in the laundry room game. Not only do they keep your ironing board and laundry baskets out of sight but they also free up that precious floor space.
Now we need to talk about drying racks. These little gems are perfect for air-drying your clothes and helping you save some energy on your washing machine and they add a touch of style to your laundry room.
Let's not forget about our trusty laundry baskets. Keeping them in a designated area will help you stay organized and make it a breeze to find what you need when it's time to do laundry. Creating a space for your ironing board will ensure that you can tackle those wrinkles with ease. No more searching for that pesky ironing board under piles of clothes!
If you follow these tips, you'll turn your laundry room into a functional and stylish oasis. Go ahead and give yourself a pat on the back for taking control of this often-overlooked space!
Choosing the Right Storage Options for Laundry Supplies
Now it's time to talk about another laundry room must-have: storage for all those laundry supplies. Let's face it, it's tough keeping track of all the different products we need to get our clothes looking fresh and clean. But with a little bit of creativity and organization, we can make it happen!
Let's talk about the size of containers. When choosing containers for your laundry supplies, make sure they're big enough to hold all your products, but not so big that they take up too much space. Don't forget, you can always use a little bit of creativity to make the most of the space you have.
We also need to think about where to store our laundry detergent, stain removers, fabric softener, and dryer sheets. A great option is to use clear bins to keep everything in one place. This way you can easily see what you have on hand and avoid buying duplicates.
For small items like laundry boosters and spot cleaners, consider using glass jars. Not only are they functional, but they also add a touch of style to your laundry room. Plus, you can see exactly what's inside, so you know when it's time to restock.
Last but not least, it's important to keep your cleaning supplies separate from your laundry supplies. Not only will this help you stay organized, but it will also ensure that you don't accidentally mix up your products. Trust me, no one wants to end up with pink towels!
You now have all your laundry supplies organized and at your fingertips. No more searching for that elusive bottle of stain remover or running out of fabric softener mid-load. It's time to say goodbye to laundry room chaos and hello to a clean and organized space!
Creating a Workable Space
We are now going to get down to the nitty-gritty of laundry room organization: creating a workable space. The laundry room is a busy hub in any household and it's important to make sure it's functional as well as stylish.
It's all about making the most of the available floor space. Whether you have a small laundry room or a large one, it's crucial to find the right balance between storage and work area. You need space to fold clothes, sort laundry, and of course, operate your washing and drying machines.
To make the most of your floor space, consider adding designated areas for your washing machine and drying machine. This will not only help you stay organized, but it will also make your laundry day run more smoothly. No more tripping over baskets or struggling to reach your machines – with a designated area, you'll be in and out of the laundry room in no time.
We all know a well-organized laundry room is essential for a successful laundry day. By finding the right balance between storage and work area, you'll be able to tackle the never-ending pile of dirty clothes with ease. We all need a little more ease in our lives, especially on laundry day!
Personalizing the Laundry Room
Let's make this laundry room your own. It's time to add a personal touch to this utilitarian space and make it a reflection of your style.
First things first, let's talk color. Choose a color scheme that matches the rest of your home. Whether you prefer a classic white laundry room or want to add a pop of color, a new paint color can go a long way in making the space feel like your own.
Let's add some brightness to the room. Improved visibility is key in any workspace, and new light fixtures can make all the difference. Whether you opt for bright LED bulbs or a stylish chandelier, lighting will not only improve the look of your laundry room but also make it easier to see what you're doing.
It's time to get creative. Adding decorative hardware to your cabinets and drawer fronts is a great way to add a touch of your own unique style. Whether you go for sleek and modern, or opt for a more traditional look, this small change can make a big impact.
You laundry room doesn't have to be boring. You can make it a beautiful and functional room that you'll be proud to show off. Whether it's a fresh coat of paint, new light fixtures, or a touch of decorative hardware, these easy steps will help you create a laundry room that truly reflects your own unique style.
Small Laundry Room Solutions
Small doesn't have to mean boring. With a little bit of creativity and some smart storage solutions, you can turn your tiny laundry room into a stylish and functional space.
Custom cabinetry is the perfect way to add some personality and extra storage to your laundry room. Say adios to cluttered counters and hello to a beautifully organized space that'll make laundry day a breeze.
Don't forget to take advantage of that extra storage space up high! Your upper cabinets are just waiting to be filled with all those extra supplies that can quickly take over your laundry room.
If you need a little extra help, don't be afraid to ask for it! A professional organizer can work with you to create a laundry room that's both beautiful and functional for your family's needs. So go ahead and give your tiny laundry room the big style it deserves!
Bottom Line
We have now made it to the end of our journey to an organized laundry room! It's been so much fun sharing all these amazing tips and tricks with you. Let's do a quick recap of why having an organized laundry room is so important. It not only makes your life easier on laundry day, but it also helps keep the rest of your home feeling tidy and put together. And let's not forget, laundry room cabinets are a game-changer when it comes to creating that organized space.
It's time to wrap this up with some final thoughts. A well-organized laundry room with functional cabinets can bring so much joy and peace to your daily routine. It's a great feeling to know exactly where everything is and to have a designated place for everything. And the best part? It doesn't have to cost a lot of money or take a lot of time. Just take those easy steps and watch your laundry room transform into a beautiful and functional space.
Good luck and happy organizing. Your will be much happier once you have a laundry room you both need and deserve.