Carving pumpkins to celebrate Halloween always seems like a great idea, in theory. But when I'm faced with the actual carving, as my kids eagerly look on – it's pretty daunting and annoying. Laying out newspapers, gathering the right carving tools that I seem to have to re-purchase year after year, dealing with impatient kids as I try to clean out all the sticky seeds. Oh the seeds, don't get me started. And the goop – did I mention the goop?! It's a little much for a mom that doesn't exactly embrace messy activities.
So this year I thought I'd go for the no-carve pumpkins approach to pumpkin decorating. With so many clever and crafty people out there, you can find thousands of ideas for no-carve pumpkins. Here are a few of my favorites that are easy enough for your kids to handle. The best part? No goop!
1. Cute Witch Hat Pumpkin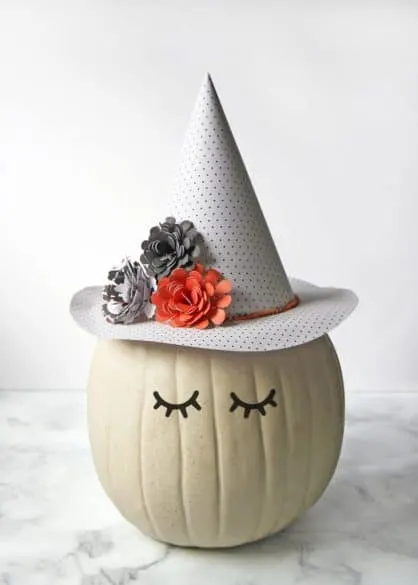 This post may contain affiliate links. As an Amazon Associate I earn from qualifying purchases. For more information, see our disclosure.
Source: The Craft Patch
This cute witch pumpkin is made using a faux pumpkin, a paper cutting machine, and vinyl eyes. But you and your kids could easily make this project by hand-cutting the hat and flowers, and drawing the eyes on with marker or paint. The color combinations are endless and she would look darling sitting on any front porch.
2. Unicorn Pumpkin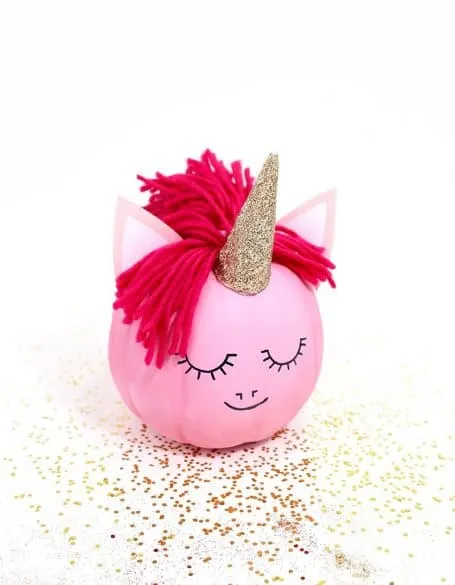 Source: Lines Across
What child wouldn't love this whimsical unicorn pumpkin? Simply spray paint the pumpkin in a color of your choice, draw on the face, and add the details. The ears are made with cardstock paper, the hair is made with yarn, and the finishing touch is the glitter (read about edible glitter here) horn modeled out of clay. Get the step-by-step directions here.
3. Bats, spiders, pom-poms, and pineapples! Oh my!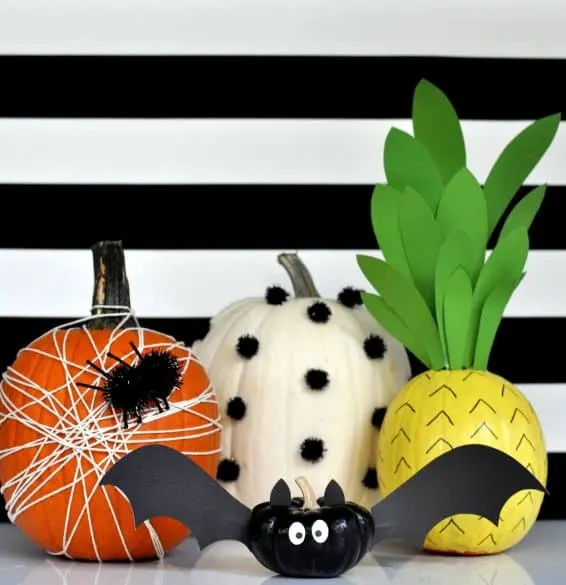 Source: Mac & Mia
This little family of pint-sized pumpkins has something for everyone. If you have a toddler-age child, give them some glue and pom-poms and let them go wild. Older kids could tackle the spider web and pineapple pumpkins. And a preschooler or kindergartner would love creating the mini bat creature. You might even already have these supplies on hand – paint, paper, pom-poms, and string are all you need to create all four of these designs.
4. Melted Ice Cream Pumpkin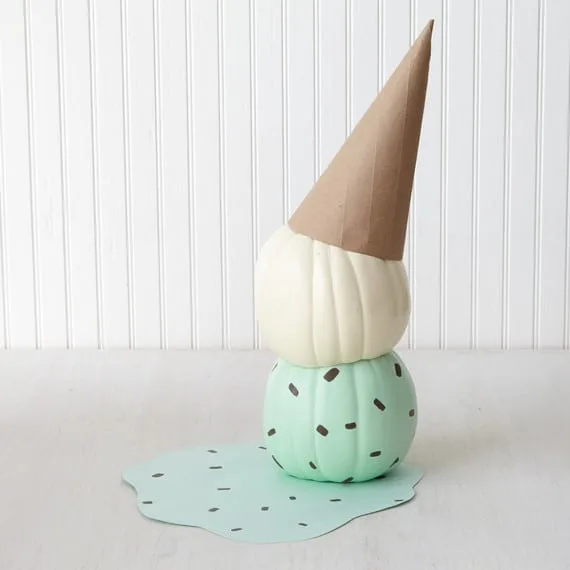 Source: Martha Stewart
If you have a child that is obsessed with ice cream – give them this cute idea. Decorate two pumpkins in their favorite flavors, and stack them to resemble an upturned ice cream cone. Next all you need is paper to create the melted ice cream and waffle cone.
5. Dracula Pumpkin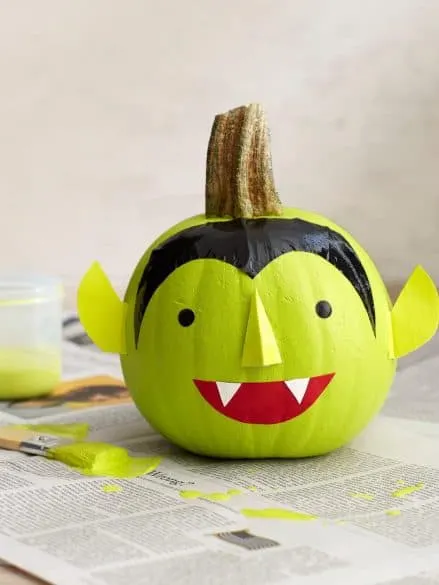 Source: Parents.com
How darling is this little monster? To re-create your own Dracula paint the pumpkin green with acrylic paint or spray paint. You can create the face of this pumpkin with different colored duct tape! First, stick the duct tape on wax paper to cute out shapes for the mouth, teeth, eyes, and hair – which makes it easier to cut the shapes you need. Once the shapes are ready, peel them off the wax paper and stick them on the pumpkin.
6. Finger Print Pumpkin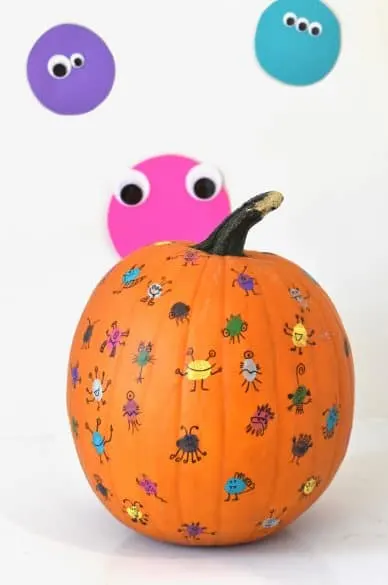 Source: Real Simple
This idea is great for younger kids. Let them dip their fingers in acrylic paint and go nuts with finger prints all over the pumpkin. Once the paint is dry, use a permanent marker to turn their finger prints into little monsters!
7. Foxy Pumpkin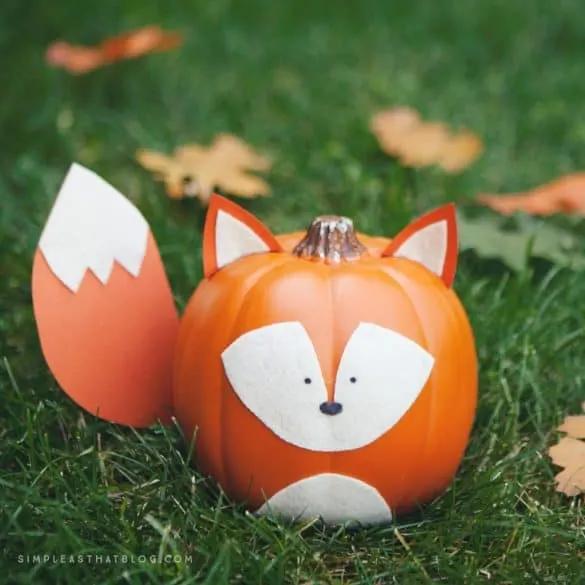 Source: Simple As That
To create this little guy all you need is felt, cardstock paper and a glue gun. Cut out felt and orange cardstock for the fox's tail, ears and face. Then glue the pieces together and attach them to a faux or real pumpkin using a hot glue gun. Draw in the eyes and nose with a black marker.