It's time to get outside and revive that garden. Do you know where all your garden supplies and tools are? I love this time of year, but also have found it difficult to keep everything in one spot to survive the winter! Below, I've found some clever storage ideas so that every spring, you'll know EXACTLY where your garden tools are!
How to Organize Your Gardening Supplies
If you're looking to tidy up those gardening supplies to get more organize and more productive, we have everything you need to get started.
Organizing Tools
This post may contain affiliate links. As an Amazon Associate I earn from qualifying purchases. For more information, see our disclosure.
Keep those long handled rakes and hoe's affixed to the wall of your garage! This is the best way to keep them off the ground, and keep the tool part in tip top shape. Storing them with the rakes to the ground or brushes of a broom to the ground will cause extra wear and tear.
Keeping Seeds Organized
You can store seeds in a shoe box, or other filing type box, but I LOVE these method! Once a seed envelope is open, seeds are always spilling everywhere! This is perfect!
Organizing Various Fertilizers
I can't tell you how many containers I've brought home from the store of fertilizers, only to find, I had several containers already in my garage! Don't let it happen to you. If you can SEE what you already own, you won't buy some unnecessarily.
Placing your fertilizers (and bug sprays, etc) in wire baskets affixed to the wall, help them to stay out of reach of kids, and make it visible for you to see what you have!
Gloves
Love this idea for keeping garden gloves out of a pile in a box to get moldy, dirty, and gross! This idea, using clothespins on a board, can help your gloves to dry out and be ready for the next time you use them.
Small Gardening Tool Organization
In staying organized, one thing to consider is the ease of which you return things to their place!! This will ensure that you actually do it every time. That's why I love this dump and go, small tool storage. Just stick in your pot when you are done using the tools.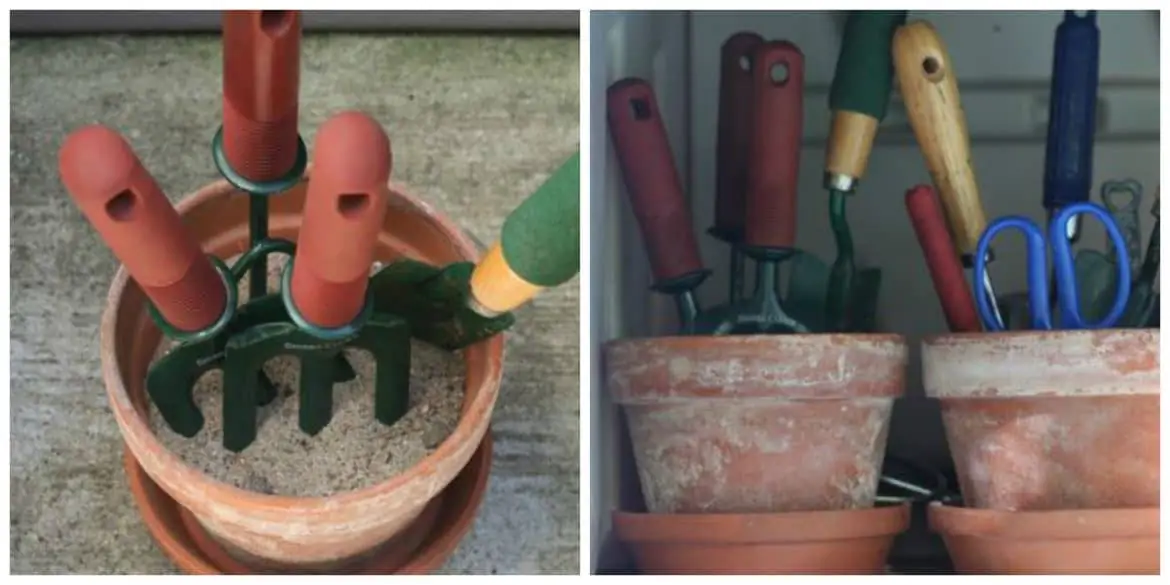 Organizing Flower Pots
The beautiful thing about old flower pots being unused, is that they can make beautiful decor! Don't worry about stashing them away on a shelf somewhere, set them out in your yard instead! Or, get super clever, and make pot people!! LOL
And there you have it!! Keep your yard tools and supplies organized and every year, instead of dreading looking for everything- or worse, re-buying everything, you'll know EXACTLY where it all is!