Nobody likes to pay bills, but having a system takes a tedious task and makes it quick and easy.  Maybe you're a computer whiz and have everything automated.  Maybe you're old school and do it all by hand.  But maybe you're like many of us and fall somewhere in between.  Today I am sharing a simple filing system that will keep your bills organized and help you avoid late payments and fees. 
 Your first task is to select a set day and block out an hour to tackle your bills.  You may choose to schedule time once a week, once a month or even twice a month depending on when your payday falls.  Just make sure that it is the same time each week/month.
How to set up your system:
1.   Choose a location in your home where you will handle all things related to your finances.  You will need room in a drawer or container to hold your files.  I have mine set up in a file box dedicated solely to this purpose.
2.  The supplies you will need are as follows:
12 file folders
4 hanging file folders
File drawer or file box
Labels
3.  Label your folders with the months of the year. (Mine were a gift from my sister who knows how much I love office supplies.)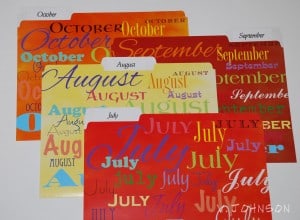 4.  Group folders into Quarters (Jan-Mar, Apr-Jun etc.) and place in 4 hanging folders.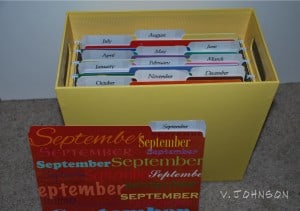 5.  Bring the current quarter to the front of the file box and place the current month in the front.
 6.  Now it's time to get the mail!
7.  Walk from the mailbox to your trash/shredder/recycling bin and get rid of anything that is junk.  If you set it on your desk it will magically become clutter so there's no reason to keep it around any longer than necessary!
8.  Sort out the bills and place them in the corresponding monthly file according to when they are due.
Your file system is now ready to use.  When its time to sit down and pay the bills you have everything in one place and won't be searching through piles of junk mail or overlooking a bill and end up paying late fees.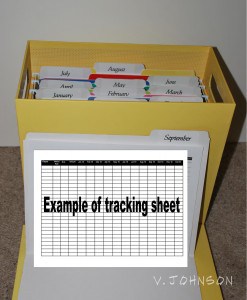 Personally, I pay bills once (occasionally twice) a month.  I pay the majority of them online and some companies don't send me a paper statement.  In order to keep track of what has and hasn't been paid, I created a tracking sheet.  This lists all the monthly bills, their interest rate, the due date and the average amount we pay each month.  When I pay the bills I enter the actual amount and mark it as paid.  This sheet is always located in the current month folder with the bills to be paid.  On the back of the sheet I have listed the log-in information to the sites in case it is not stored in the computer.  Once I pay a bill, I print out the receipt, staple it to the bill and place it back in the folder.  I leave this information in my file until the end of each year.  After tax time, I take all the information from the files and move it to my long term storage file. 
 The goal here is to make a tedious task quick and easy. Once you have your system set up you can tackle your bills in no time at all!