Organize a Chest Freezer once and for all!
You know what happens when something lands at the bottom of a chest freezer? It never gets seen again! This has happened to me so many times! Meat with freezer burn, unidentifiable soups without labels, and frozen veggies that are half open and filled with ice. Organizing a chest freezer will for sure save you money and stop food waste.
This post may contain affiliate links. As an Amazon Associate I earn from qualifying purchases. For more information, see our disclosure.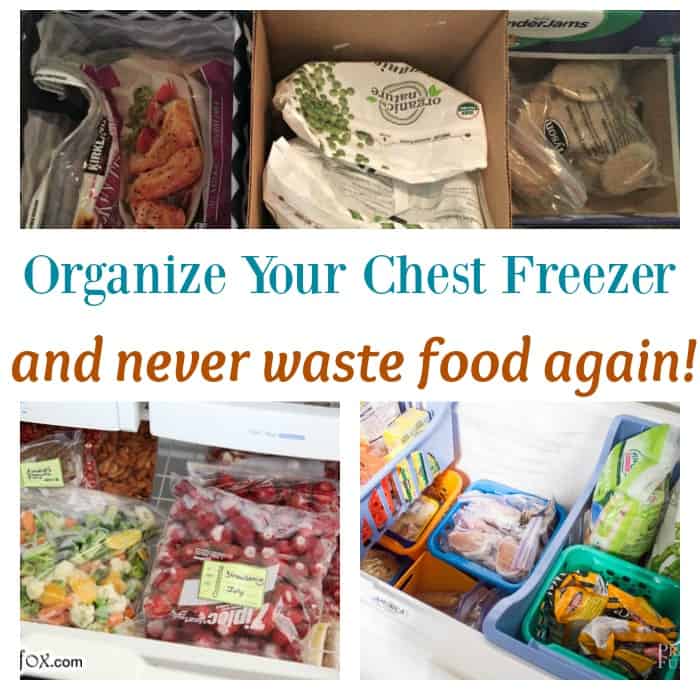 The Ultimate Ways to Organize Your Chest Freezer with Dividers
When it comes to organizing your chest freezer, dividers are absolutely essential! Chest freezer dividers come in all sorts of shapes and forms, and your an easily make your own DIY freezer dividers.
The whole idea of using chest freezer separators is to make sure you can SEE all your food! I scoured the internet to find new ideas to keep it organized, and I'm excited by what I found. Now to decide, which method will work for us!
Now let's take a look at all of the things you can use for dividers in chest freezers.
Organize Chest Freezer with Crates for Dividers
I love the idea of plastic milk crates to keep things organized. You can find different sizes or colors to keep your food separate. I love this picture below, as it perfect aligns what is currently in my freezer, except I don't have so many pre-made meals! Doesn't that look amazing?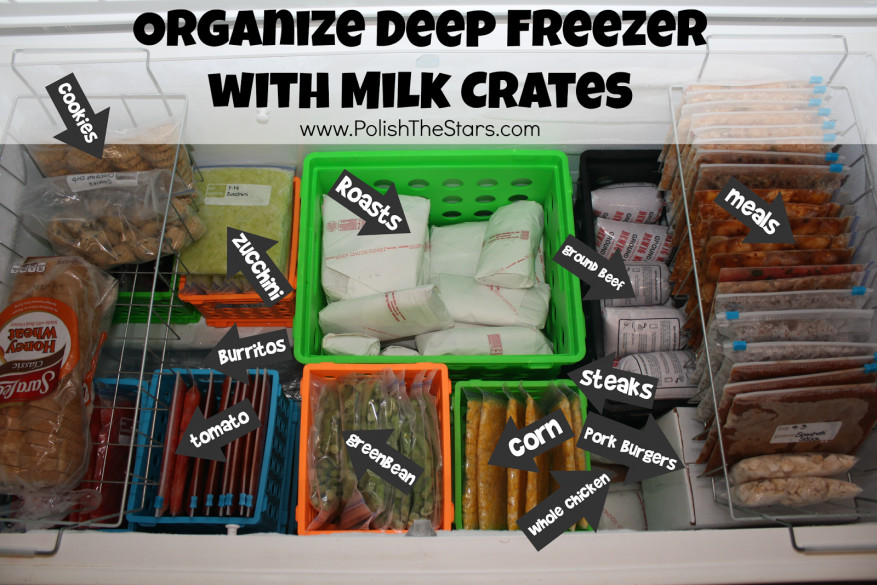 Another simpler freezer, with just two crates inside can be seen here. This is great to group all veggies in one, and homemade prepped food in the other.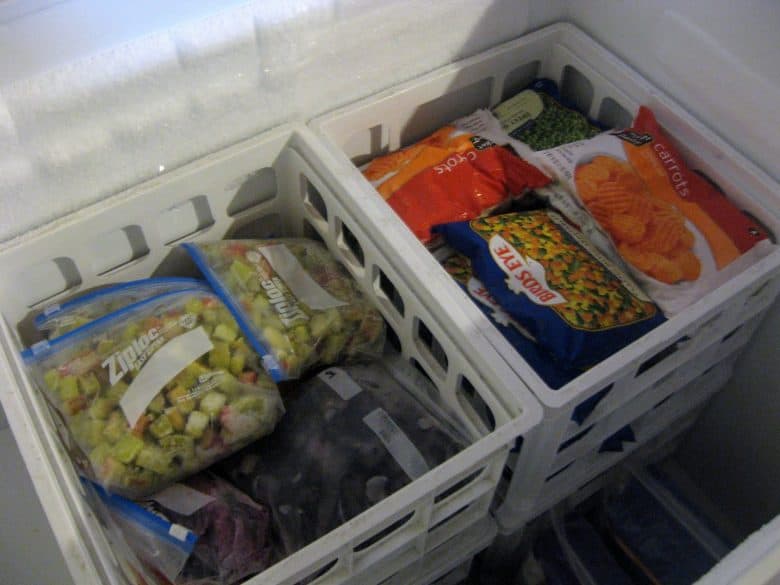 Organize Chest Freezer with Bags
An inexpensive solution is to provide grocery bags to separate your food. I love this idea, because you could grab the handle of one bag, and just take the entire thing out to get to the food you want to use.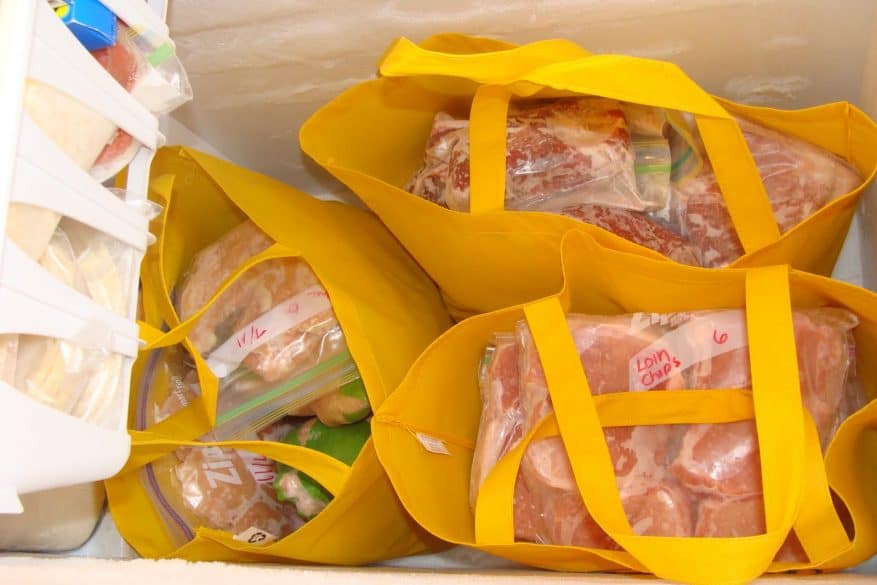 Organize Chest Freezer with Tags
Tagging, or labeling your food is a great idea, as you would be surprised how quickly you forget what it is! It's also important to put dates on things, so you use the oldest foods first.
Ziplocs and tags go together to make some of the cheapest and easiest DIY chest freezer dividers around.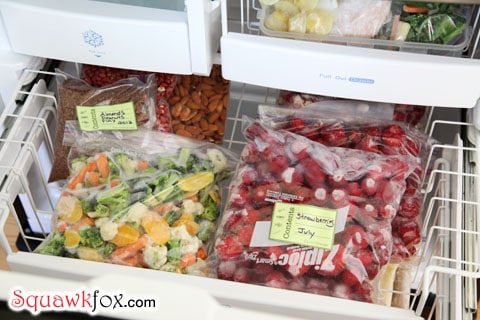 Organize Chest Freezer with Boxes
A truly FREE idea for organizing, is to cut the top off of a variety of boxes and sort your food that way!
This idea, from Double the Batch did just that, and it's a great way to allow your food to stand up right, and also be sorted from the other foods (veggies vs. meat, etc.)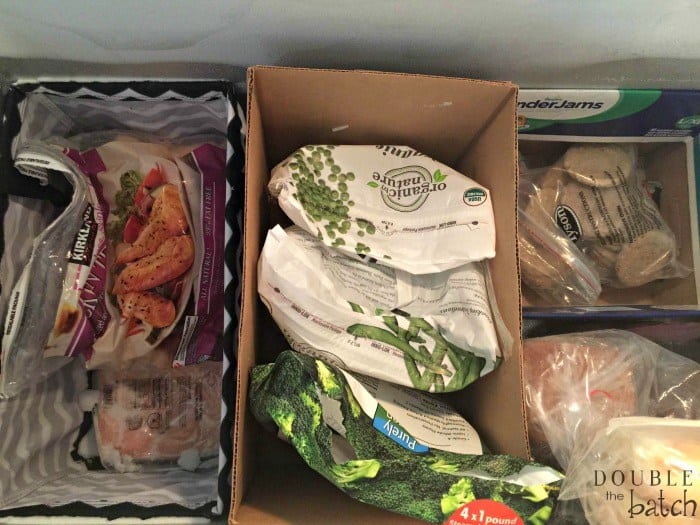 Organize Chest Freezer with Baskets
Functional and smart, using baskets inside your freezer, and even nested inside of each other is brilliant! Pull out a basket to reach the food underneath but be able to replace everything with ease!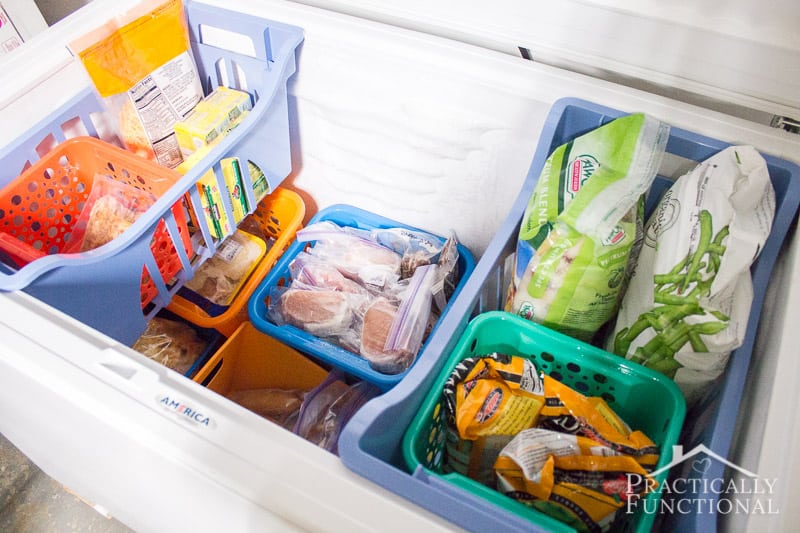 Organize Chest Freezer with Wood Dividers
I've seen some plastic dividers before, but I also like this DIY version with wooden dividers!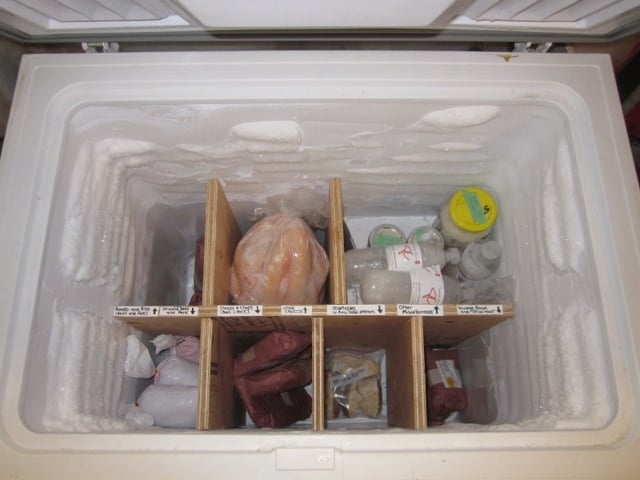 So many ideas to organize your chest freezer or deep freezer! Which one will you choose? Do you have other ideas?
SAVE AND SHARE