I'm a sucker for checklists. I think I've mentioned it before, but one of my favorite movies is an ABC Family Original movie called Lucky 7, when she writes something on her to do list, then does it right away, and then checks it off, all within about 2 minutes. That is me. I have several different checklists I use throughout the day, because one system just isn't enough for me. I have recently gotten my daughter in on the action too with her new daily routine chart.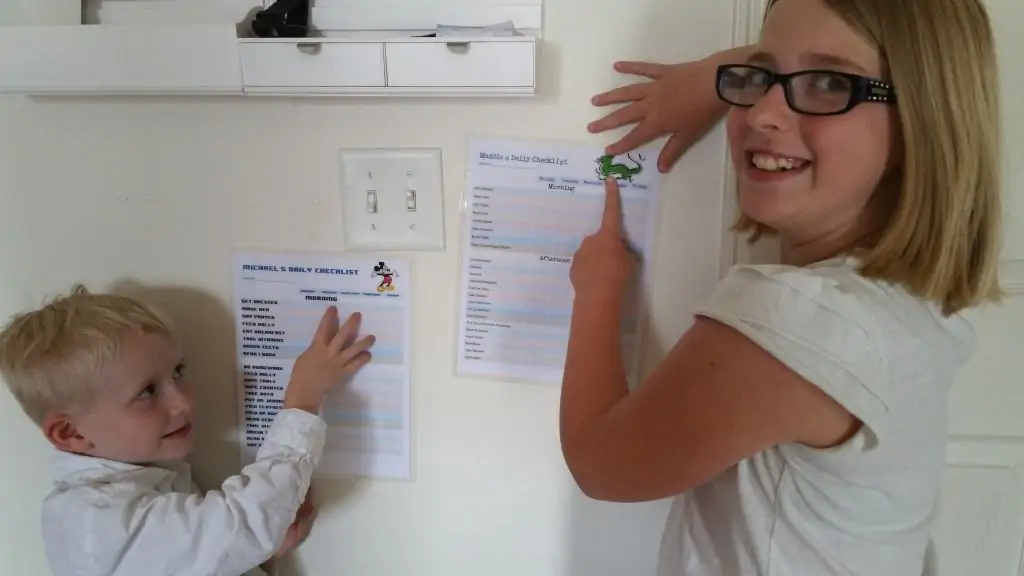 This post may contain affiliate links. As an Amazon Associate I earn from qualifying purchases. For more information, see our disclosure.
My daughter is 7. I was frustrated one morning because I went to take a shower and told her the things she needed to do to get ready for school. When I came out of the shower none of the things I asked her to do had been done. She's 7, I get it. While I was a little annoyed and upset that she didn't remember the things I asked her to do, I decided that she needed a checklist too. If I can't remember anything unless I put it on a checklist, why should I expect her to remember? So I created a word document with a checklist on it. Once I perfected it, I laminated one for her and for her brother.
My Kids Daily Routine Chart: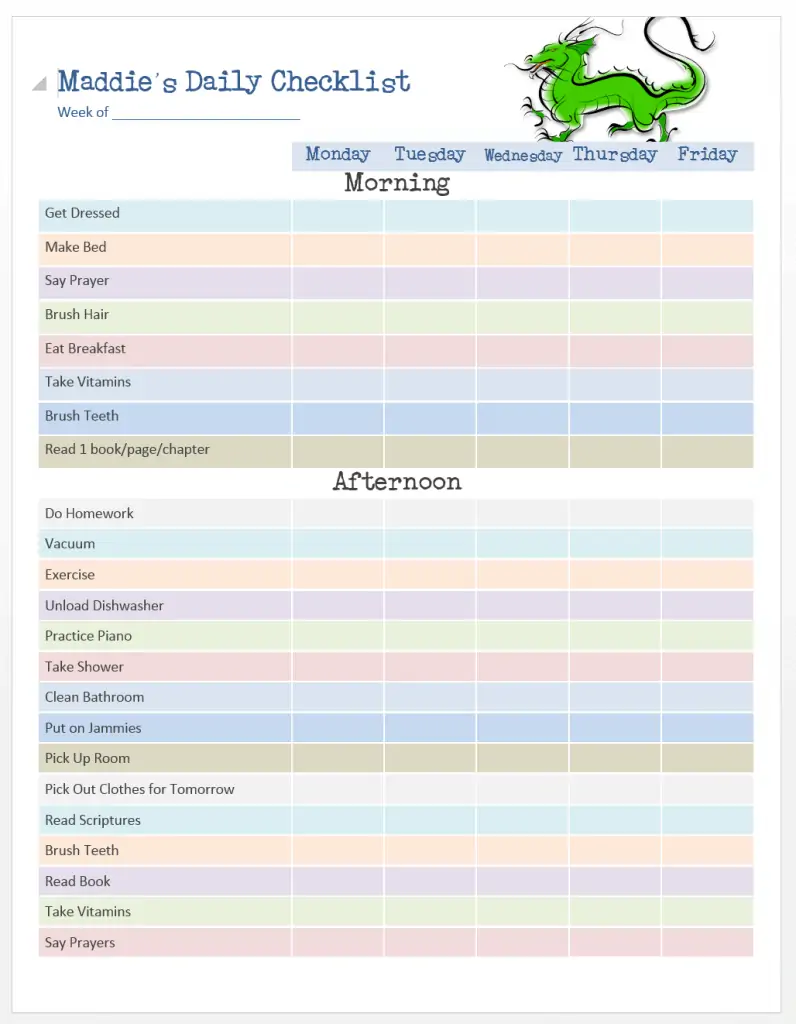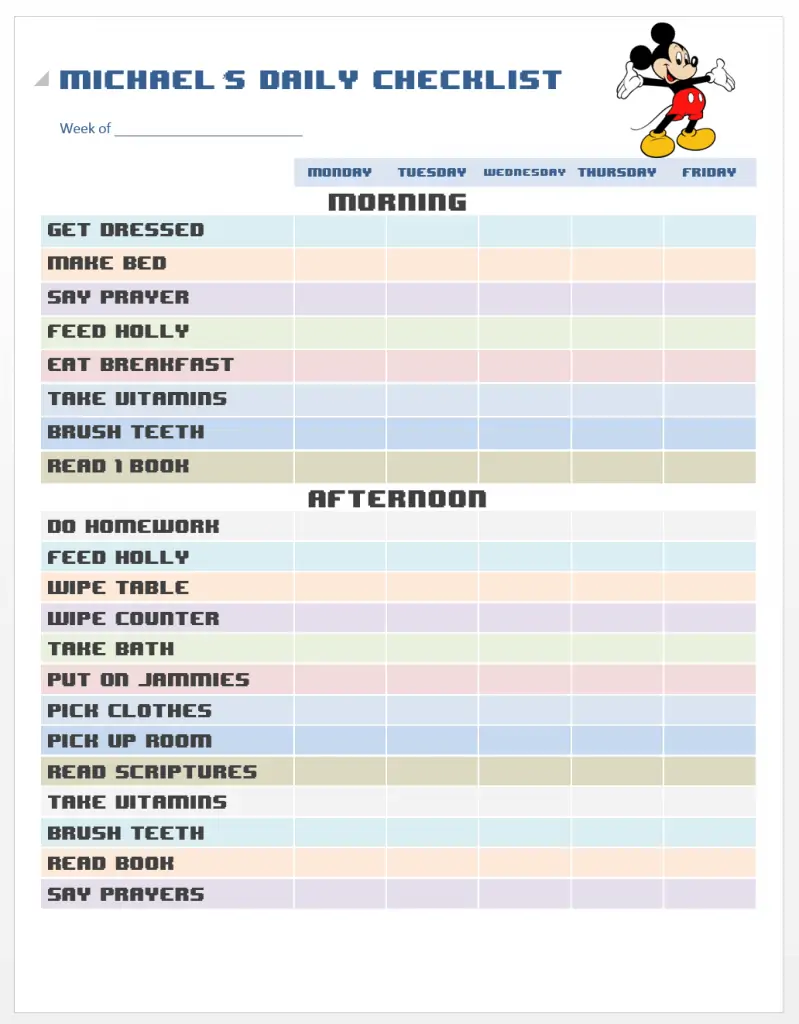 As they complete the items they check them off with a wet erase marker that is kept near the checklists (which are stapled to the the wall in the kitchen.
What I like about this daily routine chart is that not only are we able to remember all of the things she needs to do each morning and night, but it makes HER responsible for getting it done. Teaching your kids to be responsible for their own tasks and lives is an invaluable skill for them to learn. You aren't always going to be there to tell them to do their work, or chores. If they don't learn to do things on their own, they will get a rude awakening when they head off into the real world.
Having the checklist for her, also helps her to create good habits in her life, such as keeping her room clean, and basic hygiene among other things. Every night when we set out her clothes for the next day, we put the checklist right on top of the clothes, so she's able to get to work on it right when she first wakes up (which is always around 6 AM… what can I say, she's my early bird). She is usually done with most of it by the time I get out of the shower, and then all we have to do is head off to school! It's really worked out great for us. Then, while she's at school, I place the evening checklist right on the kitchen table. When she comes home from school, I'm usually still upstairs working, so she can get to work on her evening checklist by starting her homework right away.
So, these checklists are all well and good for my 7 year old… but what do I use for myself? Well, it's a combination of several different applications and services, since they all do different things for me. For my regular to do list that I add things to on a daily basis, and for my "recurring" tasks such ask "work out" and "clean my email inbox"
I use an app to keep track of my regular to do list called TickTick. I love the way I can set up the recurring tasks, and how I can categorize my other tasks. That way when I'm sitting down to work on Bloggers Help Desk tasks, I can filter out just those. Or I can just view personal tasks I need to accomplish, such as "call doctor for an appointment". It's a very robust system, and I adore it! I love that I can add tasks right from Chrome on my desktop, or on my Android phone. It has some great widget options and I can always view exactly where I stand on my to do list.
I also have created several lists within TickTick that don't appear on the main to do list for various things like household chores, movies I want to buy, and other "list" type items.
For my recurring tasks I use an app called Habit Bull. It helps me keep track of all of the things I need to check off in a day without cluttering up the to do list with tasks like "workout".
Checklists will never go out of style, and these are the ones that help my family stay on track.