As the weather starts to warm up it's time to get outside and get working. Here are some tools to help get the kids gardening.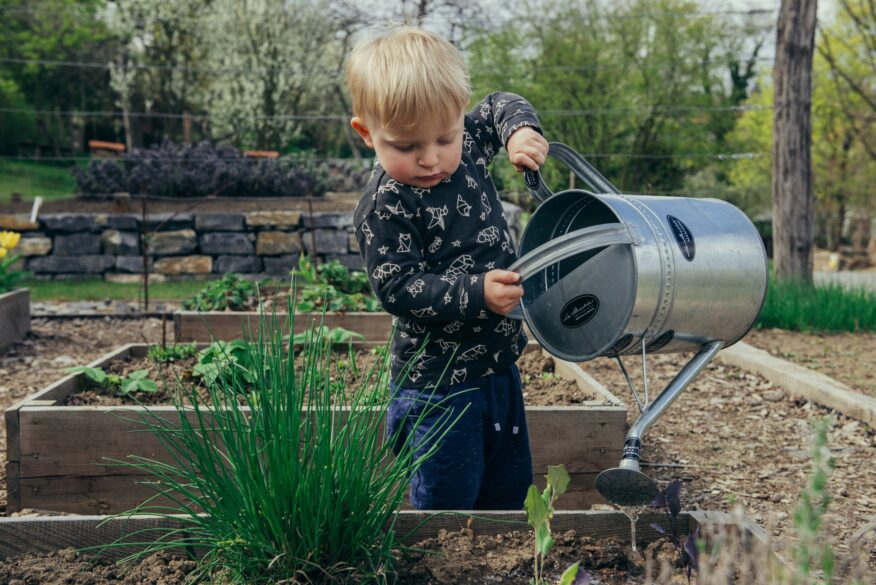 Products to Help the Kids in the Garden
Gardening Wheelbarrow
Wheelbarrows can be a thing of joy to a child working in the garden. Whether they get to ride in a big one that a grown up is pushing or get to maneuver their own smaller version.
This post may contain affiliate links. As an Amazon Associate I earn from qualifying purchases. For more information, see our disclosure.
To help the little ones in your world feel big a great garden tool is a wheelbarrow that is just the right size. If you have a toddler gardening with you then you will probably be more interested in a plastic wheelbarrow. Check out this one pictured below.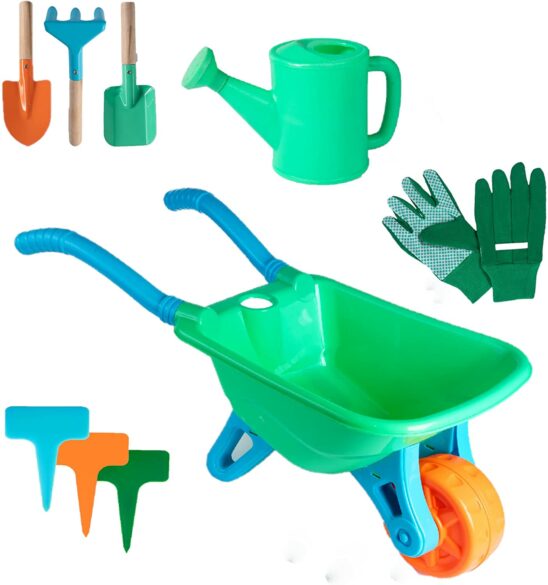 Its smaller size and plastic parts make it perfect for the young gardener.
Perhaps you have an older child that you want to get gardening who can move a little heavier load. Then this Stanley Jr. wheelbarrow might be of more interest to you.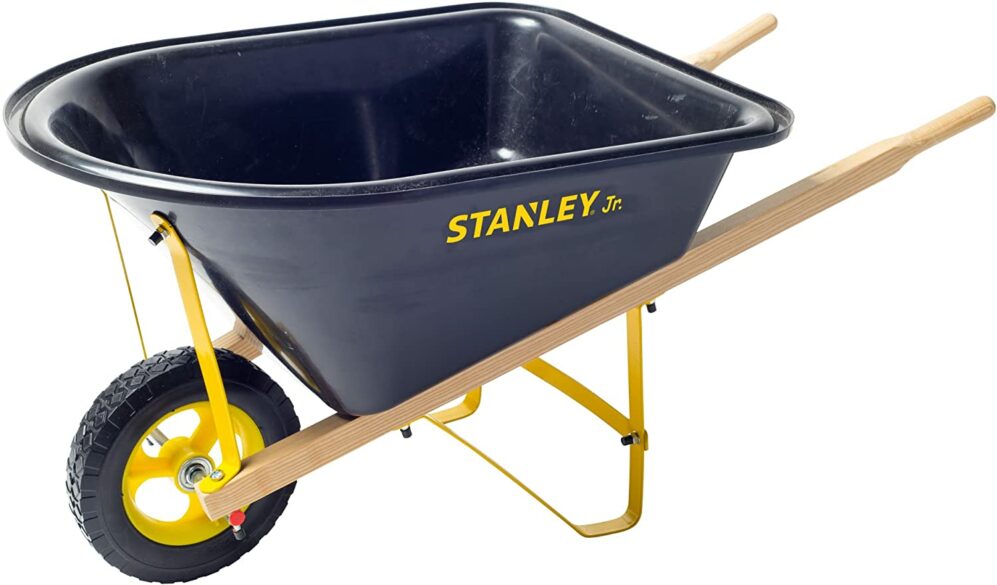 Its built to look more like an adult sized wheelbarrow. It also has a much deeper bucket to hold more of whatever you happen to be hauling. It's made of wood and plastic parts so it's a little sturdier than the all plastic wheelbarrows.
A Wagon as a Gardening Tool
Speaking of hauling things around the yard how about a wagon to help out. A kid friendly sized wagon is a great tool to help get the kids gardening.
This Little Tikes Lil' Wagon would be a great starter wagon for any child. It would be fun for your kids to be able to load up their wagon with your gardening tools. Then pull them around the yard to where you need them.
It's also great for pulling other things around the yard as well. Whether that's plants or their favorite toys.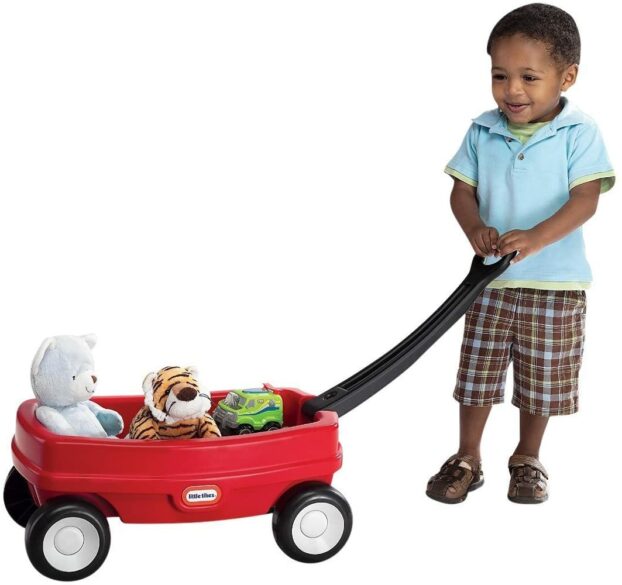 If your child is a little older and could use a larger and sturdier wagon than this wagon from Giantex would be a great fit.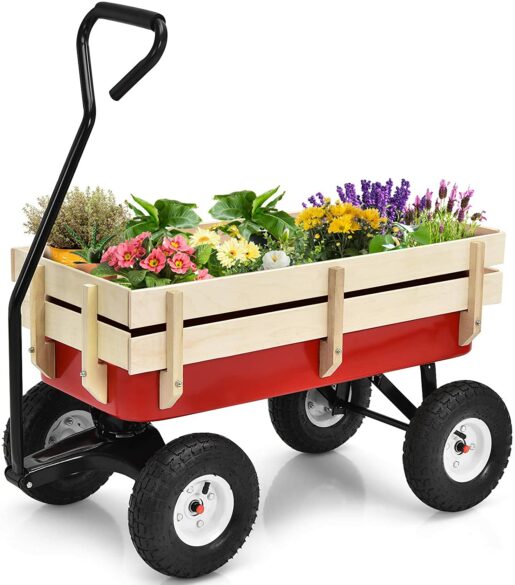 This bad boy has a 330lb. capacity. That's pretty impressive for a kid's wagon. The wood slats around the sides of the wagon allow your child to carry a taller load with ease. The big tires are ideal for grass, road, sidewalk or dirt.
When the gardening is done for the day the kids can take each other for rides in it so the fun never has to end.
Watering Can for the Garden
There is something about a watering can that is soothing. Filling it up and then watching it rain over the plants. The water droplets rolling down the petals and leaves.
Watering things in the garden and the yard is a great way kids can help and this elephant watering can would be so fun. I love that the opening for the water is unobstructed. Also that the elephant trunk is so long. This allows for the kiddos to get the water closer to the base of the plant hopefully leaving less of a water trail behind.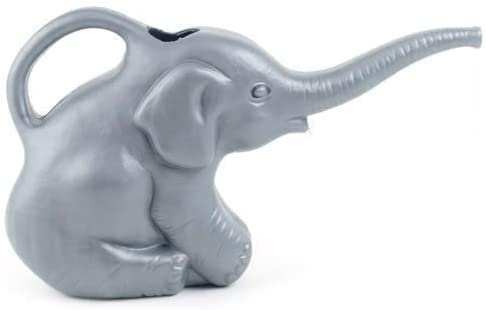 For those of you who long for the effect of rain falling from the sky when you water your plants check out this small 1.5 L can.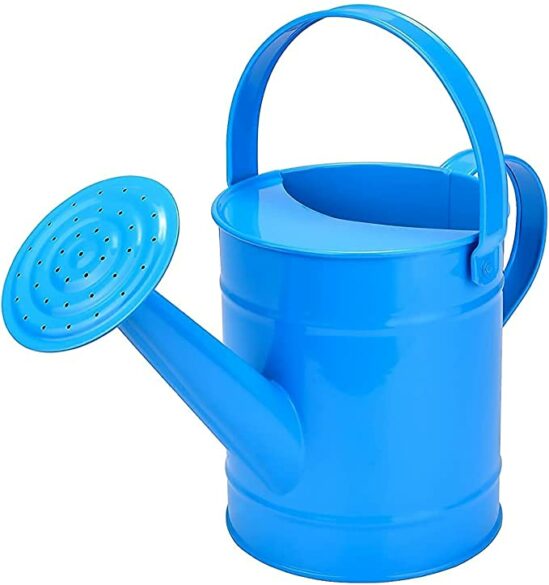 What I love about this watering can for the kids is that it's a smaller size so it has a smaller water capacity. This will help the kids be able to carry it easier when it's full of water.
I also love that it has 2 handles. One on top which makes for easier carrying. Then one on the backside which allows for easier pouring.
Don't forget that fabulous round flat spout with all those holes. You get that wonderful rain falling from the sky watering.
Also with the long spout your child will be able to water plants in the garden without having to tip the watering can as far.
Small Gardening Tools
I'm a fan of these little gardening toolsbecause they are plastic. Plastic tools seem more user friendly for the younger kids who will be helping you garden.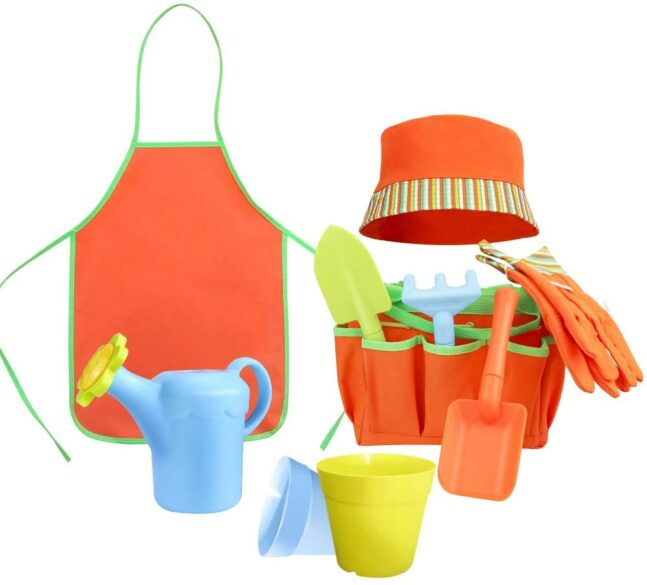 This particular set comes with extras like gloves (I HAVE to have gloves when I garden). A watering can and even little plastic pots to start their own plants in.
For the older crowd you might need more sturdy gardening tools. Like these ones from WildWave.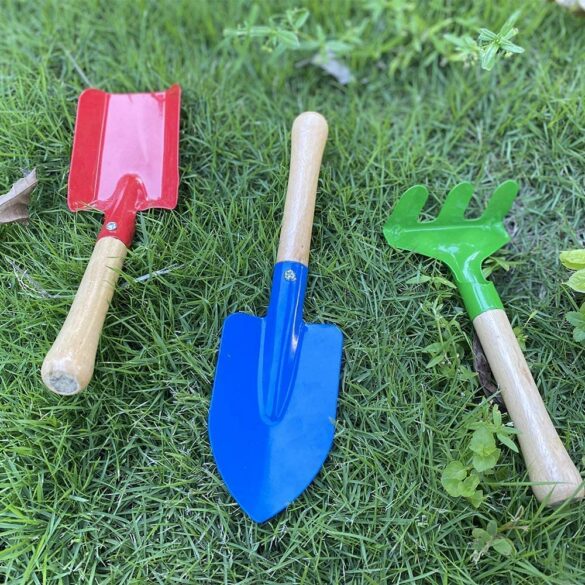 These tools are made of wood and metal so they are a little tougher than the plastic ones. There are NOT any sharp edges on these so they are safe for your kids to use when digging and planting.
With the right tools your kids can jump in and garden with you. Now you just have to teach them the difference between a weed and a flower/plant!
Big Garden Tools
The small gardening tools are great for planting small flowers and digging up smaller weeds. Yet, when there is a bigger job to be done your kids are going to want a bigger tool.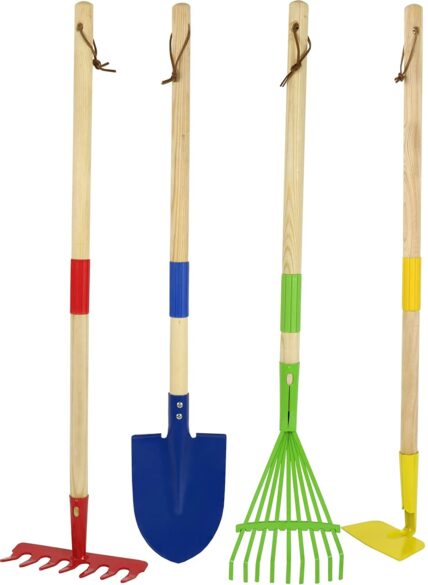 Like this real wood and steal set. It comes with a dirt rake, a shovel, a leaf rake and a hoe. The colorful part in the middle of the handle is where you assemble the handle by screwing it together. This also allows fo the tool to be used with a shorter or longer handle depending on the child that is using it.
Flower Growing Kit
A favorite part in gardening is planting things and watching them grow. You can give the kids their own grow box so that they can have some ownership in planting, watering and watching things grow.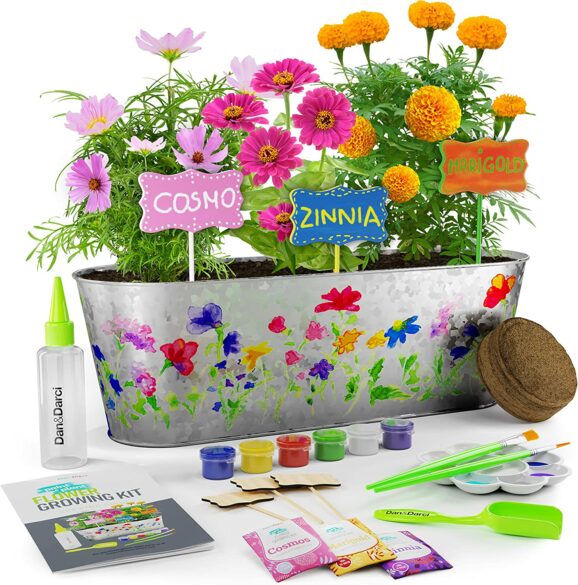 This grow kit lets your child plant flowers and paint the container. There are many other types of grow kits from herbs to make pizza to planting tomatoes.
There are so many tools to help get the kids gardening. There are tools to dig with, tools to carry things in and tools to water with. So what are you waiting for? Get out there and get gardening!