Do you have a kiddo who is obsessed with rainbows? Or just a color-lover in general? There are many fun ways to incorporate the beautiful colors of the rainbow into a rainbow themed birthday party.
A few months before my son was turning 4, we moved into a new house. Before we moved, his one wish was that his new bedroom would have a rainbow painted on the wall. I have an art background, so this was one wish I was completely on board with.
This post may contain affiliate links. As an Amazon Associate I earn from qualifying purchases. For more information, see our disclosure.
I painted his room sky blue and filled up the back wall of his bedroom with a huge rainbow. It was no surprise to me that when his birthday rolled around, he requested a rainbow themed birthday party. And that was fine with me, because it was really fun to plan!
Here are some ideas for a throwing a rainbow themed birthday party.
Decorations
Grab a variety of colorful balloons and streamers from the dollar store as well as a bright tablecloth. Plates and cups can also be a different color. Have a centerpiece in the middle of table that is full of Skittles (or another colorful candy.) Count them beforehand and then have guests guess how many there are. The winner gets to take home the candy!
Your guests can also be part of the decor! In your invites, you can request that guests wear tie-dye shirts or solid-colored shirts if able. (I don't normally ask my guests to wear specific clothing on an invitation, but in this case, it brings an extra element of fun to the party!)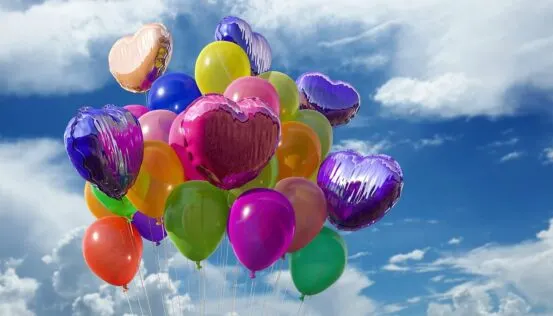 Food
For snacks, you can serve fruits of various colors (example: strawberries, cantaloupe, pineapple, kiwis, blueberries, and grapes), either separately or formed on planter into a rainbow design.
Having a colorful cake or cupcakes is a must! I found a tie-dye cake mix with six different colors of batter. When the batter was poured and swirled together, it created a cool tie-dye effect. Then I frosted the entire cake with vanilla frosting that I dyed a light blue color and used Skittles and mini marshmallows to form the rainbow on top.
Another idea is to frost cupcakes with various colors of frosting or have white frosted cupcakes with colorful sprinkles on top. (Frosting cupcakes or cookies with various shades of frosting could also be an activity you do at the party.)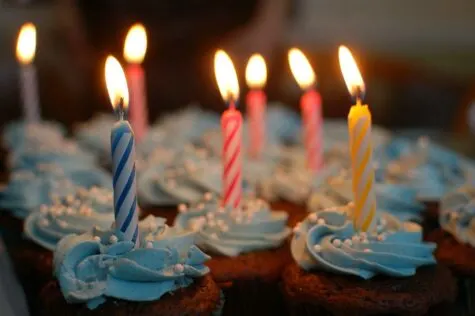 Activities
Water balloon fight
If your kiddo has a summer birthday, this can be a fun outside activity. You can buy an easy-to-fill water-balloon pack with several different colored balloon packs inside. Each kiddo can pick their favorite color, or you can divide kids into teams. Just remember to have your guests bring an extra change of clothes!
Rainbow art activity
This activity gives kiddos a piece of artwork to take home. I would recommend doing this near the beginning of the party, so the glue has time to dry.
Supplies:
colored pieces of tissue paper
Elmer's glue
blue construction paper
Directions:
Cut up small pieces (a square inch is a good bet for littler kids) of tissue paper that are each color of the rainbow, plus white squares for clouds.
Have each kiddo create a rainbow on their construction paper by adding a small (less is more!) dot of glue to their paper and gluing down a piece of tissue, forming the arc of the rainbow as they go. Add white pieces to the bottom of each side of the rainbow to form the clouds.
Tie-dye t-shirts
This activity will involve more adult support, but most kids love tie-dye, and their own special t-shirt can be a memorable party favor to bring home!
Supplies:
Tie-dye kit (I recommend buying a kit because it is way easier than gathering everything separately.) The box should say about how many shirts it will dye, so you might need to buy more than one kit.
White cotton t-shirts for each guest (Many craft stores sell fairly cheap t-shirts specifically for tie-dying.)
Large garbage bags or a plastic drop cloth to cover your work area.
Gallo- sized Ziplock bags
Latex gloves (Your kit might provide some, but you will probably need extras.)
Directions:
Prep your shirts. Your shirts should be washed before dying (do this before the guests arrive) and be slightly damp when dyes are added.
Have each guest choose their design. To make a circular pattern, pinch a small chunk of fabric in the middle and twirl it around until the shirt forms a circle. Wrap 3 to 6 rubber bands (depending on size of shirt) around the shirt from top to bottom and side to side, so they intersect over the center. You can also twist your shirts up in small sections, adding rubber bands as you go. This creates more of a random pattern. Part of what makes tie-dye so fun is that each design is unique!
Squirt on dye. Make sure you put plastic garbage bags or a plastic drop cloth down before dying any shirts. (If you are hosting a party for littler kids, I recommend an adult be in charge of actually adding the dye to the shirts.) Squirt on the dye in any pattern you wish. You might need to put the bottle tip down in between the creases of the shirt to be sure it saturates all the way through and covers the entire shirt.
Let the dye set. Place each shirt into its own Ziploc bag. The longer you allow the shirt to set, the brighter the colors will be. Your kit should give you a general guideline, but you can always let them sit longer if you would like. (You might need to have guests take their t-shirts home with them. Or offer to give them the shirts after you do the final steps.)
Rinse the shirt. Place the shirt in a laundry sink or rinse off outside with a hose until the water runs clean. Pull off the rubber bands and check out your design!
Do a final wash. Wash shirts in the washing machine to get rid of any extra dye. It is a good idea on the first wash to wash the tie-dyed shirts separately from other clothes.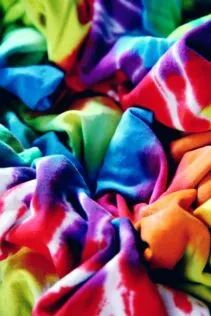 Hope this gives you some ideas for holding your own fun rainb0w themed birthday party! Happy planning!