Every mom I know gets to the point where they look around and think, "Where did all this stuff come from?" We just want to grab a garbage bag and toss out anything we can pick up. Do we really need this pile of magazines? What about all those little plastic toys the kids collect at birthday parties, fairs and fast food restaurants? And the paper. Is every paper you child colors on really art worth keeping? How long do you keep paper versions of bills?
This post may contain affiliate links. As an Amazon Associate I earn from qualifying purchases. For more information, see our disclosure.
Oh yes, the list goes on and on. And every one has an opinion about what you keep and what you throw away. So to help you with your purging efforts – I've compiled a list of lists and highlighted a few of the "stand out" items mentioned.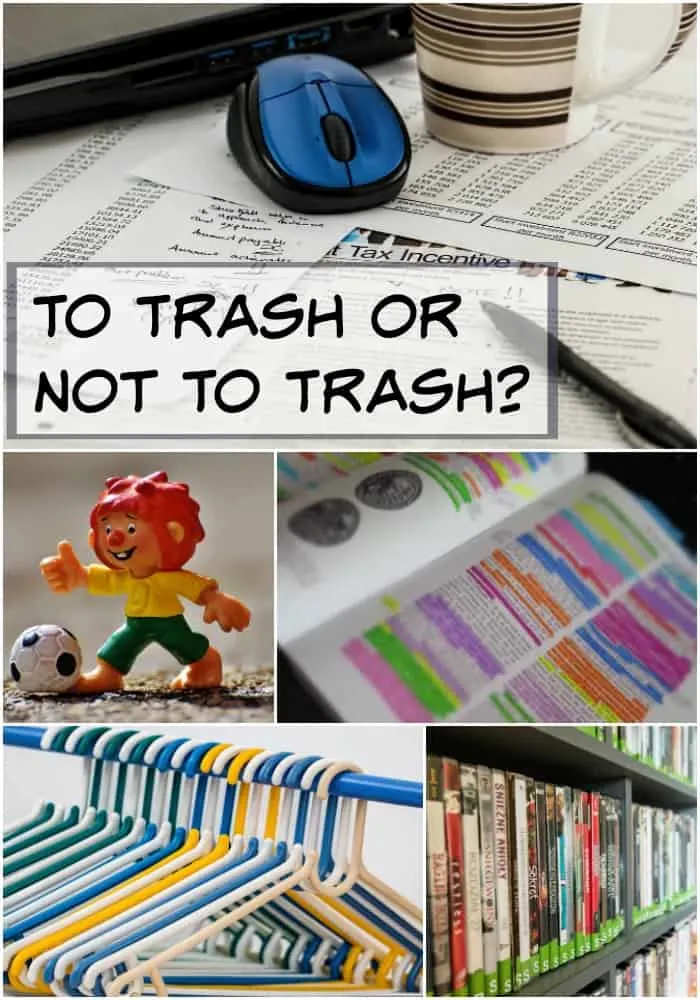 From POPSUGAR Moms: Things you Can Throw Out of Your Kids' Room. Highlight: Toss out those broken toys with missing pieces. You aren't going to fix it. I promise.
Another great POPSUGAR post (not kid specific): List of Things to Dispose Of. Highlight: DVDs you don't watch. I hate to admit this – but we still have VHS tapes. (See the proof in the above photo.) This is high on my list of things to purge.
From Monogrammed Magnolias: 60 Things to Toss Out in the Next 60 Days. Highlight: Old school books and belts you don't wear. I haven't been in school for over 10 years. No need to still have college books – unless you really, really love the book.
From Livestrong: 50 Things to Throw Out Now. Highlight: They also tell you how to get rid of things – what can be recycled (and what can't) and how to go about it. Even a tip on getting scratches off your favorite CD!
From The Joyful Organizer: What to Keep, What to Pitch. Highlight: This well designed infographic lays out how long you need to keep documents for tax purposes and what you should keep in a safe deposit box.
I save these helpful lists on Pinterest – and read through them whenever I'm feeling overwhelmed with the stuff in my house. I can always find a pile of stuff to give away or recycle or just trash. And boy, does it feel good!