Homeschooling is a great way to be proactive with your children's education. You want the best for your children. Home education can be just that–it allows you the freedom to teach your children in the comfort of your home, choose what and how they learn, teach from a Biblical foundation if you desire, create your own unique schedule, offer your children essential one-on-one attention, and so much more. I am a veteran homeschool mom. I taught my two children from preschool age all the way up through high school. I'm here to share my experiences with you and help guide you through the amazing journey called homeschooling.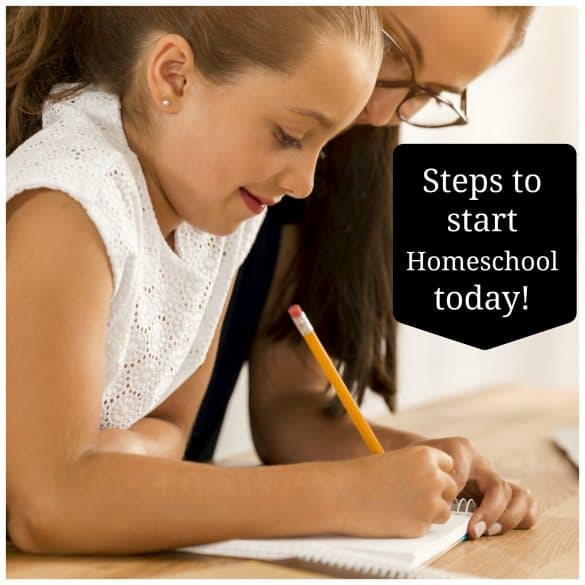 This post may contain affiliate links. As an Amazon Associate I earn from qualifying purchases. For more information, see our disclosure.
So, how do you begin? I'm so glad you asked. Step into homeschooling–just follow these simple steps and you'll be a homeschool mom before you know it.
Research and brainstorm. Many online and print resources are available for parents considering homeschooling their children. Also, think about your family's daily routine, different personalities, and styles of learning. Take into consideration any special needs. Do you have a personal philosophy of education? Consider what type of schedule will work best for everyone. As you research and plan, jot down your thoughts and any questions you'll need to answer.
Access your state's homeschool law, read it, and file any necessary paperwork. Homeschool laws vary from state to state–some states have few requirements such as simply asking that the parent or legal guardian send a letter of intent to homeschool to the local school board, while others require much more such as filing a notarized affidavit complete with proof of immunization (or religious exemption) and a list of educational objectives for each child prior to beginning, in addition to standardized testing in specific grades, a log showing lesson plans for all completed school days and an end of the year evaluation. Knowledge is power, though. Know your law and follow it.
Choose curriculum–there is a wide variety of homeschool curriculum on the market. There are many homeschool specific publishers who offer the choice between complete pre-packaged sets containing materials for every subject or purchasing individual books and/or workbooks. Choose from online classes, co-op classes, satellite learning, or mix it up for an eclectic approach. Some school districts even allow you to borrow their textbooks, or you can even create and write your own curriculum.
Plan your year. Planning your homeschool year can sound a bit daunting, I know, but having a general map of what you'd like to accomplish can be truly helpful. This need not be written in stone. It's just a guide to help keep you on track. Do this for each child. However, if you have two or more children that are near the same age and skill level, you can definitely use the same general plan for all of them. Think about seasonal activities, events or field trip ideas and make note of these here.
Plan your first week. This is the FUN part! Planning your first week of homeschooling is definitely cause for celebration. Treasure this moment and capture it in a journal entry, a photo, or scrapbook page because this is one of those major firsts you're going to want to remember. You can purchase a traditional teacher's lesson plan book, download and print out a variety of weekly lesson plan forms online, or design your own. Now that you're ready to plan, always plan with flexibility in mind. Things don't always go as planned, but your a mom, so you've probably been there, done that many times. Be sure to schedule in time to get up and get moving or to go for a short walk or nature appreciation hike. Always plan more activities/lessons than you think you might need because if your kiddos whiz through their assignments, you don't want to have to scramble to create a lesson on the fly. You don't have to use them, but you're prepared if you or your children want to do more. These extra activities are also helpful if you need to work one-on-one with a particular child–your other students have something to keep them occupied.
Related Posts