Easy steps to clean a bathroom!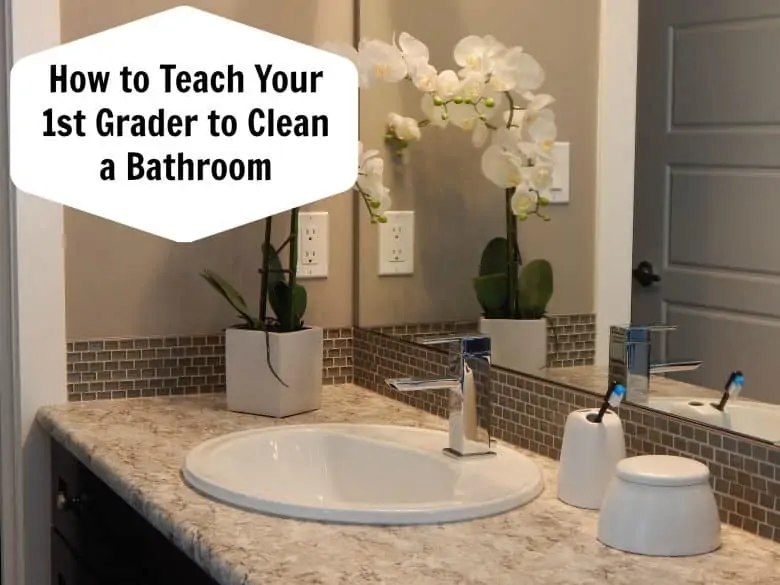 This post may contain affiliate links. As an Amazon Associate I earn from qualifying purchases. For more information, see our disclosure.
The older your kids get, the more they can do. As parents, our job is to get them ready to live in the real world, right? Little by little, they are given more responsibility and the pay-off is that you have to do less and less! For me, I have discovered that my kids are ready to clean a bathroom once they are in 1st grade. They are coordinated enough, can remember simple steps and are able to handle more responsibility. Just last week, I began the process of teaching my youngest how to clean a bathroom. Here are a few things to remember as you begin.
CONSISTENCY! The biggest part of teaching your child a new chore or skill is consistency. We do housecleaning chores every Saturday morning. I have discovered it takes about a month of Saturday morning supervised bathroom cleanings to teach a 1st grader how to clean the bathroom on their own. I know, you are thinking "a whole month!?" But look at the long run! In a month, you won't have to clean the bathroom anymore! Hallelujah!
CLEANING SUPPLIES. Have a bucket of the bathroom cleaning supplies ready to go. These supplies include a toilet brush, toilet bowl cleaner, glass cleaner and all-purpose bathroom cleaner. Besides those things, make sure there is a clean cloth as well.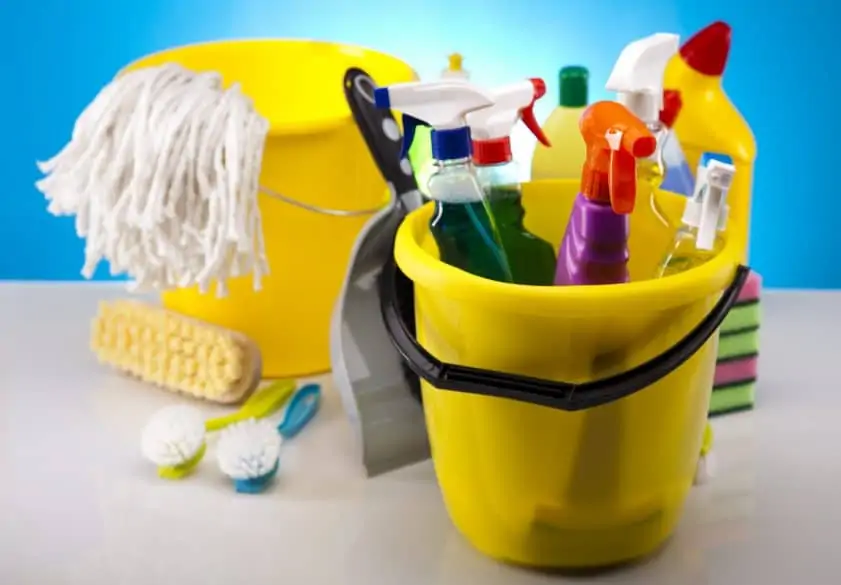 Now that we have that out of the way, here is how to teach your 1st grader to clean a bathroom.
APPLY TOILET BOWL CLEANER. This is the fun part. My daughter loves to watch the blue cleaner drip down the sides. Kids. Easily entertained. While that sits and soaks, start the next step.
SPRAY AND WIPE THE MIRROR WITH GLASS CLEANER. Go ahead and let them climb up on the counter and wipe the mirror, with your supervision of course. They will like the feeling of cleaning but also being a little naughty:)
SPRAY THE COUNTER WITH ALL-PURPOSE CLEANER. Use the same cloth you used on the mirror and get it wet to wipe the counters. Tell your 1st grader that their fingers are the best tool for cleaning gunk off the counters like toothpaste. And the cleaning theme in our house is "flat hand!" Always use a flat hand to wipe with the cloth, not a wadded up ball.
SCRUB THE TOILET. Your 1st grader will like this part. Scrub scrub scrub away! When my son was learning how to clean the bathroom, he really struggled with the thought of germs and the toilet. So I gave him dishwashing gloves for the toilet scrubbing part.
USE THE SAME CLOTH FROM THE COUNTER TO CLEAN THE TOILET. Have your 1st grader rinse the cloth in the sink and use it to wipe the toilet down, once again, using their best little tools, their fingers, to get in the hard-to-reach places.
The sense of accomplishment your child will feel will make all this supervising worth it. What about the stubborn child that doesn't want to do their chores? Make sure they know it's coming. Let them know a few days ahead of time that you are going to clean together. Even throw in a reward. For my kids, they will do just about anything for a treat run to the gas station down the street. Good luck!