The day after Halloween I found my twelve year old stuffing Butterfinger chocolate bars in the side pocket of her backpack. She informed me they were for her math teacher at school, whom happened to announce to the class the day before Halloween they were his favorite.
Remind me next year the day before Halloween to call dibs on all the Snickers bars.
This post may contain affiliate links. As an Amazon Associate I earn from qualifying purchases. For more information, see our disclosure.
So off she went to school reassuring me that her cause was legitimate, she really was going to give them all to her teacher. After school I asked if her math teacher was excited to be the recipient of such a scrumptious stash. Seriously, who wouldn't be?
"He wasn't at school today." She replied. "We had a substitute."
"Oh. Well then you can give them to him tomorrow." I shrugged.
"Well actually…" She stammered, "I was really hungry and ate them all at lunch."
What the what? Here I sacrifice one of the better parts of my kids Halloween candy (yes I recognize it technically isn't mine) and she consumes it all? I thought there was a greater purpose behind that chocolate. What ever happened to the better good? (AKA, possibly better grade.)
Here in lies my problem with Halloween. I love me some candy. Who doesn't devour the essentials chocolate and peanut based treats? But when they are gone it is not beneath me to finish of the Pixie Sticks and unmarked questionable looking taffy.
I have got to get rid of this candy!
If you can relate at all, here's how we are cutting down on our stash this year.
What to do with leftover Halloween candy
If you're looking on ideas on what to do with all that halloween candy, we have you covered. Check out these simple Halloween candy storage and organization tips.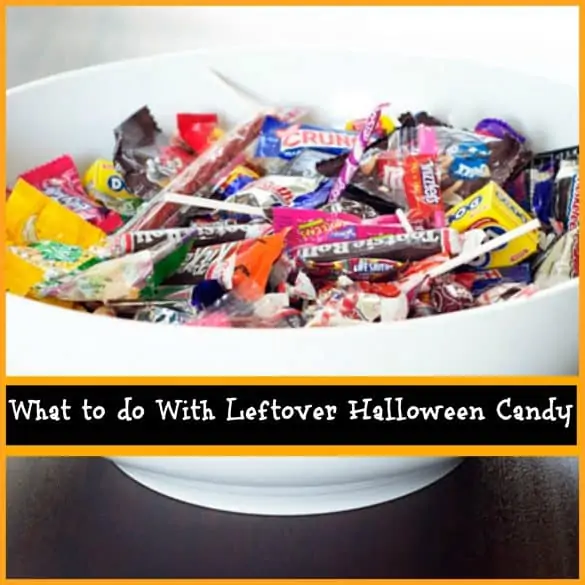 Save Halloween Candy for Christmas
I know that Dum Dum suckers aren't a typical Christmas candy, but if one of your family traditions is gingerbread houses, set aside the candy that can be used towards building those candy cottages. Suckers, Smarties, M&M's, anything that can be turned into building materials.
Use Halloween Candy for Baking
Chances are you are already planning out your Thanksgiving menu. leftover chocolate peanut butter cups, M&M's, and Hershey bars are the perfect treat for baking in cookies and brownies.
Leftover Candy for Birthdays
If one of your kids has a birthday in the next few months, save those treats for party favors. Small candy can also be used to decorate cupcakes, and M&M's are the perfect markers for playing birthday Bingo.
Trade it in
Many dentists now offer trade in programs where Halloween candy can be swapped for toothbrushes. Ask your kids dentist if he is offering any kind of a trade in program.
Gift it
Have a friend or neighbor you have been meaning to visit? Take them their favorite treat attached to a hand written note.
Just let it go.
It's not a terrible thing to throw out candy. If you can't beat the temptation to grab another individually wrapped Twizzlers… just let it go.
Now I have to go because those Twizzlers are calling my name. If you happen to be one of my kids educators, and Twizzlers are your thing, don't even think about it.