It's a new year! Let's get your food storage started! Having a backup supply of food is great not only for emergencies, but you also never run out of ingredients. Gone are the phone calls to your neighbor for a cup of sugar!
This post may contain affiliate links. As an Amazon Associate I earn from qualifying purchases. For more information, see our disclosure.
This plan will end up providing you with sufficient food for two for one year. Go ahead and purchase more to accommodate your family. You will spend an average of $10 a week. Some weeks will be more expensive than others, some cheaper.
Keep your food storage rotated. In other words, use the things you buy, just replace it. Like if you use two cans of diced tomatoes, put it on your grocery list. If you use a bag of flour, write down another one on your grocery list.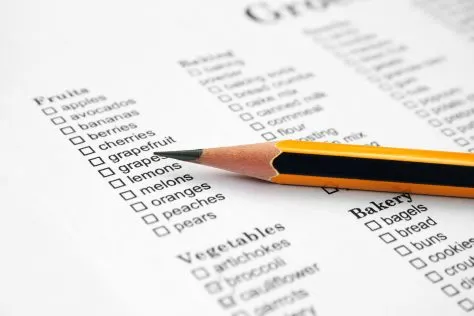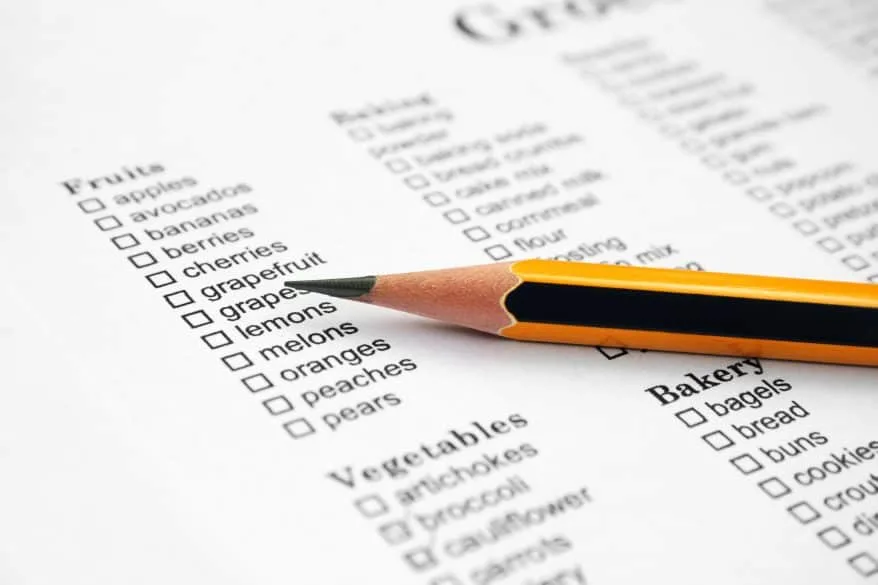 On this list, I did not include water or wheat. Unless you have a wheat grinder, having wheat is almost completely useless. But buy wheat if you have a grinder.
If you want to store water, the recommended amount is 1, 55 gallon barrel per person. Barrels can be purchased at most Wal-Marts in Utah or even on Amazon
As for bottled water, I would buy a few cases to start with and then rotate through them, buying more as you use them. Or you can refill used 2 liter soda bottles with water.
This list is quite basic, but a great start. Add more as you are able to afford it. Good luck and enjoy the peace of mind that comes with having a food supply! Check out our other food storage posts like, where to put all that food you will have!
Here is a list of what you will end up with by the time the year is over:
15 lbs flour
4 42 oz containers oatmeal
12 lbs rice
10 lbs pasta
20 lbs sugar
6 lbs brown sugar
6 lbs powdered sugar
2 boxes baking soda
2 cans baking powder
4 lbs honey
A little over 6 1/2 pounds peanut butter
6 bags chocolate chips
2 jars yeast (keep it in the freezer)
1 lb cocoa powder
15 cans chili or soup
4 lbs shortening
1 1/2 gallons vegetable oil
1 jar cinnamon
1 can Lawry's seasoning salt
1 jar chicken bouillon
1 jar beef bouillon
12 lbs rice
20 cans of tuna or other meats
20 cans of fruit
20 cans of beans
20 cans of vegetables
Tylenol
Ibuprofen
Tums
2 large boxes of tampons
20 rolls toilet paper
By the weeks!! Copy and paste this list, or get our printable here!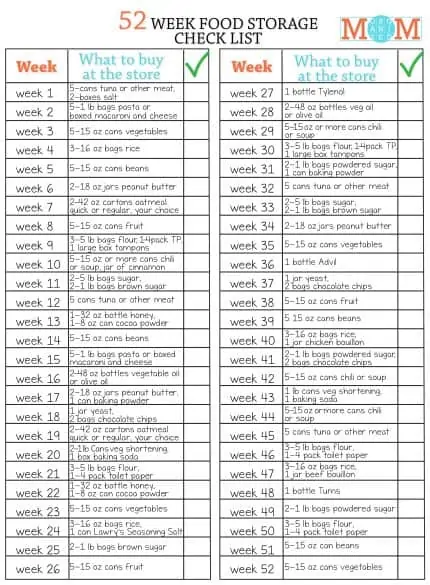 [mailerlite_form form_id=2]
WEEK 1: 5 cans tuna or other meat, 2 boxes salt
WEEK 2: 5 1 lb bags pasta or boxed macaroni and cheese
WEEK 3: 5 15 oz cans vegetables (diced tomatoes, tomato sauce, tomato paste, corn, peas, green beans, carrots etc)
WEEK 4: 3 16 oz bags rice,
WEEK 5: 5 15 oz cans beans
WEEK 6: 2 18 oz jars peanut butter
WEEK 7: 2 42 oz cartons oatmeal – quick or regular, your choice
WEEK 8: 5 15 oz cans fruit (pineapple, applesauce, peaches, pears etc)
WEEK 9: 3 5 lb bags flour, 1 4-pack toilet paper, 1 large box tampons
WEEK 10: 5 15 oz or more cans chili or soup, jar of cinnamon
WEEK 11: 2 5 lb bags sugar, 2 1 lb bags brown sugar
WEEK 12: 5 cans tuna or other meat
WEEK 13: 1 32 oz bottle honey, 1 8 oz can cocoa powder
WEEK 14: 5 15 oz cans beans
WEEK 15: 5 1 lb bags pasta or boxed macaroni and cheese
WEEK 16: 2 48 oz bottles vegetable oil or olive oil
WEEK 17: 2 18 oz jars peanut butter, 1 can baking powder
WEEK 18: 1 jar yeast, 2 bags chocolate chips
WEEK 19: 2 42 oz cartons oatmeal – quick or regular, your choice
WEEK 20: 2 1 lb cans vegetable shortening, 1 box baking soda
WEEK 21: 3 5 lb bags flour, 1 4-pack toilet paper
WEEK 22: 1 32 oz bottle honey, 1 8 oz can cocoa powder
WEEK 23: 5 15 oz cans vegetables (diced tomatoes, tomato sauce, tomato paste, corn, peas, green beans, carrots etc)
WEEK 24: 3 16 oz bags rice, 1 can Lawry's Seasoning Salt
WEEK 25: 2 1 lb bags brown sugar
WEEK 26: 5 15 oz cans fruit (pineapple, applesauce, peaches, pears etc)
WEEK 27: 1 bottle Tylenol
WEEK 28: 2 48 oz bottles vegetable oil or olive oil
WEEK 29: 5 15 oz or more cans chili or soup
WEEK 30: 3 5 lb bags flour, 1 4-pack toilet paper, 1 large box tampons
WEEK 31: 2 1 lb bags powdered sugar, 1 can baking powder
WEEK 32: 5 cans tuna or other meat
WEEK 33: 2 5 lb bags sugar, 2 1 lb bags brown sugar
WEEK 34: 2 18 oz jars peanut butter
WEEK 35: 5 15 oz cans vegetables (diced tomatoes, tomato sauce, tomato paste, corn, peas, green beans, carrots etc)
WEEK 36: 1 bottle Advil
WEEK 37: 1 jar yeast, 2 bags chocolate chips
WEEK 38: 5 15 oz cans fruit (pineapple, applesauce, peaches, pears etc)
WEEK 39: 5 15 oz cans beans
WEEK 40: 3 16 oz bags rice, 1 jar chicken bouillon
WEEK 41: 2 1 lb bags powdered sugar, 2 bags chocolate chips
WEEK 42: 5 15 oz or more cans chili or soup
WEEK 43: 2 1 lb cans vegetable shortening, 1 baking soda
WEEK 44: 5 cans tuna or other meat
WEEK 45: 3 5 lb bags flour, 1 4-pack toilet paper
WEEK 46: 3 16 oz bags rice, 1 jar beef bouillon
WEEK 47: 5 15 oz cans fruit (pineapple, applesauce, peaches, pears etc)
WEEK 48: 1 bottle Tums
WEEK 49: 2 1 lb bags powdered sugar
WEEK 50: 3 5 lb bags flour, 1 4-pack toilet paper
WEEK 51: 5 15 oz can beans
WEEK 52: 5 15 oz cans vegetables (diced tomatoes, tomato sauce, tomato paste, corn, peas, green beans, carrots etc)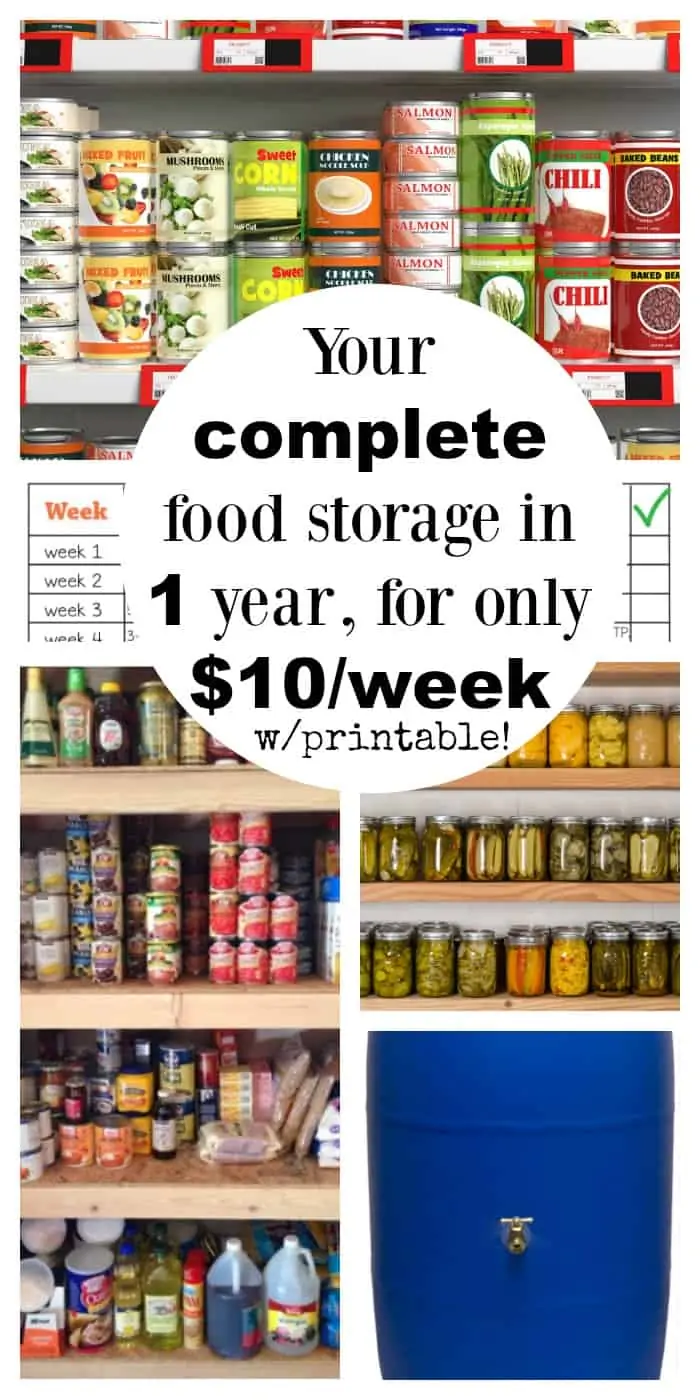 [mailerlite_form form_id=2]