I wrote this post while participating in a blog tour conducted by Clever Girls Collective on behalf of Claritin®. I have been compensated for my time commitment to the program.
I'm not sure why I don't ever connect the dots sooner, but it seriously happens every. single. year.  I start waking up every morning feeling terrible!  My eyes are super irritated, my nose is all plugged up, and I immediately think I'm starting to get sick.  I deal with it for a few days, refusing to believe that I'm sick, until I finally realize that it's the time of year for my allergies to start driving me nuts!  The majority of my allergies comes from pollen, but I am also starting to think it may have a little bit to do with dust mites as well.  I wasn't aware that during the winter the dust mites aren't as active (one of the many things I wasn't aware go dormant in the winter prior to moving to Utah, where winter actually exists).  Since my allergies seem to act up the most when the weather turns warm, they may be more connected then I previously thought!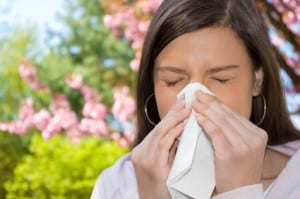 Here are the best cleaning defenses to keeping your house allergy free:
Clean, Clean, Clean – Keeping your house clean is really your first line of defense against allergens and dust mites.
Keep it Cold – Dust mites do their thing best in warm weather, so keeping the house cool is going to help keep those bugs off your case (not to mention it's a GREAT excuse for turning down the temp on the AC!)
Vacuum them Up – You know to vacuum your floors, and you know to wash your sheets, but do you know to vacuum your mattress?  Vacuum your couch?  Make sure you get all the nooks and crannies in your mattress and vacuum it really well, even if it doesn't LOOK dirty.
Wash 'Em Out – Definitely make sure to wash your bedding once a week in high temperatures.  Dust mites can actually survive in cooler wash cycles.
Sweep & Dust – Sweeping the hard surfaces of your house (especially if you have pets) can remove the pollen, dust and pet dander that can be tracked into the house.  Dusting regularly can also help keep those sneezes at bay.
A couple other things I do that help me out… Keep all the windows shut the day my nephew mows the lawn, wash the dog's bedding every week (same day I was the rest of the house's bedding), keep the dog washed at least once a month, and last but certainly not least… change the filters in your house (from the HVAC unit to the water filter in your fridge.)
For tips on making your home and garden more beautiful, functional and allergy-friendly visit www.Facebook.com/Claritin. I was selected for this sponsorship by the Clever Girls Collective, which endorses Blog With Integrity, as I do.