I've tried to set up various closet organization systems in my closets, and they work, they look OK, but they definitely don't look perfect.
This is my daughter's closet.  You can see the original bar that was built into the closet.  Then I added a standing dresser, and some shelves.  It was functional.  Obviously, there was much improvement to be made….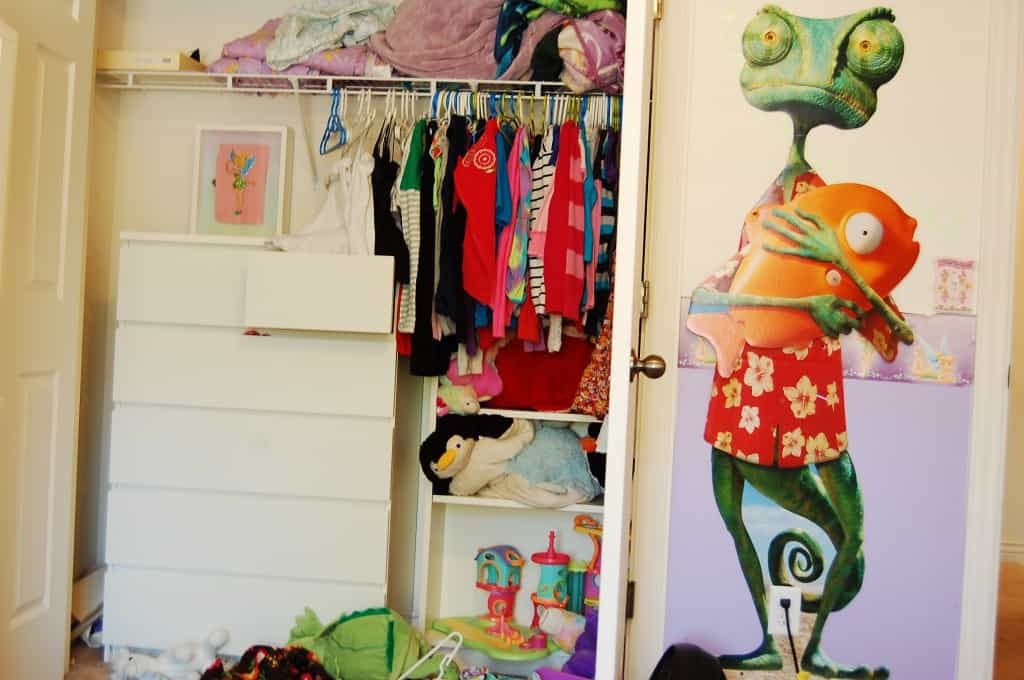 When we did built in closets in our house in California, it cost us thousands of dollars per closet.  It was definitely nice letting someone come in and do it all for us.  We're young though, with some instructions we can definitely do it ourselves.  It didn't look THAT complicated when they did it.
So in the interest of saving money, we decided to try our hand at doing it ourselves.  Check out my post on my other blog Tech4Moms to see how easy the ordering process was!  Or just check out www.marthastewartclosets.com to try and build your own.
The closet system had to arrive on a pallet!  Here's the delivery guy unloading it (who actually happened to live next door to my husband's cousin, SMALL WORLD!)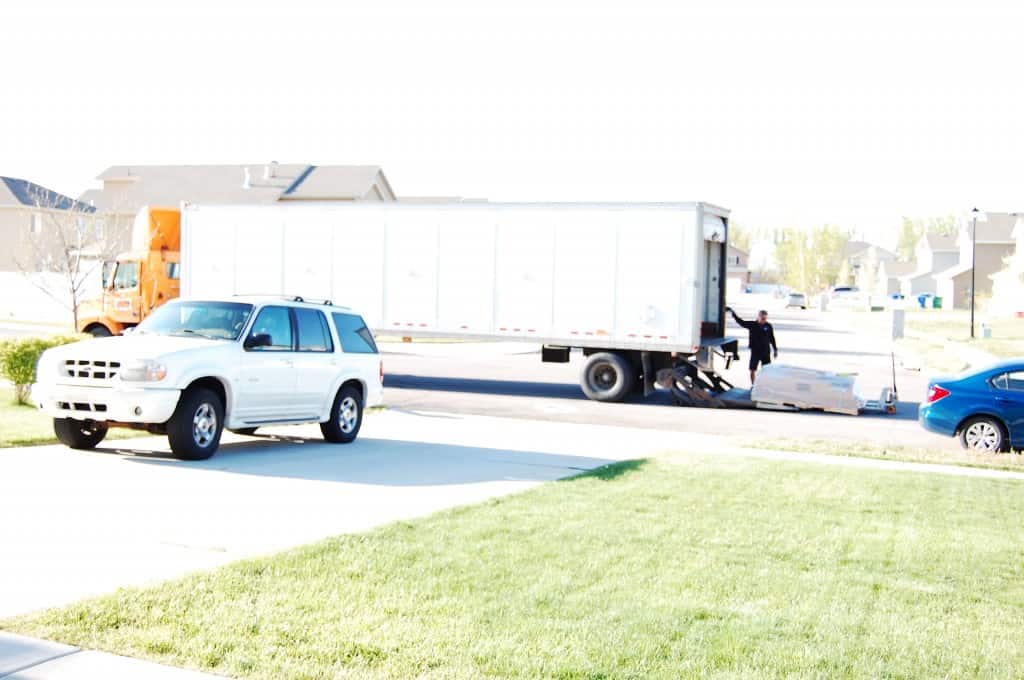 The pallet all up in my garage.  We had to park the car outside for a few days before we could get the closets all installed.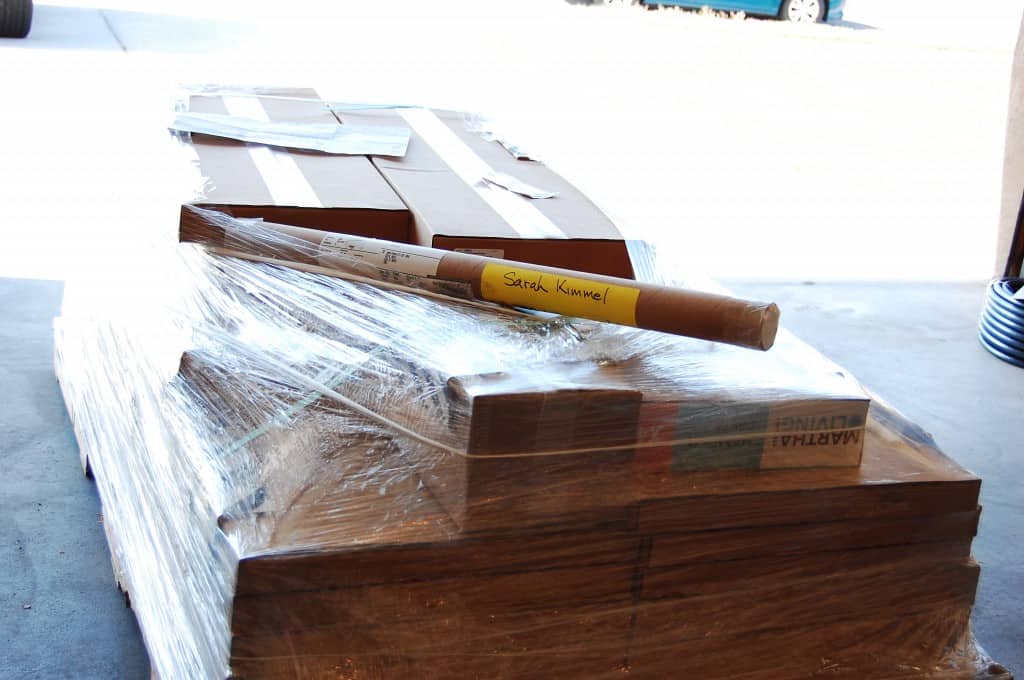 We got to work right away, my son even got into helping out.  The process was actually super easy, once we figured it out.  It's a little intimidating getting started.  First you have to place the mounting bracket on the wall.  You have to make sure you are putting the screws into the studs in the wall, since the entire closet system is going to attach to it, and you don't want it to fall over.  Once we had the back bracket mounted and got the first side of the closet in, we figured out the rest pretty easily.  Each piece came with excellent instructions.  The problem I ran into was that although I had mapped out the closet, and had the printout of what I had selected.  It was hard for me to envision how they all fit together.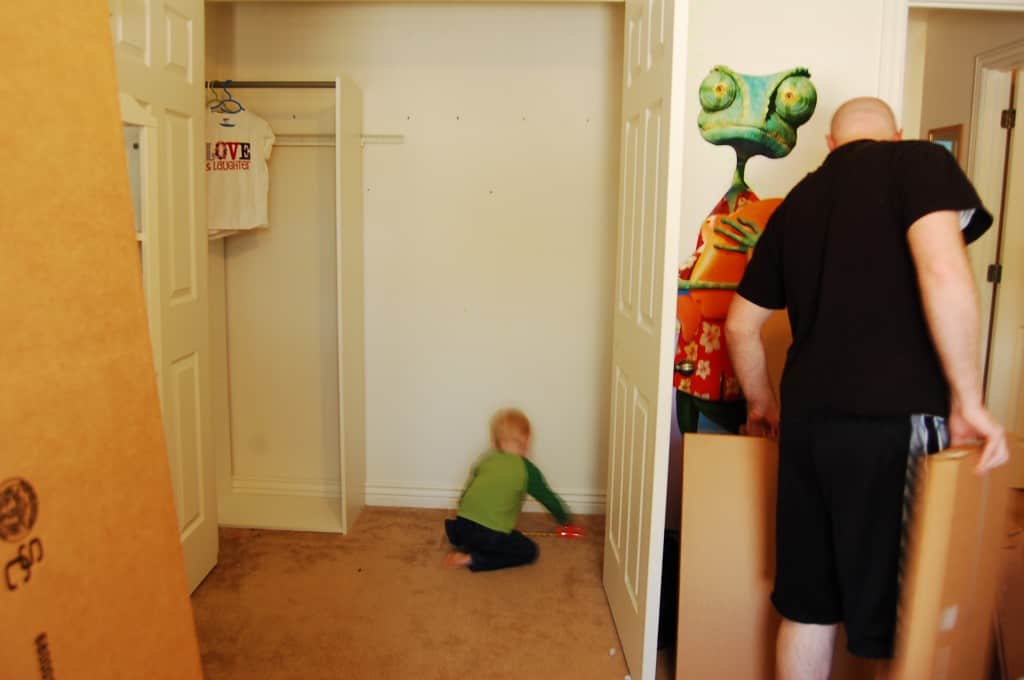 From start to finish my daughter's closet took us about 3 hours to build (not counting the time it took to put all the stuff back into it).  The hardest part FOR SURE were the drawers.  They come with a really good template to help you screw the sliding parts onto the drawer.  The problem becomes when you go to put the second one on top of it.  If you are slightly off you'll have a gap, if your slightly off in the next direction, it will hit the drawer below, and won't close.  It becomes an adjusting game, but as you can see, we eventually figured it out.
The materials are extremely high quality.  Most of the items in our house are from a certain Swedish warehouse furniture store.  The drawers in our dressers feel extremely flimsy, and items have a tendency to fall through a crack in the bottom, or the items bow the bottom so badly that the drawer doesn't close.  These drawers are thick, sturdy, and slide like butter!
My daughter has a lot of stuff, and in addition to the mess that was her former closet, she had several shelves in her room where we kept drawers of toys.  With this new closet system I have been able to eliminate 3 different sets of shelves from inside the main area of her room.  It's amazing how much can fit in a well set up system!
The really awesome part is that now that the base of the system is already set up, as needs change we can change the setup.  Which means that when we no longer need as much toy storage, and need more hanging storage, we can change out the shelving and install a bar on the other side.  This is definitely a closet that can grow with you as your needs change.  One closet installed by a company can run you a couple thousand dollars.  Doing it this way, can run you about 6-700$, which is significantly less, but with the way the closet can change over time, you won't have to spend that much on the closet again.
The final product…. druummmmmroolllllll……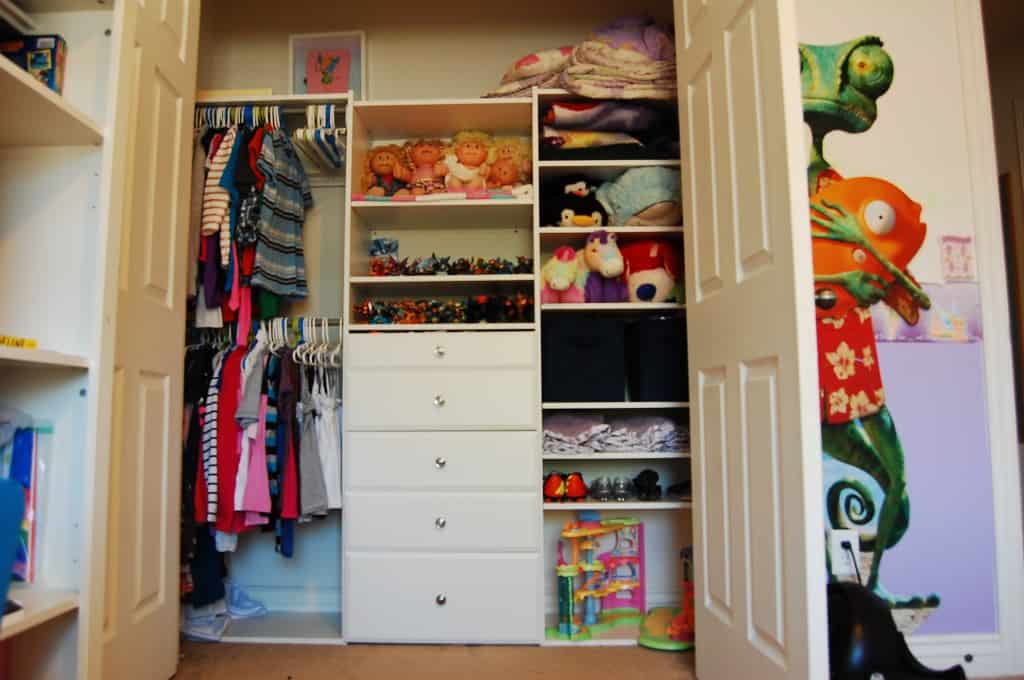 Don't miss out on The Home Depot's Summer Home Organization Event that is going on now until August 17th and brings you the best prices on shelving units, boxes, moving supplies, totes, baskets and more. Organize your life with fantastic storage and organization ideas from The Home Depot. From your closet to your garage to your pantry, The Home Depot's storage options simplify and streamline your living spaces.
To give you more ideas, be sure to check out the top 4 ways to use the Martha Stewart Closet system.  Stay tuned tomorrow for the master bedroom closet!
Disclosure: Martha Stewart and Home Depot graciously gave me the kits to facilitate my review, but I was not compensated.  All labor and thoughts are my own… ok and maybe the labor was mostly my husbands.