Inexpensive, but totally awesome DIY Drawer organizer! 
I am thrilled to announce our participation this week with Apartment Guide's Lost & Found: Do You Know Where Your Things Are? blogger program. I was asked to document a renter-friendly organizational project, and I was thrilled to find some inspiration over at Moving Today that taught all about organizing small spaces.
After reading several inspiring blog posts, I decided to organize my bathroom drawer.
Now I am going to share with you a before photo… but be a good friend and don't let this circulate the globe, n'kay?
Or at least don't forward it to my dermatologists house.
He would die if he saw me using half the products I put on my face.
And then come back to life and die again when he looked at the expiration dates.
Not kidding.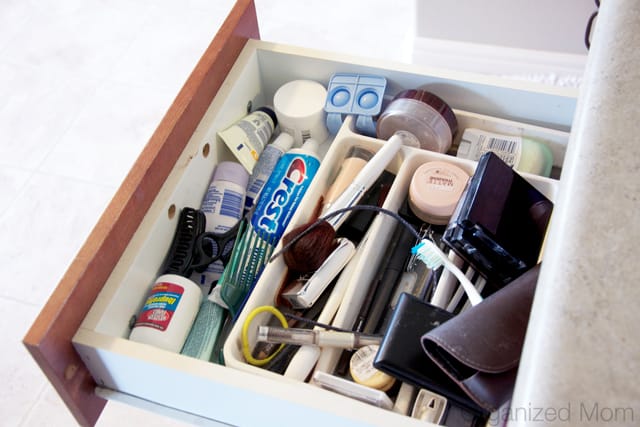 After a major drawer purge, I had my makeup down to the essentials and got to work. I realized that a store bought insert just wasn't working for me because it doesn't utilize all of my drawer space.
Custom made insert to the rescue!
First, I went to my local Home Depot and picked up some wood lathes. These are just thin pieces of wood used in plaster work. They usually come in 48 inch long pieces, and are super cheap.
Just .55 a piece at my local store. Sweet!
Most home improvement stores will cut wood for you at no charge, so I went with my drawer measurements and just had the pieces cut there.
And then I sat on the floor and laid it all out to make sure I had enough pieces for dividers.
And then had them cut some more.
And more.
They love me at Home Depot.
Then I went to look for wood glue, and the same employee who cut the wood and watched me lay all my pieces all over the floor happened to be in the glue and tape aisle.
And I made him help me find the cheapest glue.
That wasn't awkward.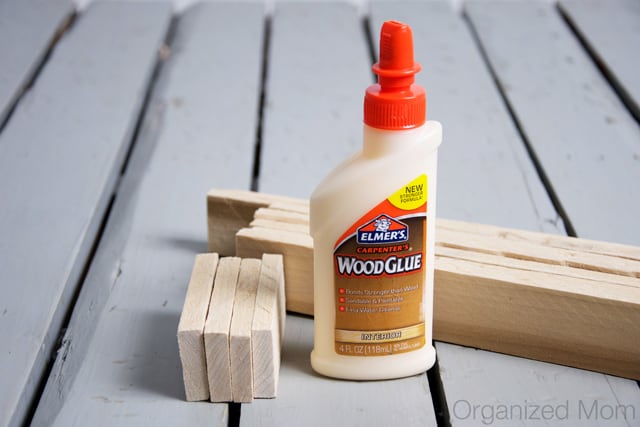 When I got home I laid the pieces out and glued everything together.
Well, actually I had a Diet Coke first, 'cause chasing my  three year old around Home Depot is exhausting.
I know most people would recommend using large clamps to hold drying wood glue in place.
Meh. You don't really need them for this. Just try to make sure everything is straight.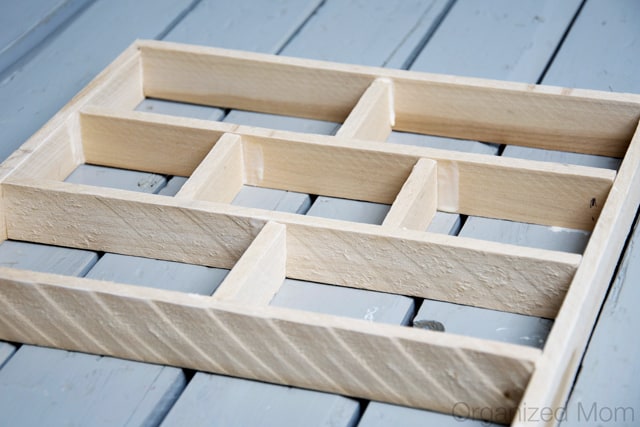 The reason this project is so renter friendly is that you can make a custom drawer insert, but you don't have to permanently glue it in. It can easily be removed and taken with you wherever you go. Or, just make a new one next time you move since the wood is so cheap.
After the wood glue dried, I next gave my insert two coats of white paint.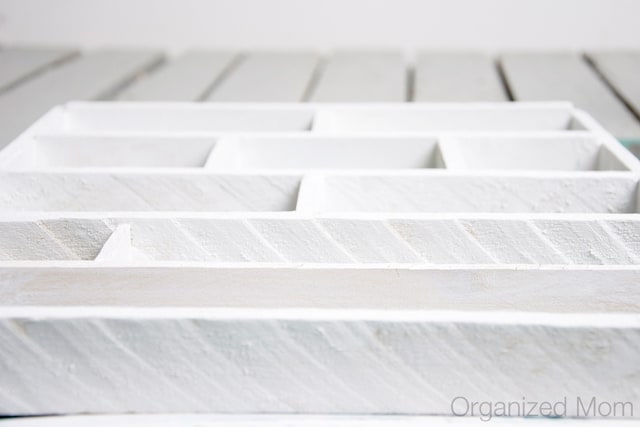 After the paint was dry, it was ready to go in my drawer!
On a side note, you can also easily protect the bottom of your drawer by using a piece of masonite glued to the bottom of your dividers. I decided to just use a drawer liner since I can purchase a roll for just a few dollars, and then cut it to size.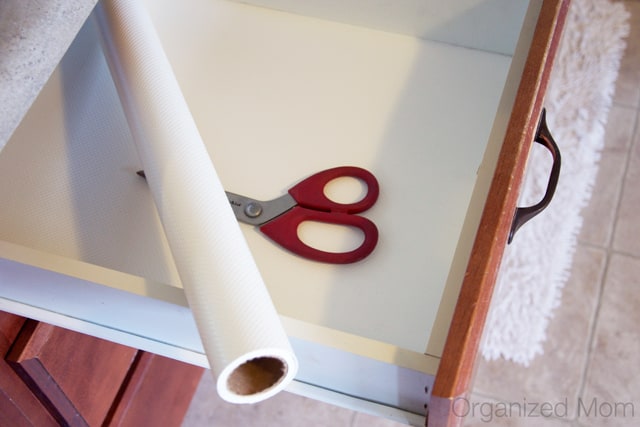 Now my custom insert is ready to go!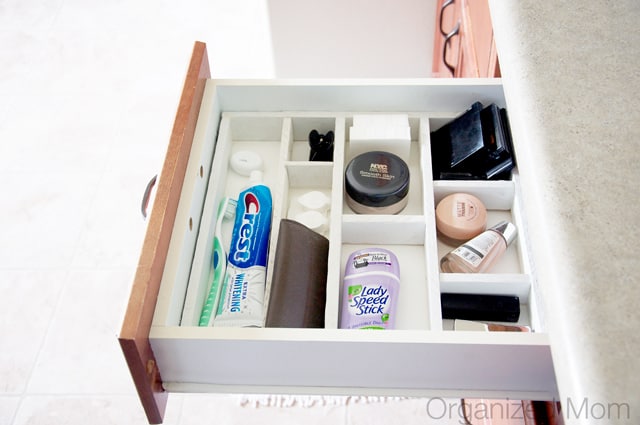 Oh my awesomesauce! I totally love how it turned out. Not only did this project force me to purge, but it gave everything it's own little special place.
Hooray for no more brushing with a toothbrush that taste's like deodorant!
(Maybe that was too much information.)
Seriously, I love how easy this was. I am totally going to do it in all my bathrooms!
Looking for more great inspiration and renter  friendly ideas? Both Moving Today and the Apartment Guide blog are full of fabulous tips for keeping your home and life organized.
Thanks Apartment Guide for sponsoring this post! Stay tuned everyone… tomorrow Apartment Guide will be sponsoring a $50 Container Store gift card giveaway for one lucky reader!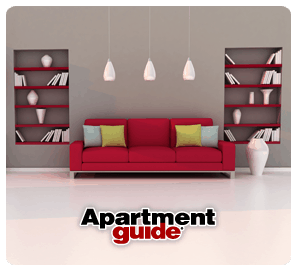 Disclosure Statement: Apartment Guide and owner Consumer Source, Inc. partnered with bloggers such as me to participate in their monthly blogger programs.  As part of that program, I received compensation.  They did not tell me what to purchase or what to say about the products used, and believe that consumers and bloggers are free to form their own opinions and share them in their own words. Consumer Source's policies align with WOMMA Ethics Code, FTC guidelines and social media engagement recommendations. The winner of this giveaway will be randomly chosen and gift card fulfillment will be handled by a third party.