If you remember, I just posted a few days ago about working with the pro's on my master bedroom closet.
Well, I am happy to report it is done! And it looks fan-freakin-tabulous!
I was very worried about the whole process being stressful. Especially since the evening I emptied out the closet, my bedroom looked like this: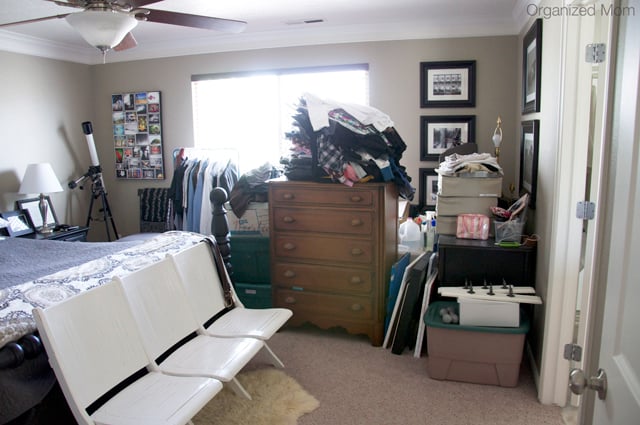 Yikes!
But I am happy to report the whole endeavor was smooth, and turned out beautifully!
Before the crew from Organized Solutions of Utah came for the install, I needed to empty the entire closet. Here's a peek at how it looks before the custom cabinets were installed. This should give you an idea of the space.
Here is the right side of the closet: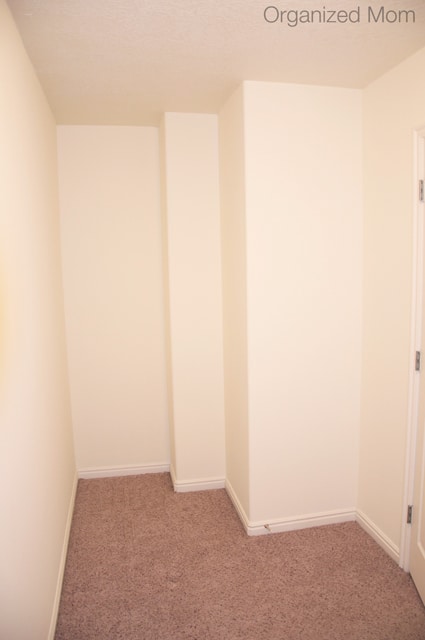 Isn't that angled wall crazy???
And here is the left side of the closet: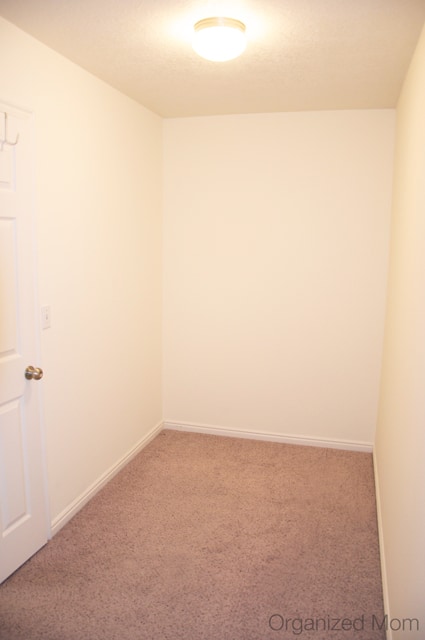 After taking out all of our crazy piles of stuff and clothes, and removing the two random full-length shelves, I could finally see what the pro's saw in this space. It has some serious potential!
When the installation crew arrived, they got right to work carrying in all the pieces, and starting the installation process. The fabulous thing about Organized Solutions is that they bring everything already cut to size. Otherwise, you would seriously have someone working in your closet for days. I don't know about you but I can't live out giant piles of clothes spread all over my bedroom!
Here's a look at installation when the crew began: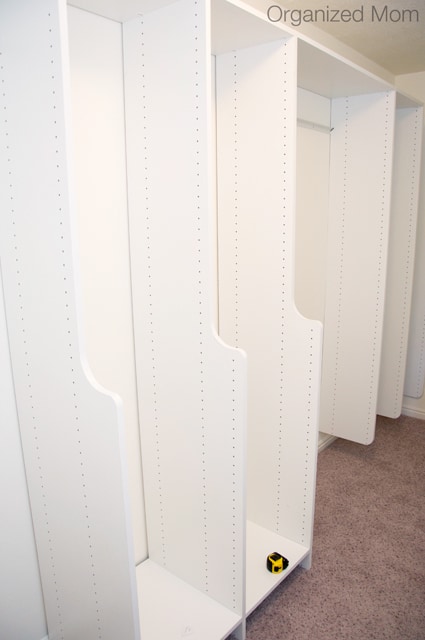 Love those floating shelves that don't touch the ground! So perfect for vacuuming.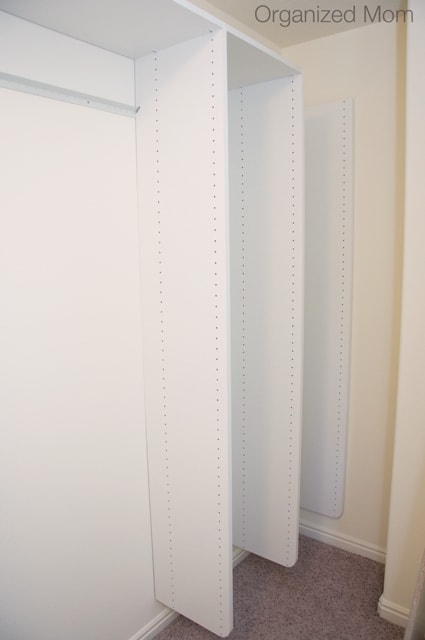 And here's the closet about half way through. I just cannot express how excited I was to have buit-in sliding drawers and baskets!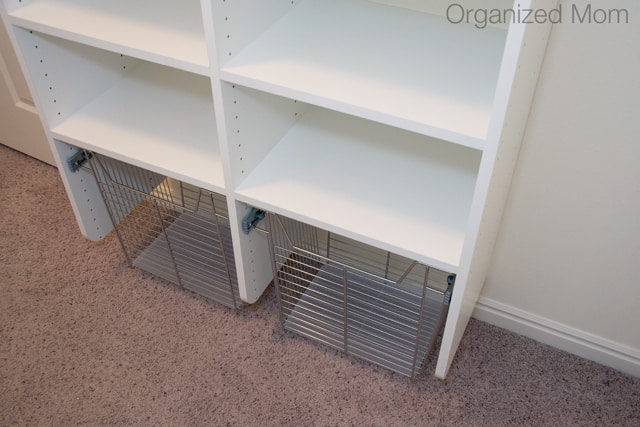 After just a few hours, the closet was done! I could not believe how quickly these guys worked. In fact, every time they went up and down my stairs I swear they were running! I had to laugh, because I thought I was the only person who ran up and down my stairs all day!
Ready to see the finished closet???
Ta-da!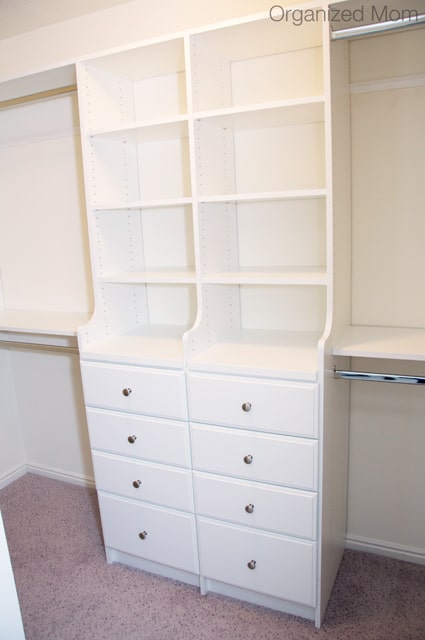 The drawers open and shut soooo smoothly! A very unexpected bonus!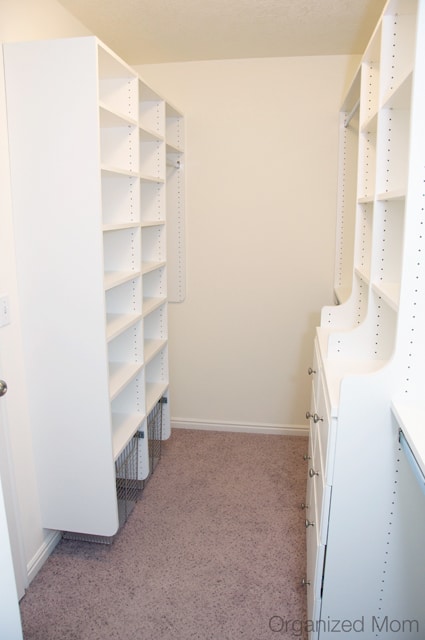 Now take a look at the photo above, and here's a reminder of what it looked like before: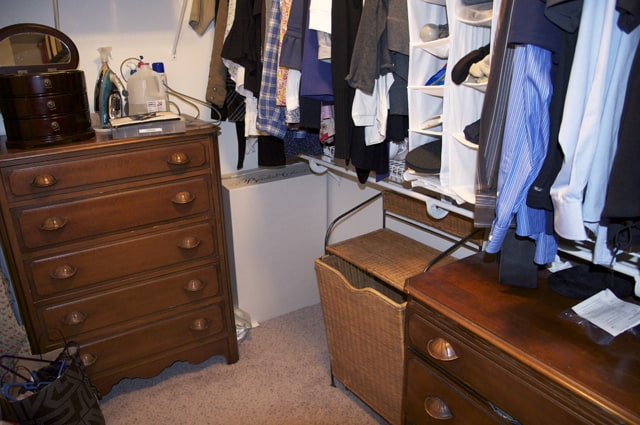 Ugh. Somebody burn that photo!
Big big difference, no? And I love how the crew at Organized Solutions also installed hardware that matches my existing door handles and light fixtures. These guys know their stuff!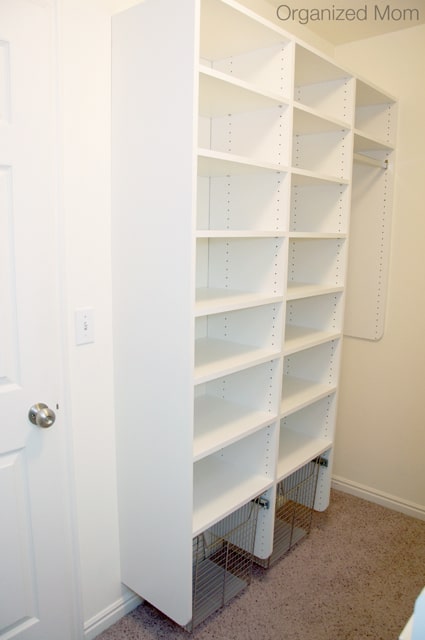 Notice how the shelves are adjustable. Perfect since I already have lots of containers in mind that I want to use!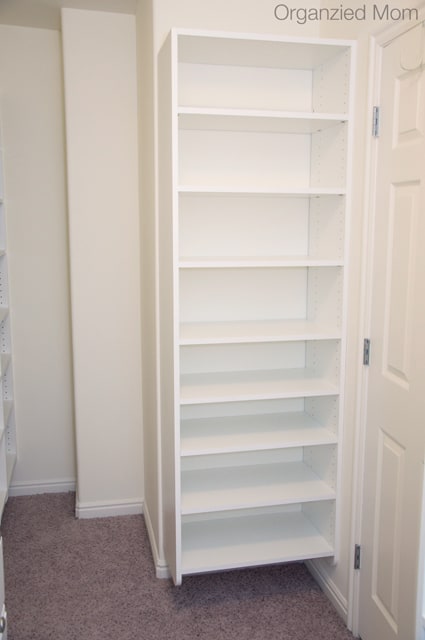 I love that they even built custom shelves behind the door. Such a good use of what was wasted space before!  Previously I just had a bunch of random purses hung there.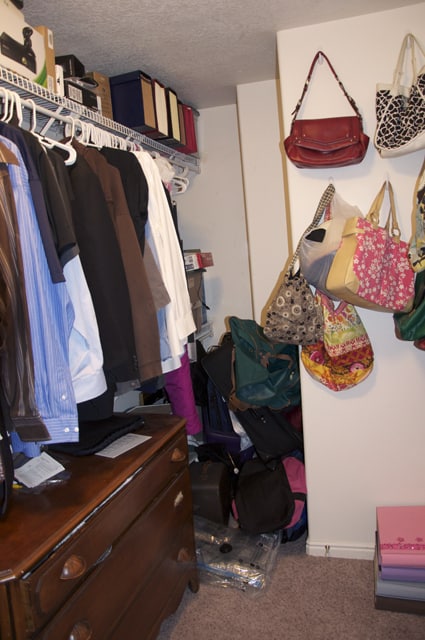 Seriously, so much better!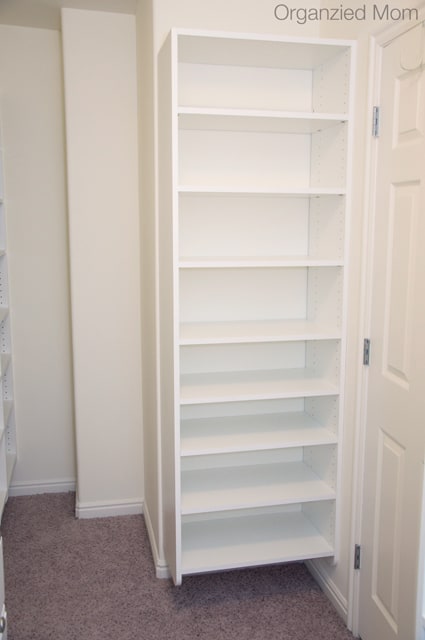 And here's a view of the entire right side.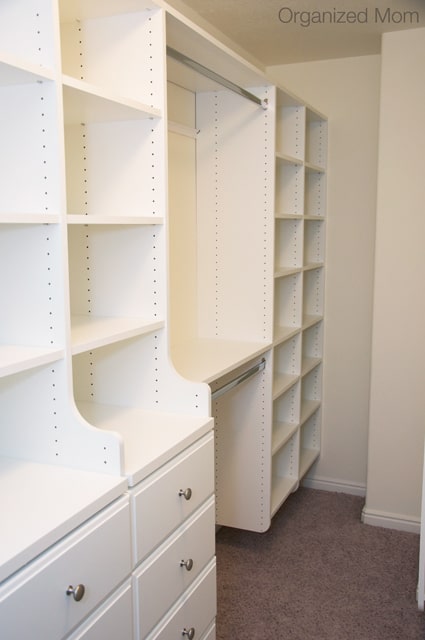 So. Much. Better.
Wow! I am just dying at how much better it looks.
Now, stay tuned because I am so excited to hang up my clothes and put everything away! Tomorrow I will be posting the big after photos!
Wahoo!
To learn more about Organized Solutions, you can visit their website and many sample photos HERE. Yeah, I am still pinning their work like crazy on Pinterest.
Disclaimer: I was not financially compensated for this post, however Organized Solutions has donated their time, services, and product for review purposes. All opinions are my own.