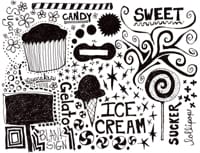 I have the worst sweet tooth!  Especially if I've decided that I'm going to start eating healthy.  As soon as I make that decision I HAVE TO HAVE sweets!  So I've really been trying to cut back on the sweets again (Trevor always gets mad at me when I come back from the grocery store with all kinds of cookies, candy and ice cream).  So I'm offering some advice, but am really trying to GET advice this time. 
100 Calorie Packs – I was REALLY skeptical about these to begin with.  First, because I really do hate diet foods like low fat stuff.  I just don't think it tastes as good.  So my sister had some of these and I tried the Oreo Crisps… LOVED them!  They aren't Oreo's, but they satisfy my Oreo craving.  Also they really are tastey.  But beware of the chips ahoy 100 calorie pack… not so good.  The other ones I've tried are the cheese-it ones and the Alpha bits, both very tastey… how healthy is it to eat 5 100 calorie packs a day?  I kid, but really they are good and are just sweet enough to help me out.
Housework – whenever I get a craving for something sweet I try to distract myself by doing something around the house.  Clean out a cupboard, wash the walls, whatever.  Anything to keep my mind off of the pantry.
So those are my main tips to keep me away from the sweets.  Cause heaven knows that I do not have the willpower to just tell myself NO I don't need that right now.  Please help me with some more tips!  And no telling me to eat fruit, cause it's sweet…. I hate fruit.  🙂