Are you ready to organize your home, your office, your paperwork, basically your life? Chances are you are feeling a little overwhelmed. Doing an internet search for organization websites is a good place to start, but the options there are endless!
So, we've done the searching for you and came up with a list of 10 great websites that help you organize your life!
This post may contain affiliate links. As an Amazon Associate I earn from qualifying purchases. For more information, see our disclosure.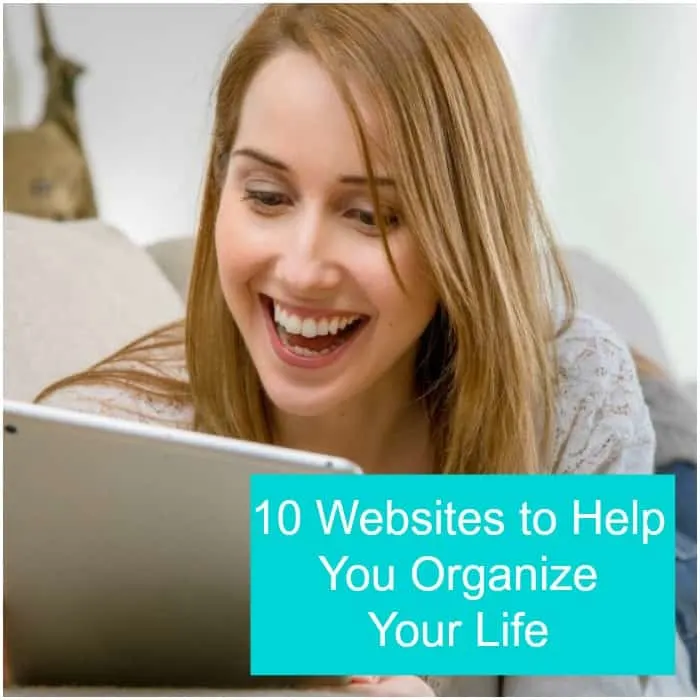 Home Organization
Organise My House is a beautifully organized website. It breaks up the overwhelming task of organizing into smaller more manageable categories. The website also offers a free 30 day clutter blitz challenge to jump start your organization.
Organized Home also features categories to help you jump into organizing without feeling overwhelmed, including a tab called "Family Ties" which focuses specifically on organizing in family areas, kids rooms, homework areas, command centers, and more.
What I love most about this site is the Organized Tip of the Day!
De-Cluttering
Marie Kondo is the woman behind the Kon Mari Method, a system of decluttering and tidying up. Kondo teaches people to consider all their possessions and keep only those that bring them joy.
This is the organization website for decluttering!
Small Spaces
If you are having trouble organizing due to a small space, check out Apartment Therapy. This website features categories on interior design, diy, real estate to name a few, but their organization posts are the tops!
From bathrooms to kitchens to closets and more you'll find all the tips and tricks you need for your small space.
Budget
Think you need to spend a lot of money on bins, baskets, and gadgets to get you organized? The Budget Decorator is an organization website that will show you how to get your home in order without breaking the bank.
Office Space
See Jane Work will give you tips on organizing and styling your office space. Whether you work at home, in an office, or you're just looking to streamline your sorting through the mail/bill paying station, you'll want to check it out.
Meal planning
Your home can be organized within an inch of it's life, but if you don't have a plan for dinner, you might end up standing in front of the pantry without a plan and a few hungry kids asking on reapeat, "What's for dinner, what's for dinner?"
To keep your dinner game on point, check out Say Mmmmm and Prepear!
Life Documents
No one really wants to talk about estate planning and wills, but if you are ready to organize that part of your life, check out GYST. With an easy to follow checklist, GYST will help you set up your will, living will, life insurance and more.
Overall Organization
If you are looking for a organization website to cover several areas, check out Organized Moms, covering topics like decluttering, menu planning, routines and more.
And of course, please keep stopping by The Organized Mom, our very favorite organization website for tips and tricks to keep your home and your life organized!
I love this blog for practical ideas for real families! Abby is relatable and has amazing advice to organize and decorate any space!