Do your kids share a room? Whether it's a choice, or a necessity due to lack of bedrooms – shared bedrooms can be beneficial to your children. According to parenting experts sharing a room can teach kids important skills like how to negotiate, how to compromise, and how to work out conflicts.
Additionally, if you have a little one that is a little on the anxious side, he or she may fall asleep easier by having someone in the same room. And those inevitable nighttime chats before falling asleep will help them form a special bond.
This post may contain affiliate links. As an Amazon Associate I earn from qualifying purchases. For more information, see our disclosure.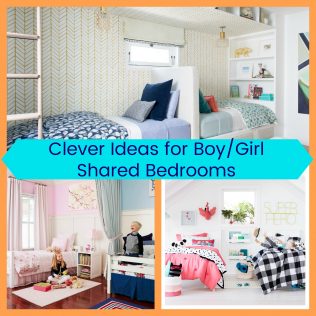 When kids of the opposite sex are sharing a room, things can be a little trickier. It might not work as they get older – but for little ones it can be a successful arrangement.
Boy and Girl Shared Room Ideas
When arranging the room, it's important to keep in mind that each child needs their own defined space. We've gathered up some of our favorite boy/girl shared rooms that are both beautiful and functional.
Built-In Beds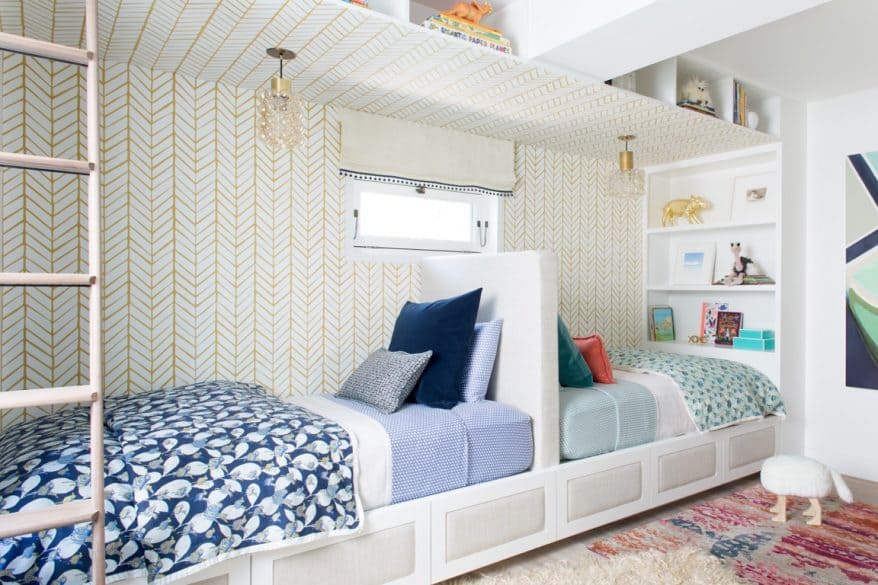 This charming bedroom saves space by using built-in beds with drawer storage. Different bedding defines each child's space, and a tall headboard adds privacy. Different pattern and texture layers creates a cozy and eclectic style.
Source: Nest Design Co.
Clever Paint Technique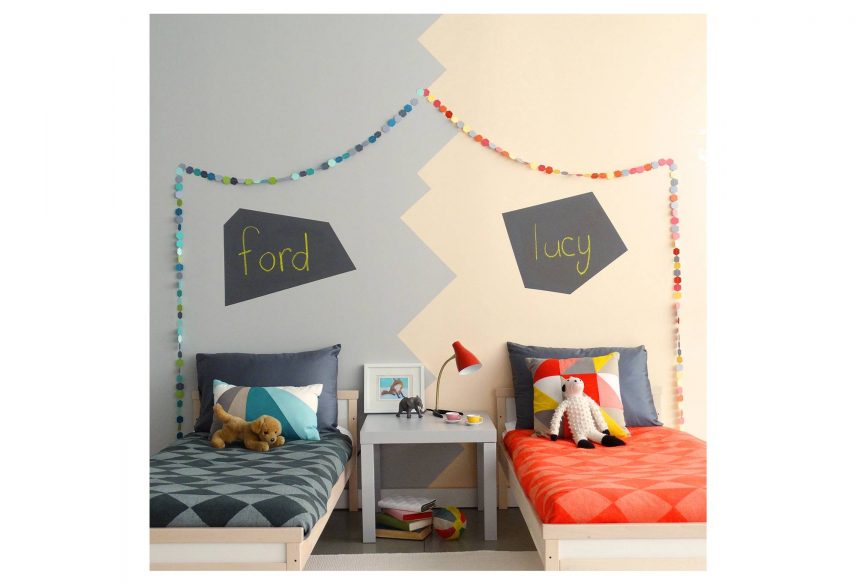 For a bold look that helps define each child's side of the room – paint the wall two different colors. This zig-zag pattern divider adds a whimsical touch. Chalk paint shapes above the beds can be used for playful name tags, and double as creative spaces for the kids to play with chalk.
Source: Target
Colorful Bedding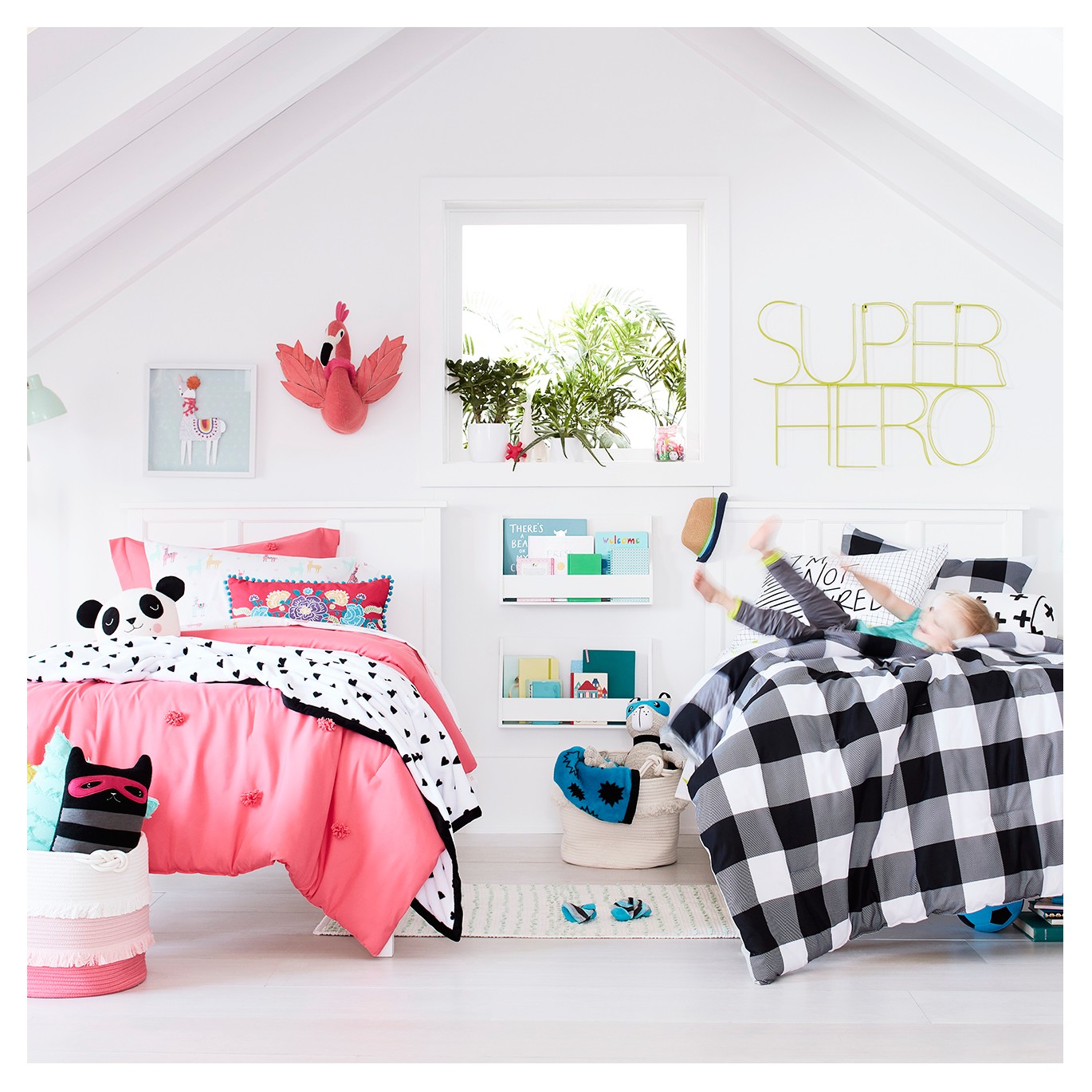 Another way to add each child's taste into the decor is in the bedding. Start with a bright white room, and then let each child's personality shine through their choice of bedding.
Source: Target
Curtain Separators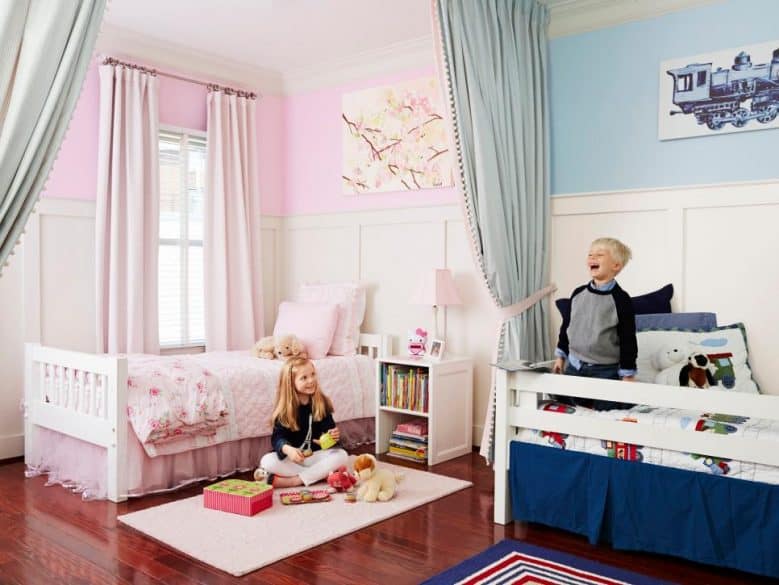 For privacy and alone time for each child, add room divider curtains that can be drawn out when needed.
Source: HGTV
Creative layout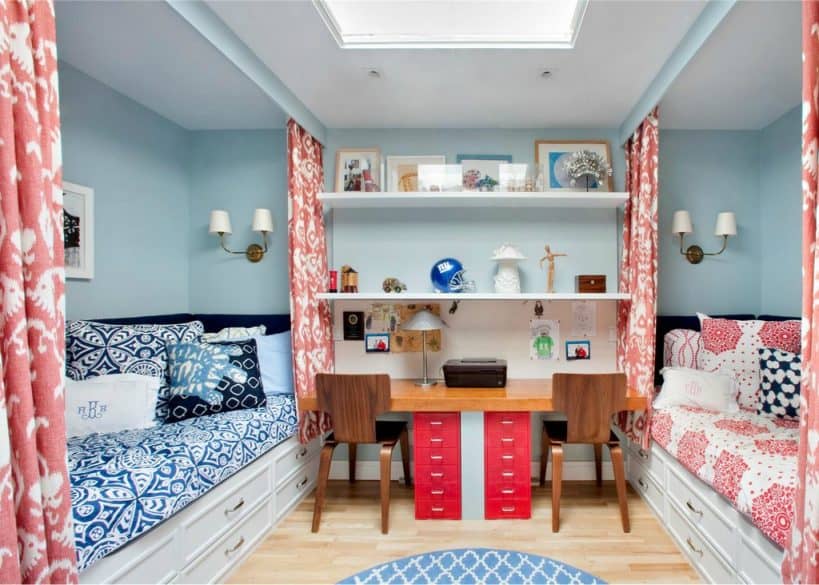 With careful planning and a little creativity, there's space for all the necessities even in a shared room. We love the clever solutions in this room: a shared desk with separate drawers for each child, built-in storage underneath the beds, and beautiful ikat privacy curtains.
Source: POP SUGAR
Shared bookcase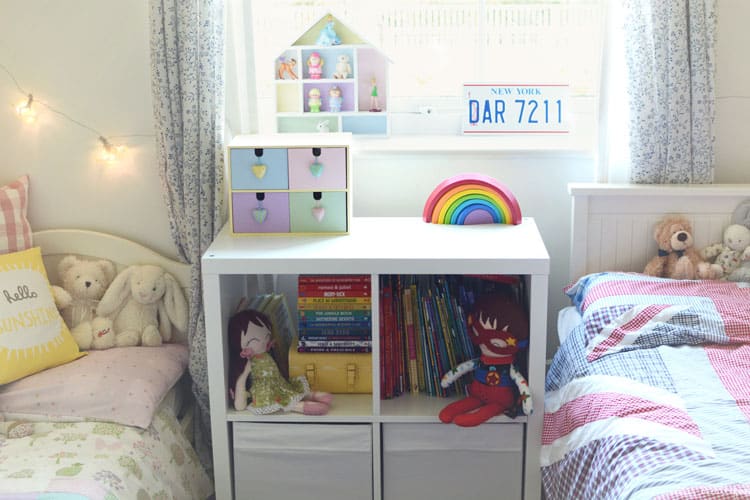 If the shared bedroom is a small one, a simple bookcase with assigned cubbies will ensure each child has a place for their belongings.
Source: Dear Beautiful Boy
Gender neutral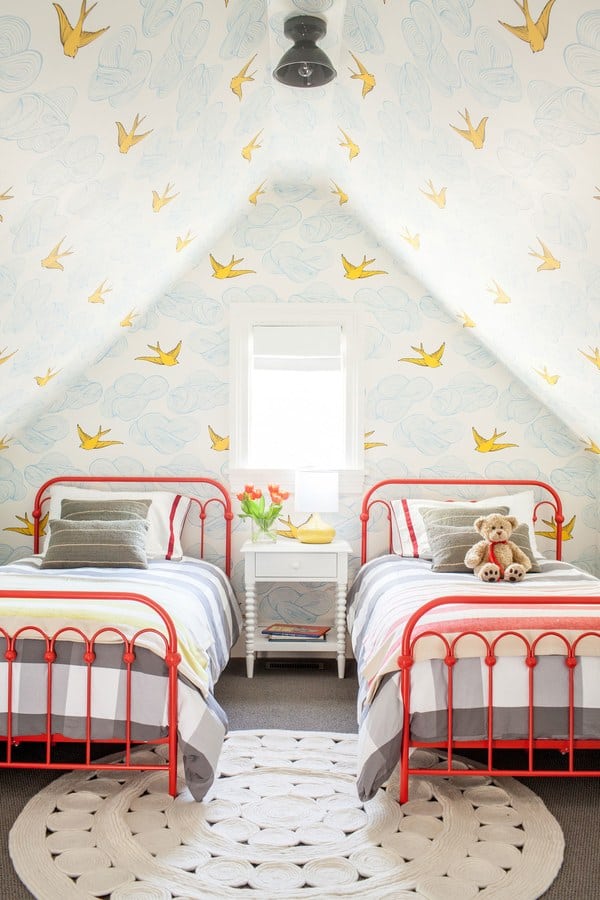 With boy/girl rooms it might be challenging to try to mix feminine and masculine decor. Instead, go for a neutral palette that both kids will love.
Source: Architectural Digest
Boy and Girl Shared Room Ideas
We hope these ideas inspired your new bedroom setup for your children!
Here are some other helpful tips we have when it comes to setting up a shared bedroom, especially when it comes to making everyone happy!
Be sure to let each child include their own favorites. This is a special space for each child. Be sure to let them both pick out some of their favorite things to include. It could be a blanket or a pillow or special bedding or figures to decorate with.
Contrasting colors can be okay! This ties back to some of our other tips and tricks. Your shared bedroom might not make the cover of a magazine, but it is okay if things don't ultimately match as long as the kids are happy.
Change it up. A little compromise can go a long way for everyone. Consider offering to change the configuration of the room every few months until a solution is found that everyone likes when it comes to organizing furniture.