It can be hard to keep our kids toys and play spaces free of germs and other yucky substances. Kids are always dragging dirt in from outside and bringing their toys with them to public places full of bacteria. Here are some easy ways to clean toys, as well as your child's play room or play space.
How to Clean Toys
When it comes to cleaning toys, there are many different ways to get the job done. We are going to take a look at some of our favorite methods. These methods are best for hard toys like plastic or wood. Don't miss our guide for cleaning stuffed animals too!
Pick Your Toy Cleaning Solution
This post may contain affiliate links. As an Amazon Associate I earn from qualifying purchases. For more information, see our disclosure.
With so many antibacterial cleansers out there, it's hard not to find one that will works for your unique needs and environmental beliefs. For example, if you are super green and want to do what you can while you are here for Mother Earth, but also want to keep your home as bacteria as possible, check out Method Cleaning products.
Seventh Generation and the Honest Company also make eco-friendly options for this too!
Bleach is an excellent germ killer! Though bleach isn't for everyone because of the harshness of the smell and on surfaces, it is hands down the go-to cleanser for many people to keep homes clean and disinfected.
Clorox makes perhaps the most well known version of bleach, and also has formulations in many different, appealing scents. Lysol also makes another very effective antibacterial cleanser as another option.
With the right cleanser, some paper towels or reusable cleaning rags, you can clean just about any service in your home one room at a time.
These products really get the job done when it comes to disinfecting toys and getting them as clean as possible, and are also great for your play place cleaning. Be sure to give the surfaces and bins in your play room a good wipe down with one of these.
We like to be sure to wipe everything down with plain water after we are done cleaning with any of these products. Be sure to check out our full guide to non-toxic toy cleaners!
How to clean many toys at once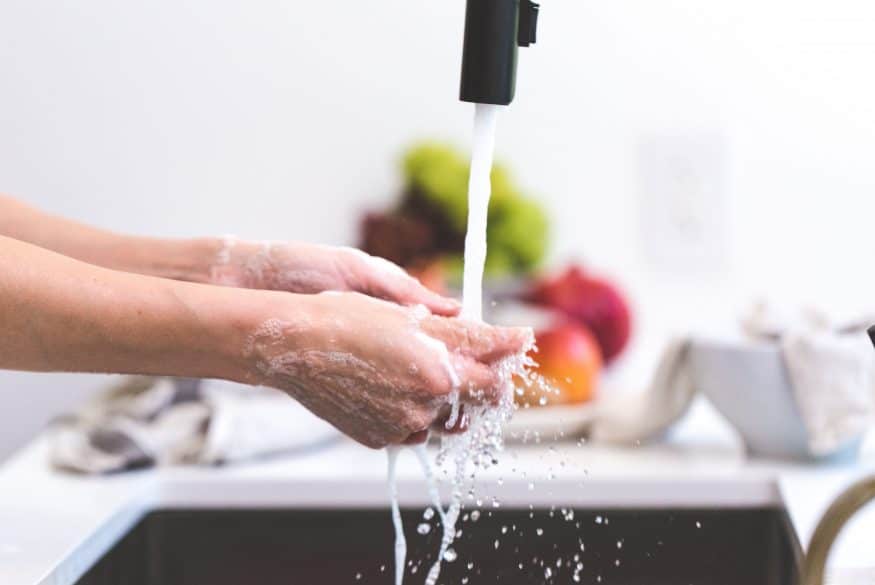 One great trick of the trade, followed by teachers, moms and daycare providers over the ages is to do a mass round up all your children's toys and disinfecting them all at once. You can do this by placing them in your dishwasher and running a cycle through just for this purpose.
You can also or you can grab a clean bin and fill it with antibacterial dish soap or use a 1 tablespoon of bleach to 1 gallon of water ratio Let the toys full submerse in the solution and then rinse them with cool water and place them on a clean surface to dry.
If your kids have tons of toys then do this in batches so that everything get clean. If you do this once or twice a month you should be able to stay up on the germs.
Healthy habits to keep toys clean
Prevention can be an effective way to keep your home and the kids toys clean. Keep hand sanitizer in accessible play spaces and in entryways so that kids can get into the habit of disinfecting their hands as they come home from school and before playing.
Also, keep some cleaning wipes and antibacterial wipes around the house so that play surfaces and toys that end up in mouths can be easily wiped off. Don't worry about being too obsessive with these things, but by encouraging your children to do these things you can help cut down on the amount of disinfecting you will need to do later on.
You can also prevent germs from being spread by laying down play mats or carpets that can be easily and effectively cleaned instead of high pile ones that can harbor germs.
Don't miss our other favorite natural cleaning tips!