Around my house, we love our hats! Everyone in my family has their own collection, mostly consisting of baseball caps and visors. The problem with having so many hats is that if you don't have a good storage system for them, they will quickly get out of control.
A good hat storage system should be easy to access yet relatively compact. Here are five simple solutions for hat storage that can be implemented in a matter of minutes.
This post may contain affiliate links. As an Amazon Associate I earn from qualifying purchases. For more information, see our disclosure.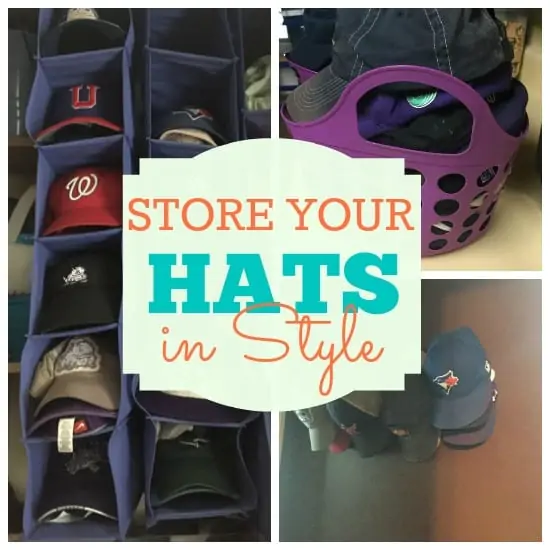 The Best Hat Storage Ideas
We've gathered our favorite hat storage ideas for you. These are all especially great to store baseball hats (because we've all accumulated so many of them), but we have many other hat organization ideas too!
Read on to find out our favorite ideas for hat storage.
Hanging Closet Organizer (Great for Baseball Hat Storage)
For my son's hats, I took two hanging shoe organizers and hung them in his closet. I then filled the compartments with all of his hats. Each section is deep enough to hold 2 or 3 hats. The organizers can hold up to 18-20 hats each.
Not only will these easily hold all of his baseball caps, but they also easily store his bucket hats too. These hangers are simple to install, and they keep the hats accessible. This system is very manageable, even if you have a large number of hats.
This truly is one of my favorite baseball hat storage ideas.
A Hat Rack
I know this one seems too obvious. But, it's called a hat rack for a reason: it works! We have a small hat rack mounted to the wall in a little nook of our hallway.
I use it to store the hats that my husband wears the most often. You can't get any more accessible than this. It only holds about 10-12 hats, but it works well for the hats that he wears a lot.
Individual Hooks for Hat Storage
For an idea similar to the hat rack, but a little more flexible, try individual hooks. I put some of these on the back of my son's door. They are great for holding those larger hats or those that don't easily fold up or stack, like his cowboy hat.
The great thing about these is that you can use as many or as few of them as you need. You can also put them wherever works best for you: on the back of the door, on a wall, or even on the inside of a closet.
Small Plastic Buckets to Store Baseball hats
Another solution that I use at my house is a small plastic bucket. I use these for my hats, our visors, and the hats my husband doesn't wear as often. I bought three of these at my local dollar store. They sit conveniently on the top shelf of my hall closet.
With these buckets, the hats are easy to reach, but are kept contained and out of the way when not needed. The buckets don't take up a lot of space either.
Over-the-Door Shoe Organizer Hat Storage Idea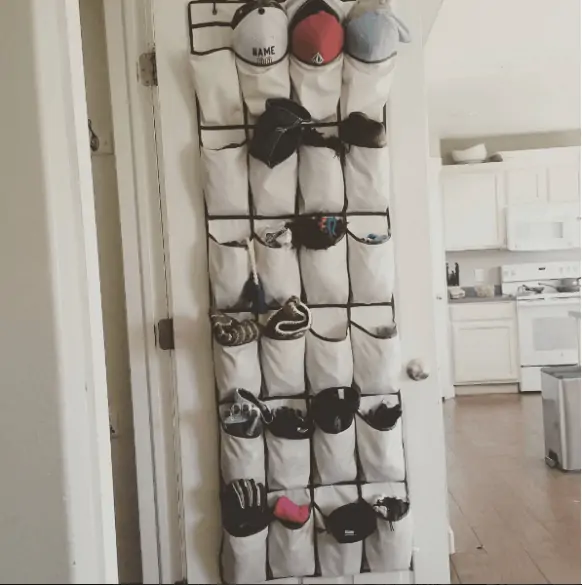 The last idea for hat storage that I have for you is one that Amy here at Organized Mom uses. She took an over-the-door shoe organizerGorilla Grip Premium Over The Door Mesh Pocket Shoe Organizer, 24 Large Breathable Durable Pockets 64×19, Hooks, Stores Shoes, Storage Organizers Hang on Closet Door, Organize Sneakers Slippers, Black and put all of her family's hats in the compartments. I love this idea!
This is a great way to store not only baseball caps, but also all of those winter hats. The organizer keeps the hats in a place where kids can see and access them, which makes it simple for them to put away their own hats. This is a fantastic solution for small houses because it uses an area that would otherwise go unused.
Anytime there is a hat lover in the family, there is a need to find homes for all those hats! The trick is to have a storage system that keeps the hats easily accessible while keeping them tucked away in a confined space. These five ideas all fit the bill. If you have a pile of hats, try one or more of these simple solutions for hat storage. I hope one or more of them will help to take control of your hat problem!