I love watching my four-year-old daughter and two-year-old son play with costumes and dress-up clothes. It's amazing to watch their little imaginations at work. With a couple of masks and foam swords, they instantly transform into ninjas – fighting bad guys with all their might.
The next moment they're both in tutus performing an elaborate singing and dancing show in the living room. From scary ninjas to sparkly dancers in less than ten minutes? Impressive.
This post may contain affiliate links. As an Amazon Associate I earn from qualifying purchases. For more information, see our disclosure.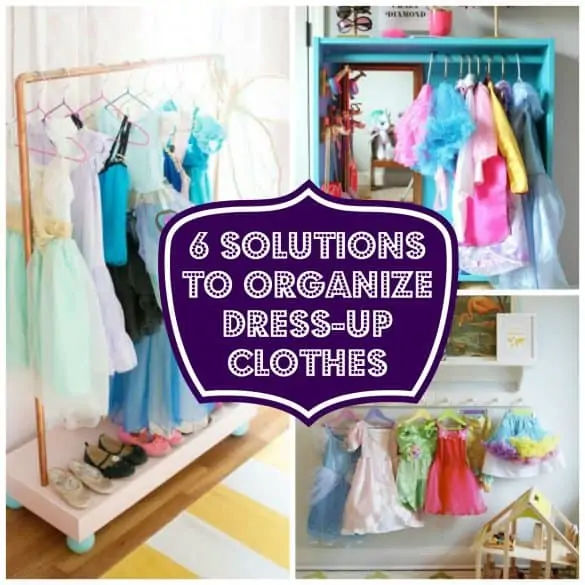 But of course these quick costume changes means I'm often left with dress-up clothes strewn about the house. Keeping them all stuffed in a bin doesn't seem to be getting the job done, so I'm on the hunt for a new solution.
I've rounded up six ideas on how to organize your dress-up clothes so they're neat and tidy, but also easily accessible to your little ones.
1. Simple Peg Rack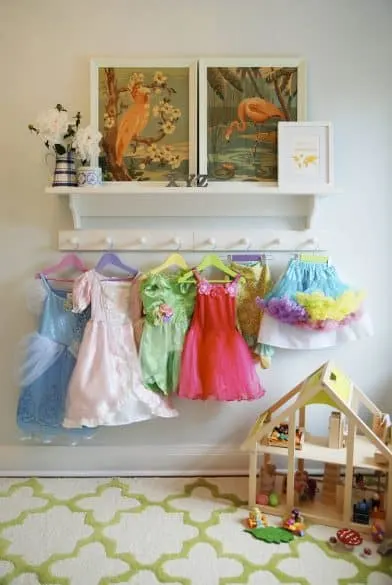 If your child's room is small, this solution from Rambling Renovators is perfect for you. They used vertical wall space instead of floor space by hanging two simple peg racks. A shelf above the rack adds interest and a perfect spot to display art or other accessories.
Believe it or not, you can even get a combo peg rack and shelf and save yourself a bit of time when it comes to hanging:
2. DIY Clothes Rack
This DIY clothes rack from Lay Baby Lay was made using copper piping and simple wood materials. It keeps the clothes nice and tidy but still within easy reach.
This rack has been painted with a charming blush pink and sky blue, but it can be customized for any color scheme.
Not feeling crafty? There are some great already made options out there too.
The shelf on the bottom is especially helpful for storing dress up clothes and accessories!
3. IKEA Hack Costume Rack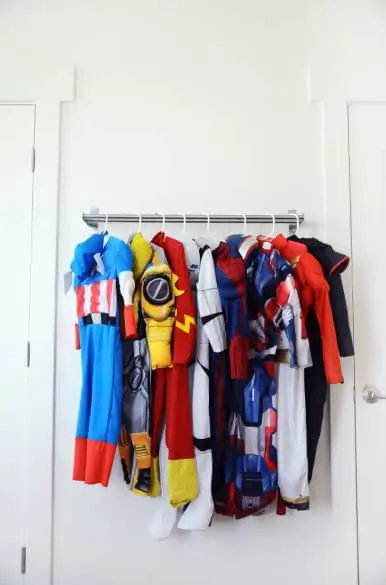 The Small Fry shared an easy IKEA hack for storing super hero costumes. Hanging the GRUNDTAL towel rail at kid-height transforms it from bathroom accessory to costume rack. Sometimes the most simple ideas make for the best storage solutions.
Here's a great towel bar you can order online.
4. DIY Bookshelf Closet

By adding a wood rod and mirror to a cheap bookshelf, Rain on a Tin Roof made a miniature dress-up closet. The shelves were installed at the bottom to store shoes and hats. Pegs shaped like animals hang on one side of the shelf, adding whimsical style and a place to hang purses and jewely.
5. Dress-Up Center with a Mirror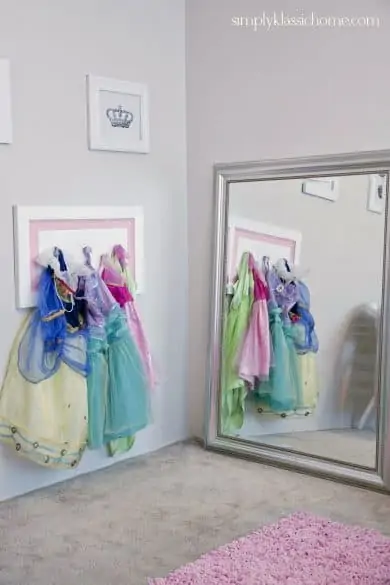 Kristin of Yellow Bliss Road created a whole dress-up station for her daughter. She made a peg board by attaching pretty drawer pulls to a painted piece of wood. She then paired it with a large mirror so her little princess can see herself full-length, and admire each of her dress changes.
6. DIY Armoire Dress-Up Closet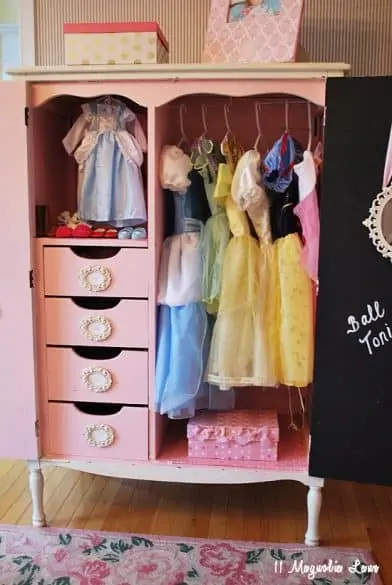 Eleven Magnolia Lane turned this armoire into a dress up closet that also includes a space for doll clothes. How brilliant is that? The interior was painted a perfect girly pink, and the drawer labels were made with inexpensive plastic photo frames.
The best part of storage like this, is you can close both doors and hide all the clutter.
If you're looking for a ready made solution for dress up clothes be sure to check out this one:
This is a great piece that has ample storage for all of your favorite dress up clothes and accessories!