Traveling with a toddler
can be difficult. But, with a little help,
traveling with children
can be smooth sailing. Here are ten organizational hacks for traveling with toddlers and kids.
Some of these are things that I have been doing with my son for years, while others are tips that I've rounded up from other places around the web. So, let's get started.
Top 10 Tips for Traveling with a Toddler
This post may contain affiliate links. As an Amazon Associate I earn from qualifying purchases. For more information, see our disclosure.
Here are some awesome tips for traveling with a toddler, including awesome ideas for toddler travel toys! These tips are guaranteed to keep your toddler happy while traveling.
1. Make a Lapdesk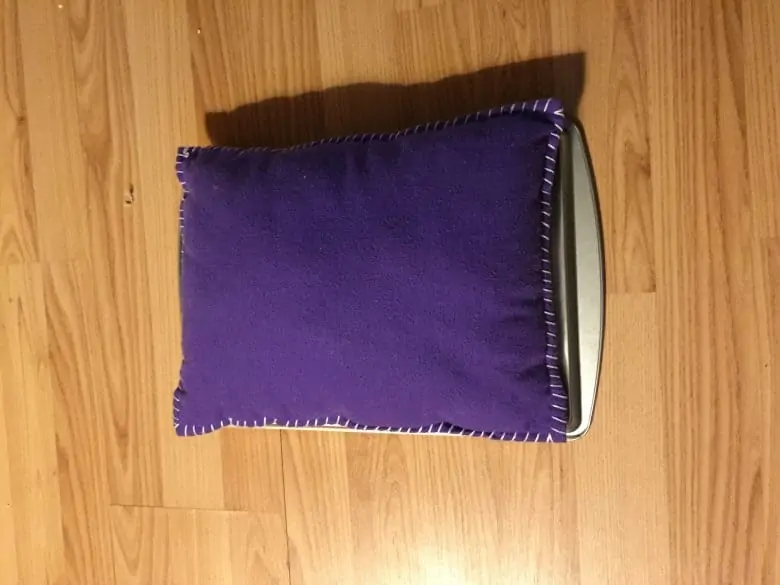 In my opinion, every kid over the age of 2 should have a lapdesk when traveling. It doesn't matter if they are in a car or on a plane, having a lapdesk just makes it easier for kids to play while confined to a seat for long periods of time.
There are lots of different lapdesks on the market, but the perfect one for my son is one that I made myself. I first bought a cookie sheet that would fit in his lap. I then made a simple pillow out of felt that was the exact size of the cookie sheet.
Then, using Velcro, I attached the pillow to the bottom of the cookie sheet.
This is the perfect lapdesk for several reasons. First, it is the exact size for my son's lap. Second, the small lip around the edge keeps crayons, cars, and other toys from sliding off of the tray. Third, because it is metal, it is a great place to play with magnets.
It is also easy to clean and very durable. I can't imagine traveling without this lapdesk!
2. Bring a Food Container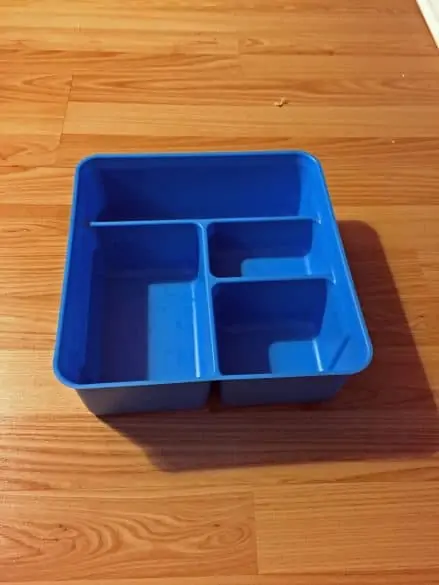 We take lots of road trips as a family. When we are traveling in the car, we typically hit up a drive thru at least once during the trip. It is difficult for small children to juggle all of their food while sitting in a car seat. To solve this problem, I bought a small square plastic desk organizer and converted it into a food container for my son.
He can put his chicken nuggets in one compartment, apple slices in another compartment, and french fries in a third one. The food container will either sit on his lap or on top of his lapdesk. It allows him to hold all of his food while freeing up his hands to actually eat.
With the container, any spills are caught within the compartments, and because it is plastic, it is easily wiped clean.
Some people use a shower caddy for a food tray, but I prefer the desk organizer. The main reason for this is because the shower caddy has holes in the sides of it, while the sides of the desk organizer are solid. This makes it easier to contain the mess if something is spilled.
3. Create a Portable Lego Kit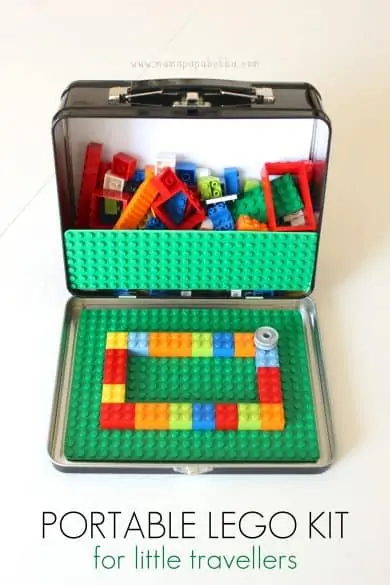 Jen over at Mama.Papa.Bubba. made the cutest little portable Lego kit for traveling. She used a metal lunch box, a Lego base plate, and some felt to make the perfect kit for building on the go.
There is nothing better than a toy container that doubles as a playset. I love this idea! I hope to make one of these for my son before our next road trip!
4. Bring Snack Containers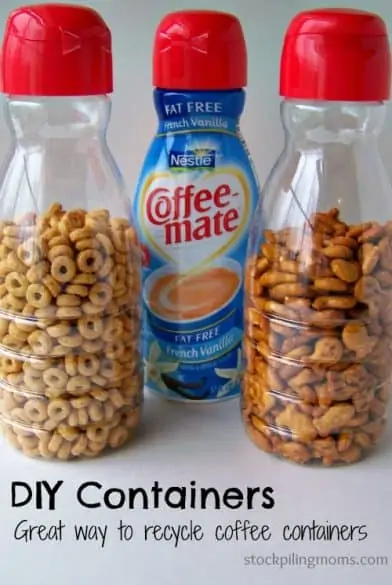 One of the most essential items to have on hand if you travel with kids is snacks! Yet, I hate when I reach for a snack and realize that it has either spilled all over the bag or has been smashed to crumbles. For an effective method to store your snacks to keep them from spilling or being crushed, try using recycled coffee creamer bottles! This tip comes from Stockpiling Moms.
5. Make a DIY Travel I Spy Game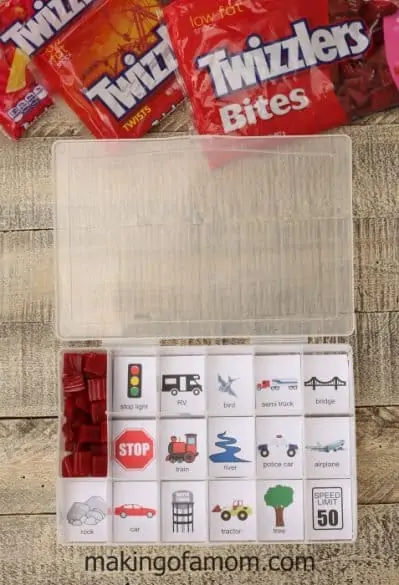 You can never have enough snacks or activities while traveling with kids. This next idea combines the two. Stafanie at Making of a Mom came up with a DIY travel I spy game that is perfect for kids of all ages! No reading required. She has several different ideas on how to play this game. I like this idea because it is self-contained and zero mess.
Stefanie used sticker paper to create her game. I would suggest using Velcro instead so you could easily change out the pictures depending on whether you are driving or flying. You could also switch out the pictures based on your destination.
6. Use a Sippy Cup Leash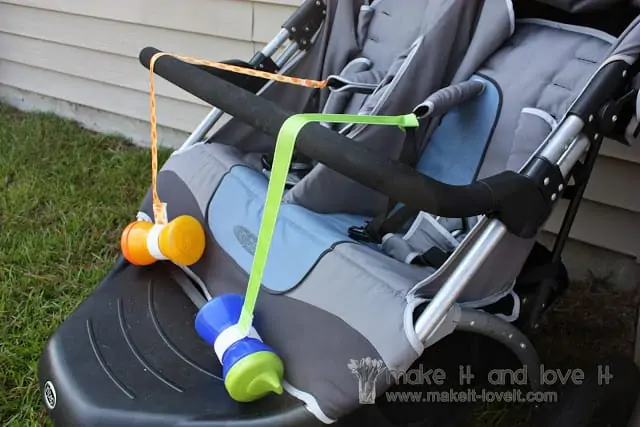 Every parent of a baby or toddler knows how much entertainment your children get from throwing their sippy cups in the floor. This is annoying while at home, but while traveling, it is enough to make you crazy! Luckily, Ashley at Make It & Love It has come up with a genius solution: the sippy cup leash.
She used elastic and ribbon to tie the cup to her children's car seats. This leash keeps the cup within their reach and off the floor regardless of how many times they throw or drop it. Brilliant!
7. Create a Clothespin Geography Road Trip Game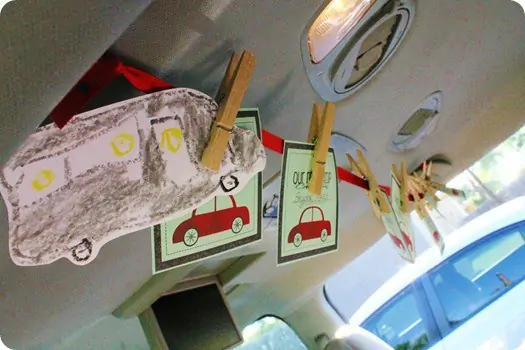 Making long road trips with kids usually means hearing, "Are we there yet?" about a thousand times. Brittney at ThePoeFam found a great solution to this problem. She strung a ribbon across the backseat of her car, and then clipped clothespins to it for each of the major cities that they will be traveling through.
She had her son to draw a car, and she uses it to move from pin to pin as they reach each city. Not only does this game help your kids to keep track of your progress in the car, but it can also help them to learn some geography at the same time. You could track the states you travel through in this way too.
8. Use an Over-the-Seat Organizer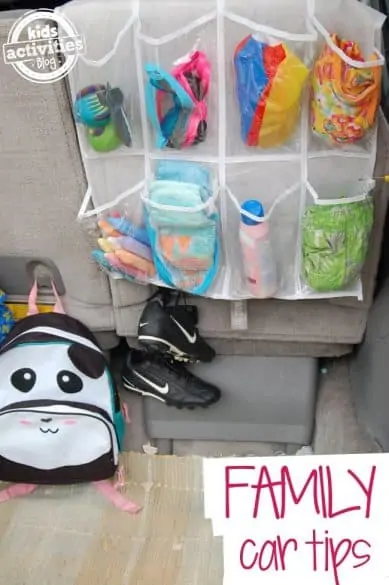 Holly at Kids Activities Blog has a great idea for keeping things organized in the car: turn an over-the-door shoe organizer into an over-the-seat organizer. You can use it to keep toys and snacks within easy reach of your kids or to store other supplies at the ready. What a smart trick!
9. Bring Small Toy Storage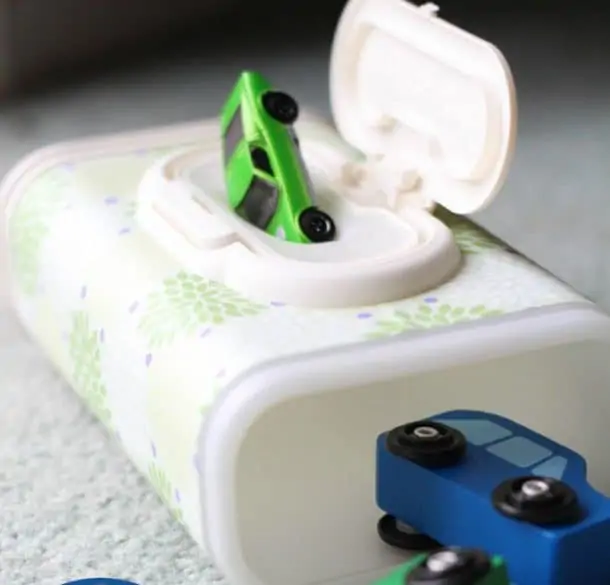 If your children love playing with small cars, animals, or other small toys at home, you know they will love playing with them while traveling too. The problem with this is how do you store them?
I love the solution that Katie at Happily Ever Mom came up with: put them in an old wet wipes container. These containers are large enough to hold small items yet small enough to easily pack and carry in your diaper bag, purse, or carry-on bag.
10. Make Window Caddies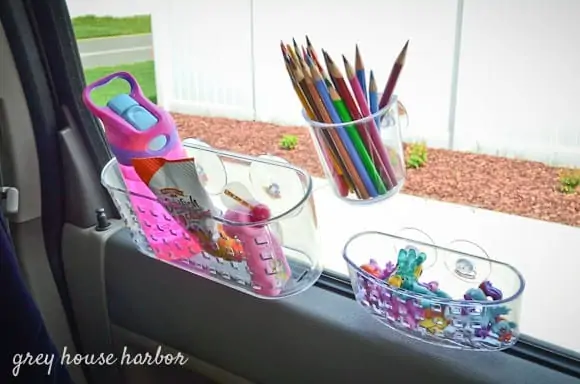 Another option for keeping kids' toys, activities, and snacks within their reach is to use shower caddies with suction cups on the windows. I found this idea at Grey House Harbor.
This is an excellent way to give your kids a place to put all their things while they are using them. You could just as easily use these caddies on a plane as in the car. When they are not in use, they can be thrown into your bag. You should be able to find some relatively cheaply too.
Toddler Travel Tips
Traveling with kids and toddlers can be difficult for many reasons. They require a lot of stuff, and they have to be kept entertained. They insist on having snacks handy at all times. And then, you have to worry about their unpredictability on top of the normal travel stresses.
There are some hacks and tips, though, that can help to make it all easier and less stressful. This list contains some of my favorite organizational hacks for traveling with toddlers and kids. I hope you are able to put some of these to use on your next trip.