During the summer our family takes a lot of road trips to see family and friends. And if you're anything like me I have to have things for my kids to do to keep myself from saying "Are we there yet!" Here are few of the things we do to keep the kids busy and organized for an average of ten hours. ;- )
This post may contain affiliate links. As an Amazon Associate I earn from qualifying purchases. For more information, see our disclosure.
DVDs rock any road trip, and if you don't have a built in DVD player I highly recommend getting a portable one. Hours can fly by with just a few DVDs! Be sure to keep your DVDs organized in a small CD case that holds about 8 to 10 movies in it so that they're all easy to find and portable.
Before I leave I usually buy activity books, travel games or, our favorite, Crayola Color Wonder coloring books. From mazes to word searches to math puzzles and more, our kids can find something they love to do. The Color Wonder markers are perfect for little ones since they don't show up on anything but the Color Wonder paper. My two year old would have had the most colorful car seat ever had it not been for those markers. Throw all the markers and coloring book into a gallon size Ziplock bag so that they're all together and easy to keep track of.
Another fun way to entertain the kids is to get magnetic story books. If you Google "magnetic books" you'll find all kids of characters and stories. We have even taken one of our metal cookie sheets and used if for magnets and then turned the cookie sheet over and it doubles as a lap desk for them to color a page on. The lip on the cookie sheet keeps the markers and pencils from rolling off and the magnets stay put on the other side!
Keeping all of these fun activities organized and easily on hand doesn't have to be fancy or cost a bunch of money, in fact we use what I consider the greatest car organizer ever: a big bag! Yep, that's it. I like to use those reusable grocery bags that you can get for under a buck or for free from the local grocery store. We just chuck everything in the bag and as the kids need something out of it we pass it around and they dig for what they want. When they're done with an activity they just throw it back in. Even my two year old can reach over and drop her coloring book in to the bag from her car seat. A simple, cheap, easy and effective way to keep a car organized.
The only thing better than having a big bag o' fun on a road trip is to be beamed straight to your vacation! Man, where's Scotty when you need him?!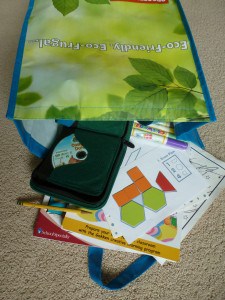 Next week I'll have to show you what I've been working on in my kitchen that has no pantry. I'm so excited about it! (Yes, only an organized mom like me would get this excited about organizing her kitchen.) 🙂