Does anyone else love a good road trip? A road trip is my personal favorite type of vacation. I am a reluctant flyer. I will fly, but I have to psych myself up to spend long hours at an airport, followed by hours cramped in a small space, hassling with luggage, waiting through security lines, etc. I like my car, my space, my temperature, and the chance to get out at stretch my legs anytime I desire. I also like seeing the sights along the way and making the journey part of the vacation.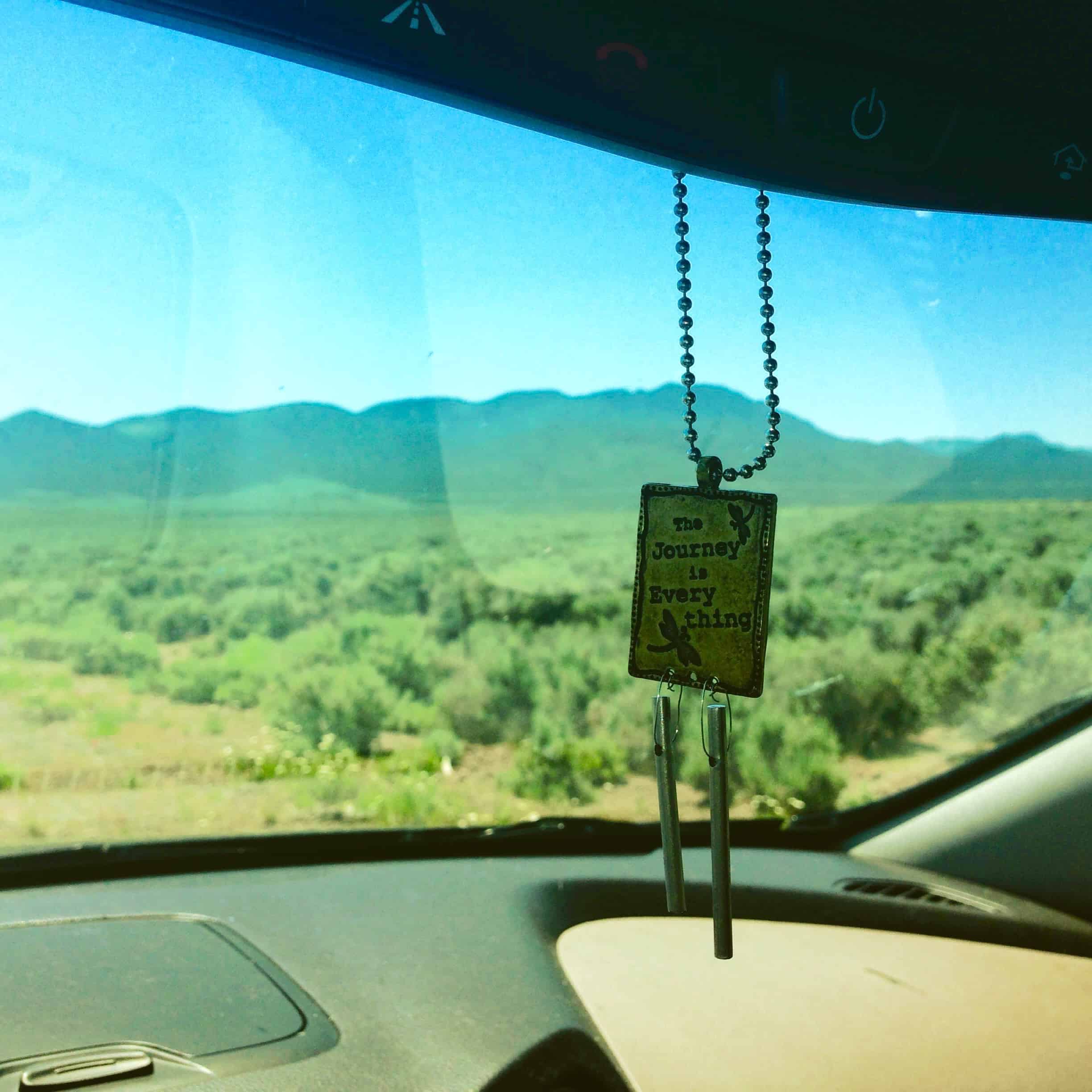 My motto hangs above the dash! My kids sometime wish we would just jump on an airplane and get where we are going, yet I think we all agree that we have made some great memories traveling across our great country.
Planning and executing a road trip is a lot of work. Careful planning along with a dash of flexibility is important as you embark on a family road trip. With summer vacation stepping closer, here are some tips for a memorable road trip.
Start your planning at the ends. Your trip will have a starting point (home) and an ending point (farthest distance traveled). Even if your farthest point is not the main destination of the trip, it is important to begin here because it sets your time limit. How many days do you have available for your vacation? Nearly 7 years ago, our family traveled from our Utah home to Niagara Falls in New York. Niagara was not our main destination, but it was our furthest point so it set the pace of our trip. Due to over a year of planning we were able to take 18 days for this particular trip. If we had not had that length of time, going so far would not have been practical (or fun). Match your length of travel to the time you have available and keep in mind your children's ages and ability to sit in the car.
Think about how far/long you want to travel each day. Our big road trips usually start and end with a very long travel day. Our middle days are shorter travel with time spent at our different destinations. We have found the most enjoyment when we stay at a location for a couple of days before moving on. Sites such as google maps can help you plan your itinerary. I actually used an old fashioned atlas for one of our trips. Visually, an atlas was easier for me to track our travel and I liked the information it gave about each state we visited.
Do your research. Spend some time online preparing for your trip. Search key areas that you would like to visit and find out all they have to offer. One thing I have found helpful is to visit a city website and request information brochures. Cities big and small will send packets of information that can help your family choose destinations. Children can help by searching online and looking at brochures then giving feedback. This will help them have ownership of the vacation. I have also found pinterest to be very helpful for researching sites. Talking with those who have visited or lived in the areas you will be traveling to is also helpful. The hard part is weeding through the information and making choices about where to focus your time.
Match your stopping points to your family's interests. Keep your family's personality and interests in mind as you choose your stopping points. My family has a wide spread of ages and interests so our trips are a bit of give and take. I once visited Seattle with girlfriends. We spent all day wandering around Pikes Place Market. My family lasted about 5 minutes. None of them really like to shop and they hated the crowds. Not a good choice for my family even though I love it on my own. I let my family know that some stops are special for one member and we all need to be good sports and participate. Of course, the bulk of time should be on activities you all enjoy.
Take advantage of the road trip setting to add variety. My favorite part of a road trip is the variety. When I plan our trips I strive for both time in the outdoors and visiting at least one big city. You can hike one day, visit a museum the next, eat at new restaurants, and see all the local offerings. Our family traveled the Northwest states last summer. We spent time in San Francisco, Portland, and Seattle; visited the Redwood Forest; put our feet in the water at Sea Glass and Cannon Beaches; hiked and swam at Crater Lake; and enjoyed the views and mountain air at Mount Rainier. It was amazing!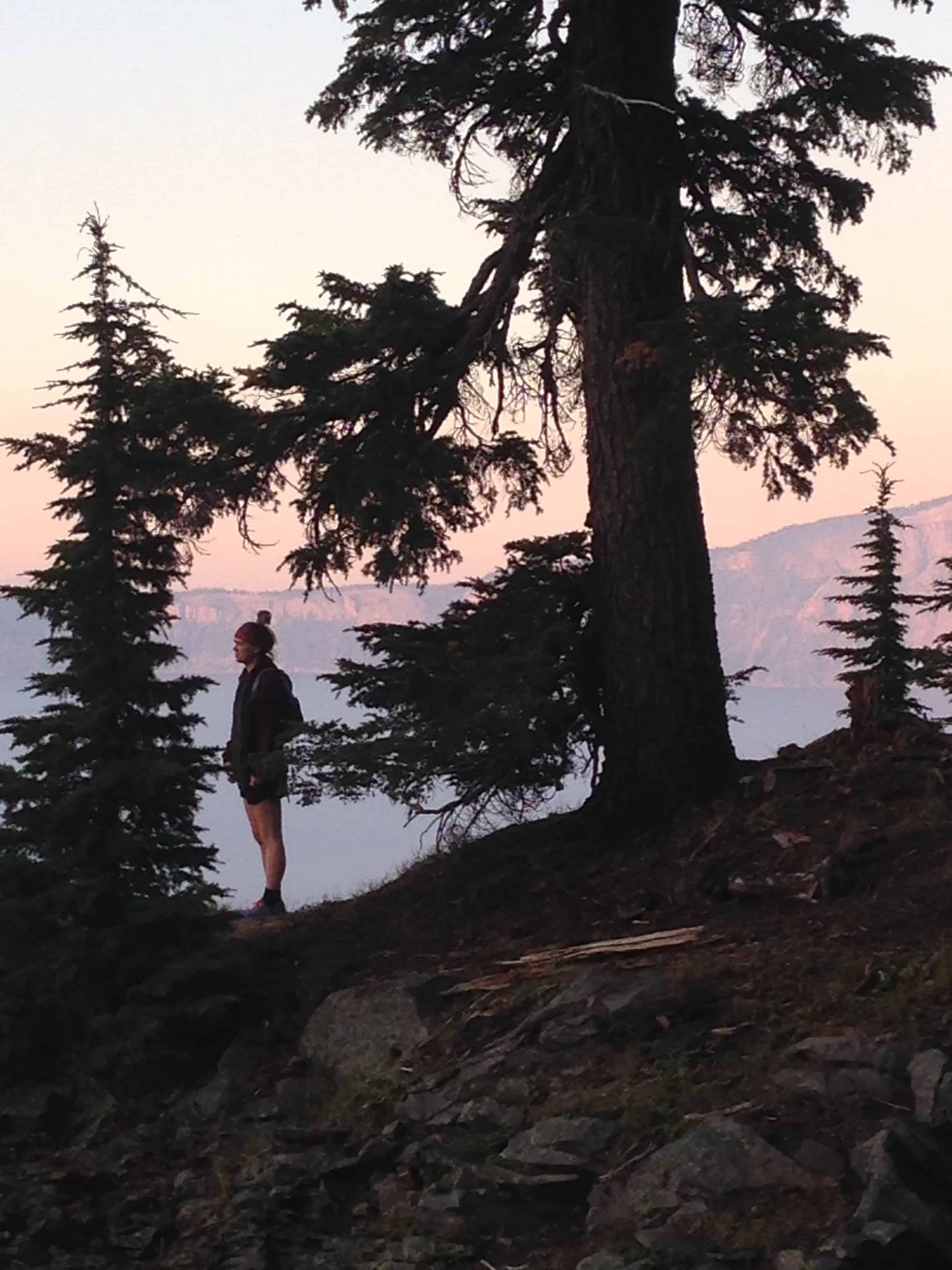 I could insert about a million photos here, but I'll spare you and just share a favorite — my daughter, Megan, enjoying the sunset at Crater Lake in Oregon. So beautiful!
Save money by packing a portion of your food. A road trip can get expensive with hotels, gas, admissions, etc. Food is one area that can get very pricey when you are feeding a family. We enjoy trying new restaurants, especially unique local ones. So we plan on eating one meal per day in a restaurant and save money by packing snacks and lunch. I look for hotels that offer a free breakfast or stop by a grocery store for breakfast foods. Picnicking can be fun, especially if you can find a unique park to stop and enjoy. We especially like to picnic on our long travel days. A cooler takes up a lot of space in the car (downside) and you need to keep up on the ice, but we have found it to be worth the work.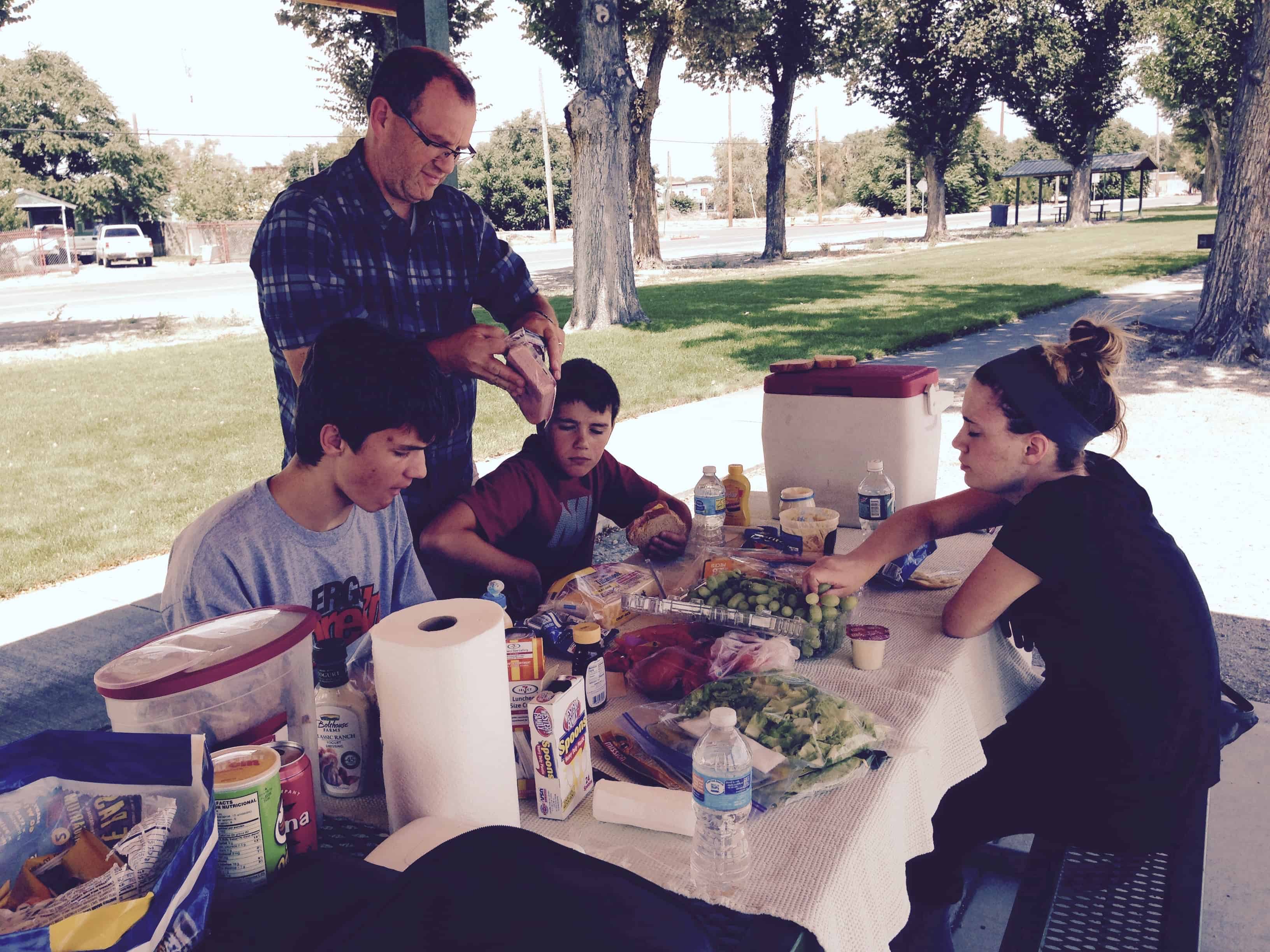 Choose your lodging carefully. As I mentioned before, you can save money by using hotels that offer a free breakfast. That is a priority for us, but at least once or twice a trip I look for something more roomy than a typical hotel room. On a long road trip, it is nice to have some nights where you can spread out and have your own space. My boys, who often end up on the floor, especially appreciate a night with their own bed and even their own room. Try a site such as vrbo (vacation rental by owner) for great deals on homes and condos that offer good space for a family. Another tip here is to choose flexible reservations. Plans tend to change on a trip like this and you need reservations that can be cancelled or changed last minute. I never choose a rate or place that doesn't allow cancellations because I always end up have to make a change at some point as we travel. Another option is to reserve as you go along. Take a less planned and more spontaneous trip, moving on as you are ready. This is hard for my planning personality, but may be very enjoyable for your family.
Allow everyone some space periodically. A child may need to sit out from activity if the pace has been too fast. Someone may just need a break from the family for an hour. Keep some downtime in your schedule. Be understanding of different personality needs.
Don't expect perfection. On our first road trip, my son (he was 7) got so tired of "tours" that he would cry when he heard the word! We started calling them "excursions". Kids will fight, schedules will get disrupted, changes will need to be made. Be flexible and adapt when things derail. Our family van broke down in New York. Non-fixable. A rental car for a family of 6 was not to be found. We had to buy a car. Yes, it was stressful and we had to cancel one of our destinations due to the delay. My kids all cried and wanted to go home. It is something we laugh about now and we have so many great memories from that trip. Take a deep breath and lay on the grass for awhile and then get back to enjoying your road trip!
Enjoy the journey! A road trip lets you see the country in a unique and beautiful way. I love the USA and hope to spend time in every state! These trips with my family are precious memories. Keep a journal as you travel. I bring along a blank notebook and everyone writes in it during the evening. It is fun to go back and read everyone's thoughts along the way. I use quotes from the journal along with pictures taken to make a photo album when we get back.