Let's find spare change
Have you seen loose change lying around? Are you ready for a vacation? Unfortunately, sometimes we work so hard that we rarely take time to breathe and relax. Thankfully, we can all collect those loose coins laying around and focus on building our savings. Yes. you deserve that vacation! But how can we achieve it? It's time to get focused and find the photo of a vacation that inspires you. Don't forget to save your spare change when planning your next vacation. No matter if you are working a full-time job or being a stay at home mom with young kids saving money is quite stressful. Without careful planning, a vacation can be expensive and can feel out of reach.
Being in a one income family is certainly not easy. Living paycheck to paycheck is a harsh reality for me as a mom every day. Therefore, saving money is now a part of my weekly routine. In fact, finding spare change is a blessing for my son and I. You never know when you may have a real emergency and will need access to cash. As a recipient of Dave Ramsey's Financial Peace University paying in cash is a great way to be financially accountable. Thankfully, there are many ways to find and save spare change:
This post may contain affiliate links. As an Amazon Associate I earn from qualifying purchases. For more information, see our disclosure.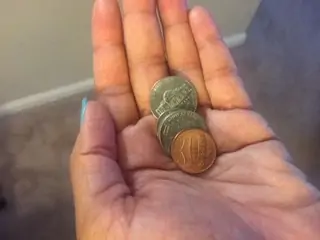 Here are tips to help you save money for your next vacation:
ADULT PIGGY BANK

– Save your money in a digital piggy bank that counts your money as soon as it deposited. Take time to save $1 and $5 bills and keep depositing in your piggy bank.

SELL YOUR CLOTHES

– There are so many options for making money such as ThredUp, Poshmark, and eBay.

SELL YOUR PERSONAL PHOTOS

– Another way to create extra spare change is selling your photos to Shutterstock, Photoshelter, and iStock.

REVIEW WEBSITES FOR CASH

– Contact UserTesting to pay you $10 for a 20-minute test.

PAY IN CASH DEPOSIT THE CHANGE

– When using cash, toss your change in a piggy bank and let it collect.

MISSINGMONEY.com

– Go to

www.missingmoney.com

log in your name in the company database to locate missing and unclaimed money.

SAVE YOUR TAX RETURN IN AN ACCOUNT

– Deposit your tax return as an emergency fund.

BECOME A FIELD AGENT

– Have you ever wanted quick cash in less than two hours? Sign up with

Field agent

and complete local jobs in your area.

PARTICIPATE IN FOCUS GROUPS

– This is an easy way to make money and can pay from $75 – $125; check

Focusgroup.com

for studies in your local area.

BECOME A VIRTUAL ASSISTANT

– If you have great administrative skills and want to work from home, this is the perfect job for you. Check out

www.virtualassistants.com

for more information.
There are so many ways to make extra money! Before you know it you can book your ticket and start packing for your next vacation.