Kids birthday parties have gotten out of hand. With the influence of Pinterest and social media sharing, children's parties have turned into elaborate and expensive blowouts with crazy birthday party themes.  Gone are the days of pizza and cake at the park. Now it seems you need perfectly executed and unique decorations, homemade party favors (on theme of course!), a color-coordinated snack table worthy of a magazine spread, and don't forget the custom water bottle labels!
Yikes. If you're like me, this crazy party trend just stresses you out. We're not all professional party planners – but we still want a fun and cute party for our kids. The good news is, it can be done! I've sifted through the unattainable party ideas, to find 5 party themes that are actually doable. These parties are cute, fun for your kids, yet will only take you an afternoon to put together. The best party is a stress-free party, am I right?
1. The One Color Party
This idea is as simple as they come but makes a big impact. Choose a color and stick to it, that's it! Use your child's favorite color, then buy streamers, balloons, and paper goods in that one color family – and the party creates itself. It doesn't take much thought, but your party decor will look well planned and beautiful.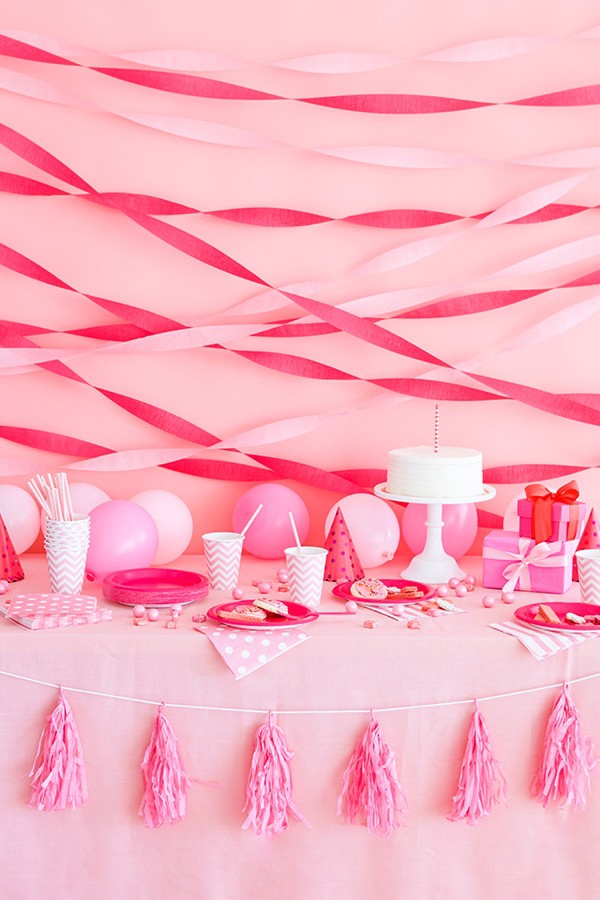 Source: Oh Happy Day
2. Cake Decorating Party
If you plan your party theme around an activity, you kill two birds with one stone. I love this cake decorating party, the cute cakes and toppings can be part of the decorations as well as a fun activity for the guests to participate in. Hang a few matching streamers and you're done!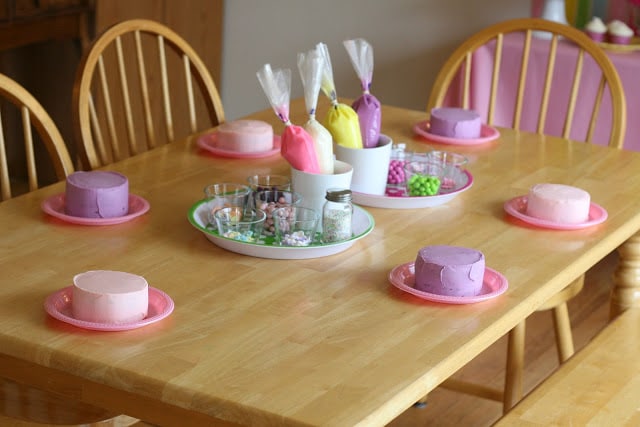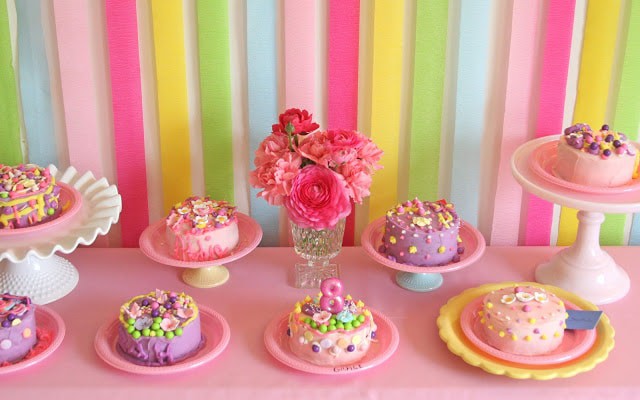 Source: Glorious Treats
3. Pretzel Party
If your kids are like mine, they consider soft pretzels to be a major food group. All you need for decorations are these adorable pretzel balloons. The food will, of course, be pretzels! You can order these in bulk from a pretzel shop, or make your own – you could even use the pretzel making as one of the party activities. This party would be  crowd pleaser for all ages.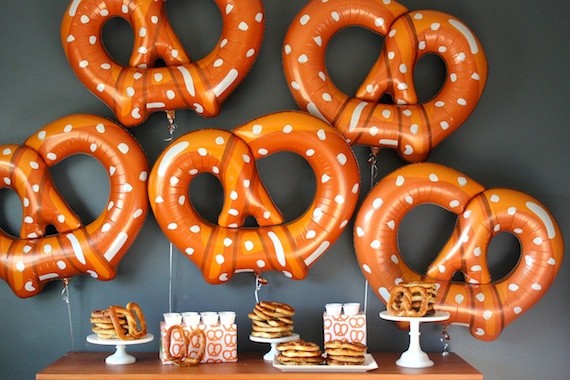 Source: Minted
4. Picnic Party
Who doesn't love a picnic? Host an indoor picnic, set up blankets in the yard, or take it to the park – either way you've got a fun and whimsical theme that's super easy to execute. We love the gingham decorations with this particular picnic party – the backdrop was created by simply taping squares of red paper to the wall.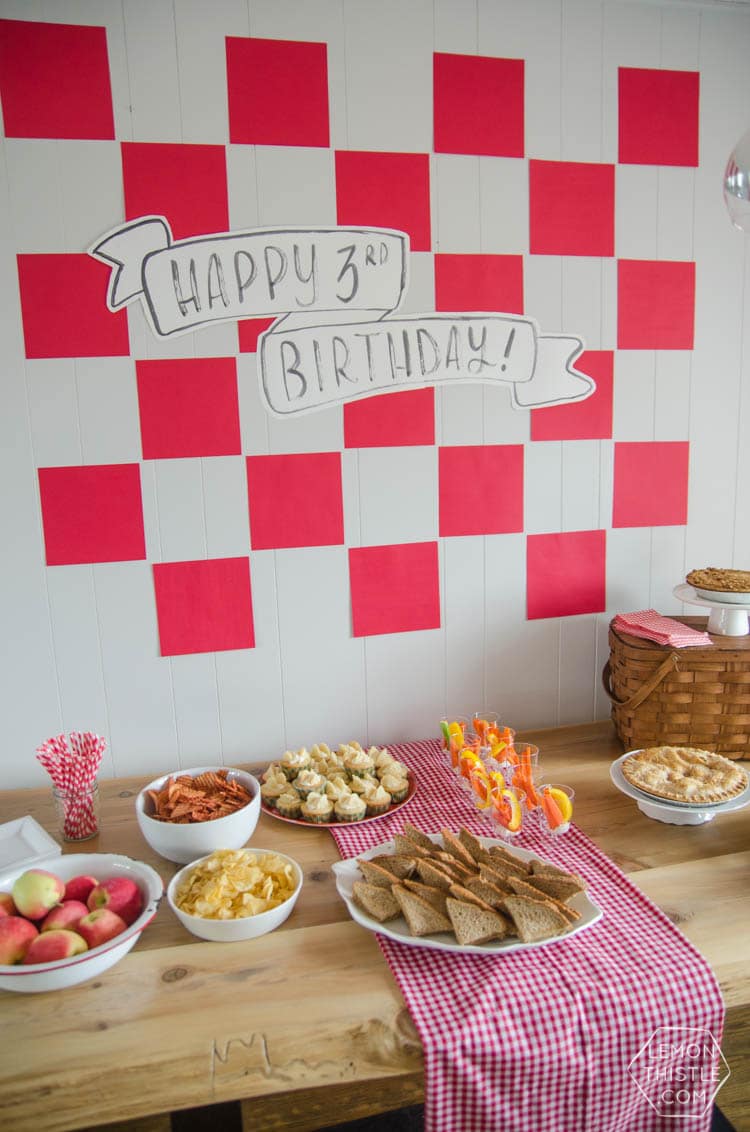 Source: Lemon Thistle
5. Splash Party
If your child has a summer birthday, this party is perfect. Grab some water balloons, water guns, and buckets from the dollar store and you're pretty much done! Let the kids go wild water fighting in the backyard, then gather them up for cake and present-opening.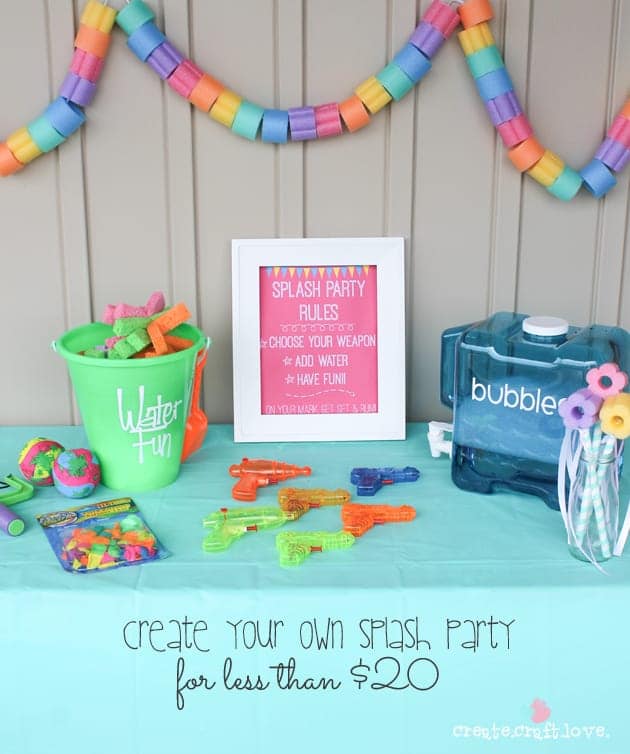 Source: Create Craft Love