Phones have come a long way when it comes to taking great photos! I remember the days when your phone had the capability of taking photos, but they were terribly grainy and difficult to print so you always toted your digital camera around with you to take pictures of your kids. Now, most phones take such great photos, that's the only camera many of us use! Even if you do have a fancy camera, sometimes you don't have it with you when a perfect photo opportunity presents itself. So whether you don't have your camera with you, or you rely solely on your phone, here are 5 tips for taking great photos of your kids using your cell phone!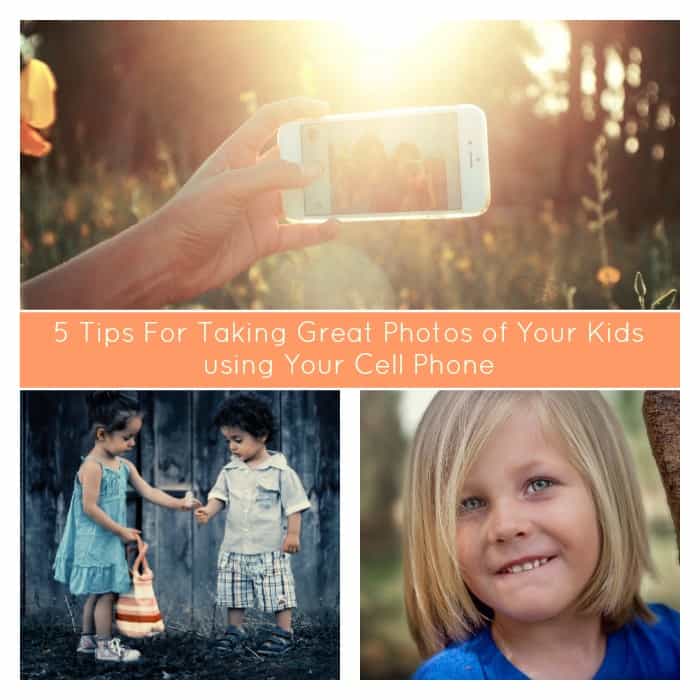 This post may contain affiliate links. As an Amazon Associate I earn from qualifying purchases. For more information, see our disclosure.
Take Photos Outside
Taking pictures outside will give you the best lighting which will make for better pictures. So, for those dance recitals, concerts, and big games, get your kids outside in their fancy outfits or their uniforms and you'll get some great shots. If going outside is not an option, turn on as many lights as you can inside and if it's daytime, open all the blinds and curtains to let as much light in as possible.
Get Down On Their Level
Don't take all the pictures looking down on your children. Crouch down or lay down on the floor with them to get a more natural angle.
Talk to Them While You Take Pictures
If your kids are like mine, they start mugging as soon as they see you pull your phone out. I can't tell you how many pictures I have of my kids making that fake "cheese" smile. I've learned, by watching professional photographers, to talk to your children while taking photos to get them feeling more comfortable and looking more natural in photos. I usually ask my kids to tell me something funny that happened that day or to talk about a friend or a loved one. This usually gets them smiling authentically which translates to better photos.
Take Candids
The great thing about taking photos with your phone is that you can get great candid shots of your kids! Pull your phone out and pretend you are checking your email while you snap photos of your children playing a board game together. They'll never know and you'll have photographic evidence of them getting along!
Add a Filter
If you love a photo but the lighting wasn't great, try using a filter to lighten or brighten the shot. There are tons of photo editor apps that are free to download on your phone.
Using your cell phone is a great way to record memories of your kids. So get out there and start snapping great photos of your kids using these tips!