A good calendar is essential for an organized life. A wall calendar is a great option because it's nice and big with room to write down all your appointments. Plus, a wall calendar is hung up and displayed out in the open so you won't forget to glance at it every day.
This post may contain affiliate links. As an Amazon Associate I earn from qualifying purchases. For more information, see our disclosure.
For families, it's a good idea to have multiple calendars. One can be kept in the office to keep track of when bills are due and work meetings. Another can be displayed in the kitchen or hallway for doctors appointments, birthdays, and kids' sporting events. See below for a round-up of our favorite wall calendars, both store-bought and DIY.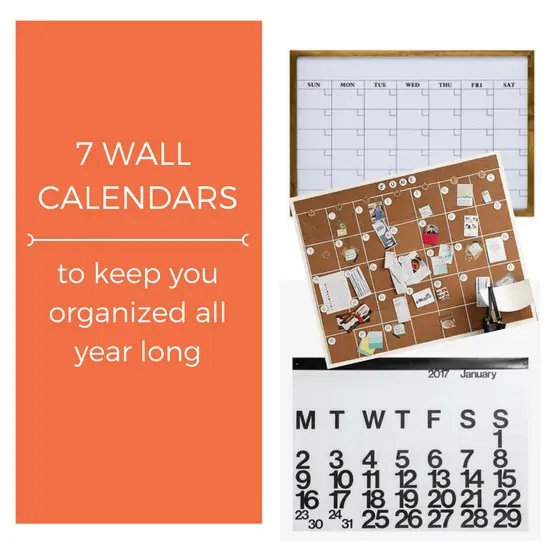 1. DIY Cork Board Calendar
This calendar project from Better Homes and Gardens is made by mounting a large sheet of cork board to a spare wall using mounting tape. Make the grid lines with white artists tape and use metal-rimmed gift tags for the date numbers, days of the week labels, and month titles.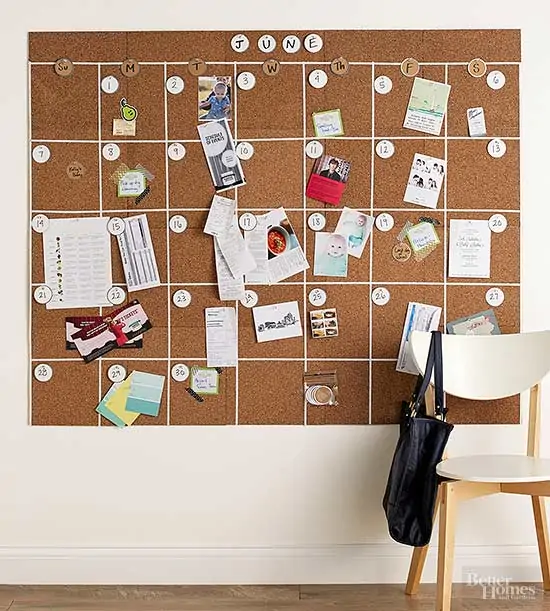 2. Graphic Black and White Calendar
This calendar is so beautiful it doubles as an art piece. It is the focal point in this cute and organized office nook belonging to Inspired by Charm. It's called the Stendig Calendar and you can purchase it at Need Supply Co..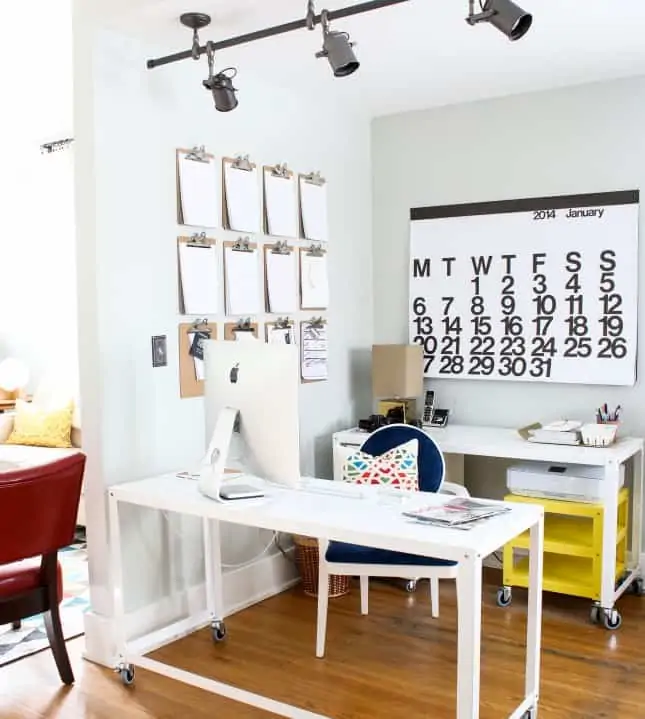 3. DIY Acrylic Calendar
This calendar functions like a dry erase calendar, but looks a little prettier. You can find the DIY instructions at A Beautiful Mess. The project requires a piece of acrylic, brass mounting hardware, and vinyl stickers.
It's an especially great option if you have a gorgeous paint color on your walls that you don't want to cover up, like this soft lilac wall in the work space of Oh Happy Day.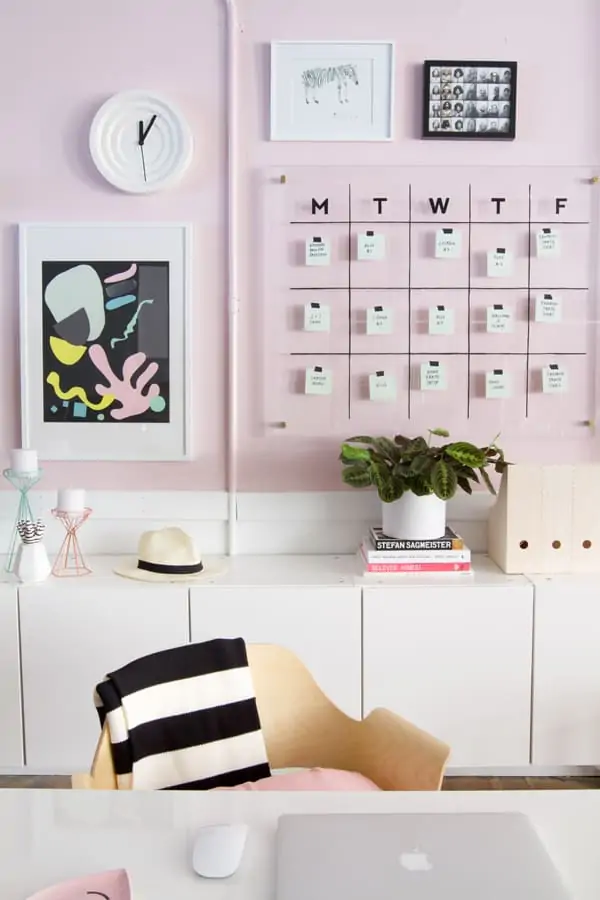 4. Paint Chip Calendar
Mount paint chips in a poster frame for a colorful and functional calendar like this one found on Brit + Co. Use dry erase markers to write in the month and dates right on the glass. The color combination possibilities are endless!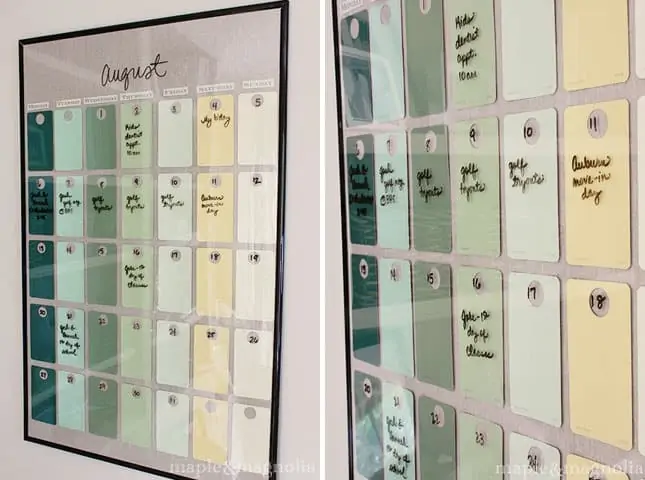 5. Dry Erase Board Calendar
There's nothing wrong with a classic dry erase board calendar, especially when it comes with a pretty wood frame like this one from Hobby Lobby.
Consider setting up a whole command center like the one pictured here: a simple chalkboard keeps track of the week's tasks, and cute baskets store incoming and outgoing mail.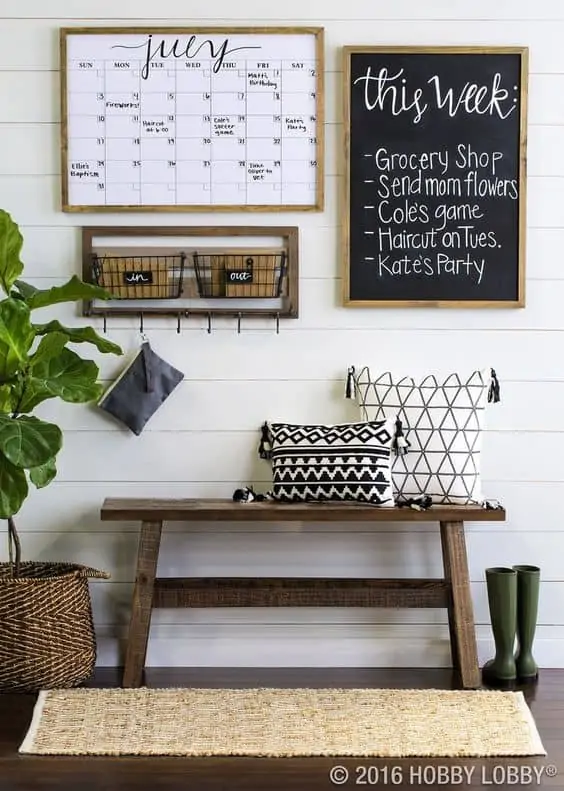 6. Washi Tape Calendar
This DIY project is great for renters because you can make it without causing in damage to your walls. From the Modish and Main blog, simply use washi tape to make an outline of the calendar and fill in the days of the week with colorful sticky notes. Genius!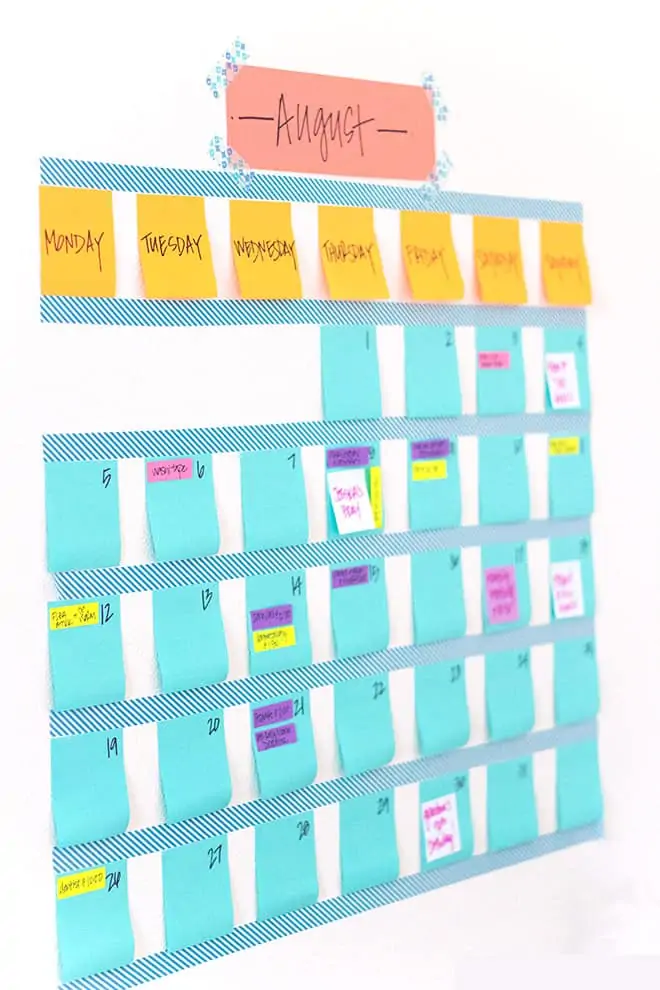 7. DIY Chalkboard Calendar
This easy DIY calendar is from Our Sixth House. Tape off a large grid using painters tape. Paint in the squares with chalkboard paint, then remove the tape and voila!
To label the days of the week, use gold spray paint to spruce up wooden craft letters and hang them up using mounting tape.

And for a little fun for the kids, Have you seen the bubble wrap calendar?