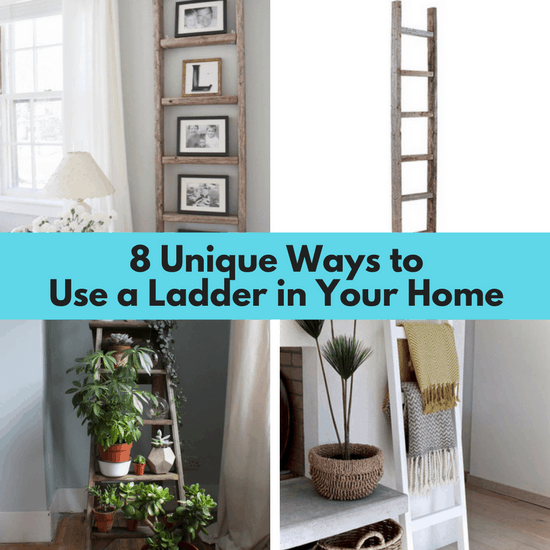 If you're feeling in a rut when it comes to decorating or organizing your home, a new furniture piece can give you the boost and inspiration you're looking for. Today we're finding that inspiration in decorating with a ladder! You may have only thought of a ladder as a functional necessity to reach high places; but these days the ladder is so much more. Use it as a shelf for organizing, a display piece, or even a light fixture to decorate. Read on to see what we mean.
1. Decorate with a ladder as a Bathroom Shelf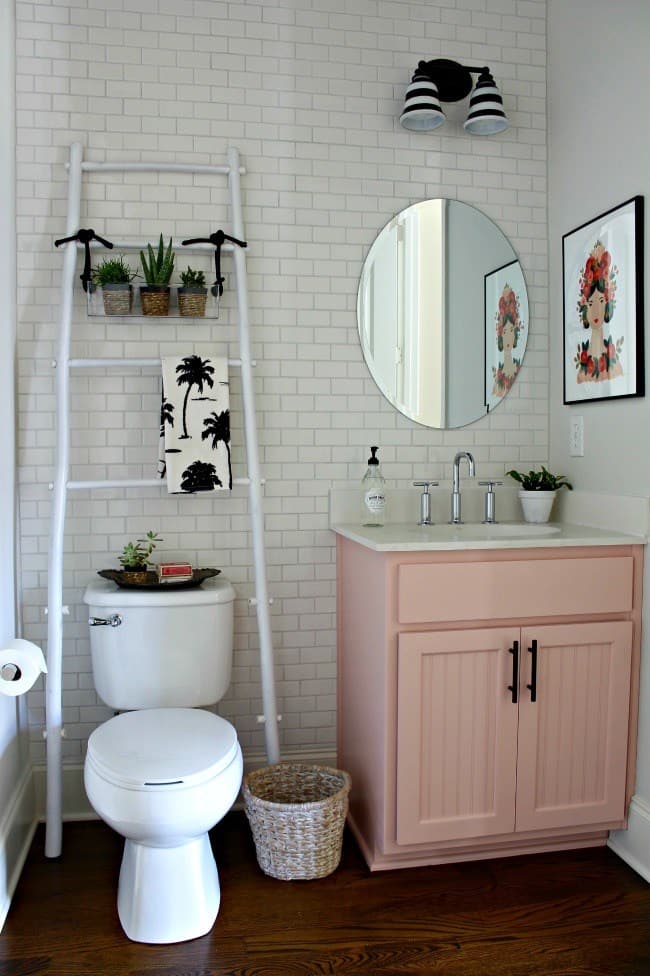 Our Fifth House
A ladder in the bathroom is the perfect choice because it fits in small and awkward places like above the toilet. It can function as a towel rack, or try hanging a basket or two from the rungs to hold soaps, plants, or extra toilet paper.
2. Decorate with a ladder as a Plant Display
A step ladder seems like it was made for displaying plants. Try mixing different sizes of pots, and a variety of foliage – you literally can't mess this up. A trailing plant at the top is a nice touch to accent the shape of the ladder.
3. Decorate with a ladder as a Light Fixture
One of the more unique ways to use a ladder, that you probably haven't thought of, is as a light fixture. This one by White Cottage Farm is rustic yet elegant. The ladder was suspended from the ceiling and then the three fixtures were connected and hung. The center fixture hangs from the ceiling like a typical light, while the outer two chandeliers are connected to the ladder. A more advanced DIY project for sure, but what gorgeous results!
4. Use a ladder for a Pot Rack in the kitchen
Add rustic charm to your kitchen by using an antique ladder as a pot rack. Not only are the ladder rungs perfect for hanging pots on, the top of the ladder can be used as storage as well.
5. Use a ladder for Blanket Storage
Many people store their extra throw blankets in a basket, which works fine. But hanging folded throws on a ladder is so much more chic. Plus your stylish blankets can be our on display and seen, adding to your decor – rather than bunched up and hidden away.
6. Decorate with a ladder as a Photo Display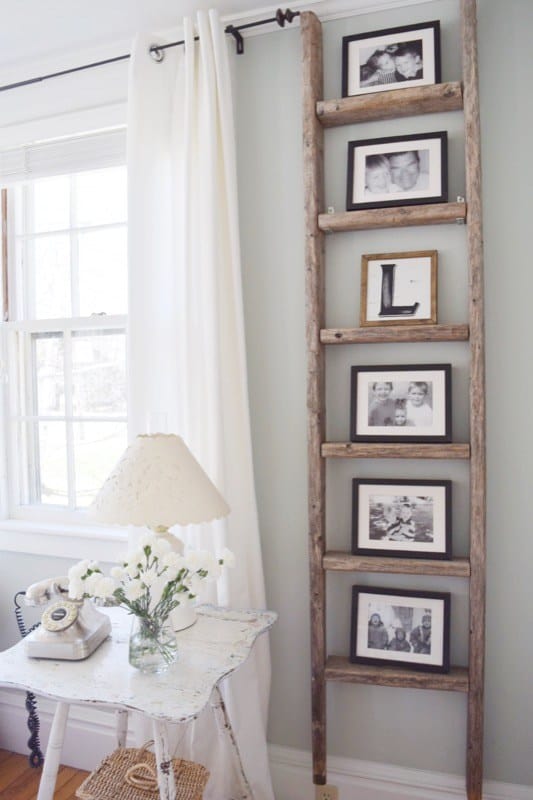 Gracefully Vintage
Can you believe Kellie of Gracefully Vintage bought this ladder at a yard sale for five dollars? What a find. She attached the ladder to the wall to form a unique set of shelves, now its a beautiful spot to display framed family photos.
7. Decorate with a ladder as a Drying Rack
This ladder is suspended from the ceiling with brackets to create a laundry room drying rack. It is possible to add extra hooks and knobs to the ladder to make it even more functional.
8. Decorate with a ladder in your Office Storage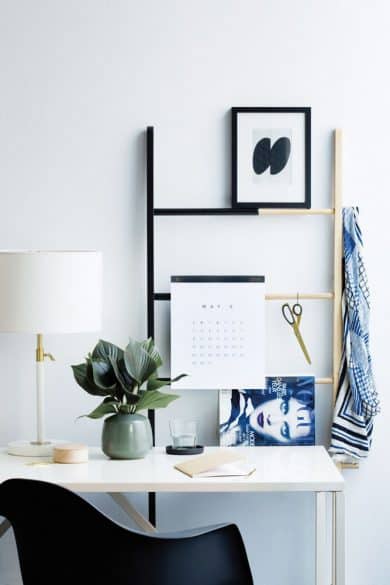 Domino
Although often a ladder adds rustic farmhouse style to a room, it can work in minimalist spaces as well. This two-toned ladder is sleek and modern and works beautifully behind a desk for storage. Try using it to hang magazines, a calendar, even office supplies for chic and unique office organization