Birthday parties can be a big hit for your budget, especially if you have multiple kids. Between the food, decorations, gifts, and entertainment, costs can quickly add up. The truth is, sometimes birthday parties can get a little over the top. You can still have a perfectly nice time with a budget friendly birthday party.
Here are 9 tips for having a budget friendly birthday party.
Find a community space that is free to rent.
If you are trying to plan a winter birthday party, it obviously can a be a little more of a challenge when dealing with the weather. Oftentimes, an outdoor party is just not doable. At the same time, maybe your house is too small to host a lot of people, or you just don't want the added stress of hosting people in your home.
This post may contain affiliate links. As an Amazon Associate I earn from qualifying purchases. For more information, see our disclosure.
Check out your local library, community hall, fire station, etc. Often, these places will have rooms or space that is free for community use. You can bring in your own games (board games, gaming consoles, planned activities, etc.) for the entertainment part of the party. Keep the food simple for easy clean-up.
Have the party outside at a park.
Parks are great options for birthday parties, because often they have built in entertainment with playgrounds or splashpads, all of which are free! Obviously, this setting is more appealing if your child and their guests are a bit on the younger side.
The other nice thing about having it outside at a park is that you don't have to host anything at your house, which takes some pressure off you. You don't have to spend hours cleaning or worry about having enough space for everyone. Plus, the kids can run around freely, and make as much noise as they want!
Serve cupcakes instead of an expensive cake.
If you are having a larger party or holding it in a place where cutting and serving a cake might be a huge pain, then cupcakes are the way to go. They are easier to serve and clean-up, and you can usually buy them in bulk at the grocery store for cheaper than the price of a sheet cake.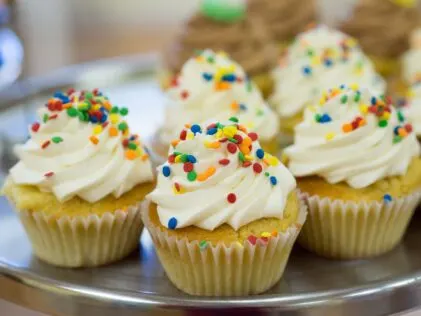 Make the cake or cupcakes yourself.
This is an easy way to save money. Customized cakes from a bakery can be very expensive, and while adorable, just aren't necessary. If you want to try to tackle a more customized cake on your own, there are tons of YouTube videos and ideas on Pinterest. Don't worry about it turning out perfectly. The kids really don't care!
Buy decorations at the Dollar Store or ask around.
Most Dollar stores have a large area solely devoted to birthday décor. You can get all you need at one stop. Everything from themed plates and utensils, to helium balloons, banners, candles, cake decorations, and stuff for goodie bags if you choose to do those. It really can be a money saver when you are buying multiple items.
If you are part of a neighbor to neighbor or buy nothing social media group, ask if anyone has decorations they are wanting to get rid of. Also, don't feel like you need to go crazy with the decorations, especially if you are holding the party outdoors.
Another way to add a little bit of fun without spending any money is to have a theme party where everyone can wear a certain color or style of clothing. For example: everyone can dress Hawaiin or in tie-dye t-shirts. Or have guests where your kiddos' favorite color to the party.
When my son was four, he was really into rainbows, so I made him a rainbow cake (from a box mix) and everyone that had one wore a tie-die shirt. It made for some fun pics!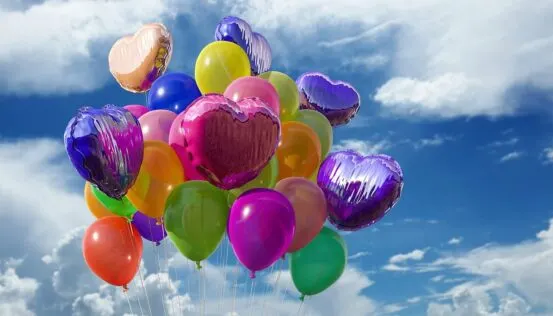 Keep invitations simple.
You can also buy birthday invites at the dollar store. Or you can choose to just make your own. Print out something simple on your computer and paste it to some cardstock. The reality is that these will probably end up in the trash anyway, so no need to spend a lot of money on invites.
Keep your invite list small.
If your child wants to do something a little more expensive (time at an arcade, attending an event, etc.) have your child pick just a few friends to invite along. Having just a few friends there will allow your kiddo to interact with those friends more, and will frankly, be a lot less expensive.
If you are child is school age, don't feel like you have to invite the whole class if you can't afford to. There is absolutely nothing wrong with having a smaller celebration.
Plan your party outside of a mealtime.
One of the most expensive parts of a birthday party can be the food, especially if it is planned during a mealtime. It can also be confusing for guests to know if they should have their child eat before the party or if there will be food served, unless you make it clear on the invitation.
Instead of all this confusion and added expense, choose a party time that doesn't overlap with a common mealtime. That way you can just keep it simple with cake and ice cream. Or if you want, you can provide a few snacks as well. Keeping the food simple can help you greatly cut down on your expenses.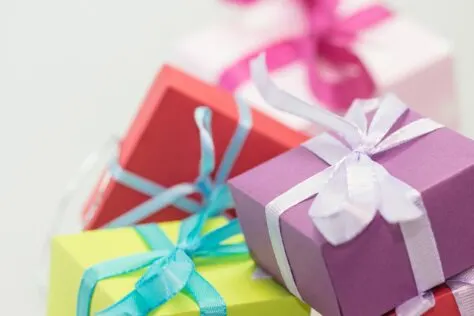 Skip the party favors.
These are really not necessary. If you do feel like you want to put together some little gift bags for each guest to take home, then shop at the Dollar Store, or the dollar aisle at Target. Don't feel like you need to spend a bunch of money on this. You are already providing some fun and dessert, and that is plenty!
I hope these budget friendly birthday party tips have given you some tangible ways to save money on your next party. Happy Celebrating!