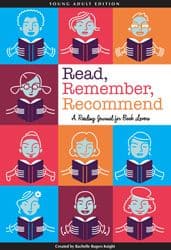 I am a book lover. I don't read books I eat them. Okay, well at least I devour them. My friends, knowing my addiction love of books have hooked me up with a couple of fabulously enabling tools. The first is a website called Goodreads. It's a great site where you can review books you've read, say what you're reading next. I can't wait to spend hours on it… but I'd kinda rather be reading.  Still!  My bookclub hooked me up with that one.
My friend (thanks Amy) told me about another FABULOUS tool called, Read, Remember, Recommend and it is super cool. It feeds my love of paper. I write in it what I've read, books that have been recommended to me, those I hated, and those I want to remember to recommend to others.  If you love books and colored-coded tabs in fit-in-your purse size (well, it can't be a little clutch but it does fit in my purse), you gotta have this.
I'm weirdly into teen fiction right now and am so excited to get my teen book journal to add to my Read, Remember collection.  I've actually become good friends with the creator of Read, Remember, Recommend and she's pretty super cool herself. She's probably wondering when I'm going to return the seven books she lent me. Soon! I promise!
Just so you know, I'm getting no kick-backs for recommending these to you.  Not that I'm above kick-backs, in fact I like them very much.  Whaddya say goodreads, bibliopages… got any free stuff for me?  But it seems important to say I'm not getting bribed to gush on about these – it's genuine, straight-from-my-heart, gush.
I am sadly, fresh out of good book recommendations.  I love to just go to the library and judge books by their covers but I've been burned so many times (boring books, make-me-blush books, idiot-author books) that I prefer a friend-recommended book.  Got any?  Have you ever been burned?  I've been known to throw bad books across the room – anyone else that crazy?