We all want our kids to love books. Reading to your kids at bedtime can be a wonderful bonding experience. It's one of those activities that makes you pat yourself on the back, and feel like you've finally mastered this parenting gig. You think to yourself, "Look at me, the best mother the world has ever known, patiently reading and encouraging cognitive development. My children will surely be geniuses." That is until those same books are scattered all over the house, all day, every day. And as you yell at your kids for the thousandth time to clean up their dang books, threatening to throw every single book in the trash – you perhaps no longer feel like the best mother in the world.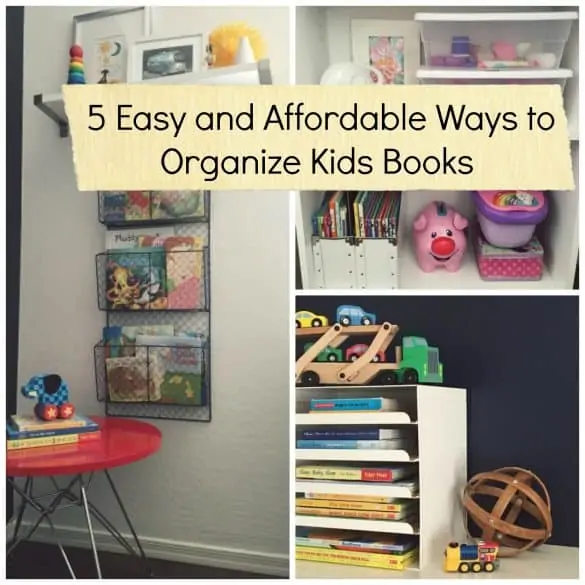 This post may contain affiliate links. As an Amazon Associate I earn from qualifying purchases. For more information, see our disclosure.
So instead, help your kids keep their books put away with these five organizing solutions. These simple and affordable tips may not make you the best mother on earth, because come on, who can live up to that title? But you will feel more organized, your kids will have easy access to their books, and you'll be patting yourself on the back once more.
A multi-functional cubby bookcase
Books or no books, these square-shaped cubby bookcases are great for kids rooms. They store a ton of stuff, and can be fitted with baskets and bins. There are many affordable versions of this bookcase available at a variety of stores. This model happens to be the KALLEX shelf from IKEA. Try hiding most of your kids books in easy pull-out baskets to stash away clutter. Display the most attractive books, or your kids favorite books, out in the open. Try stacking them largest to smallest and placing a toy on top for added interest.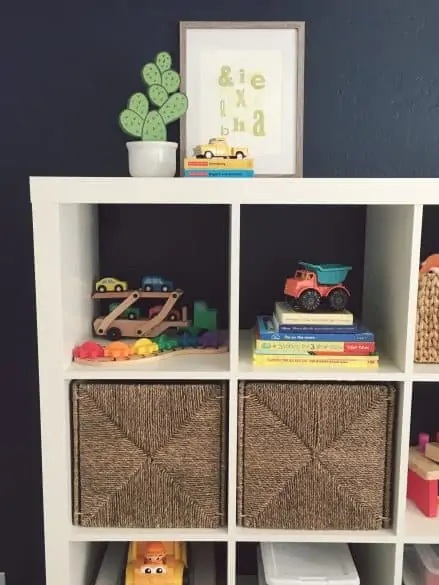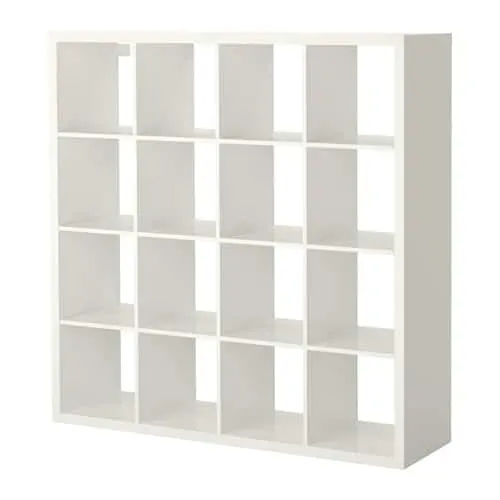 The KALLAX Unit / $169.00
2. Hanging Wire Baskets
Utilize wall space with a three-tier hanging basket. Hang it at a low height where kids can reach it easily. These are great because kids can remove and replace the books all on their own. Even if the books are haphazardly returned, the baskets corral the books and ensure they always look organized. The shelf pictured here was purchased at TJ Maxx, but you can find a similar model at Kohl's.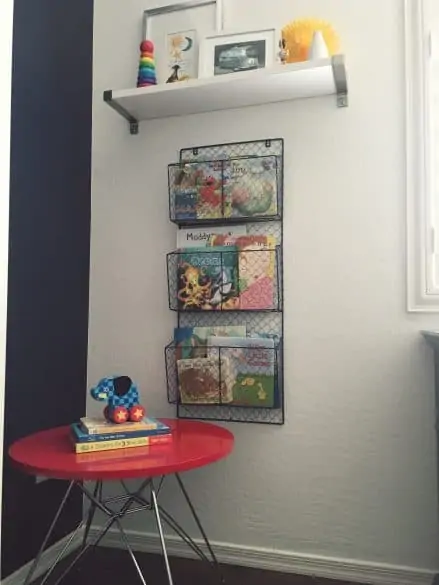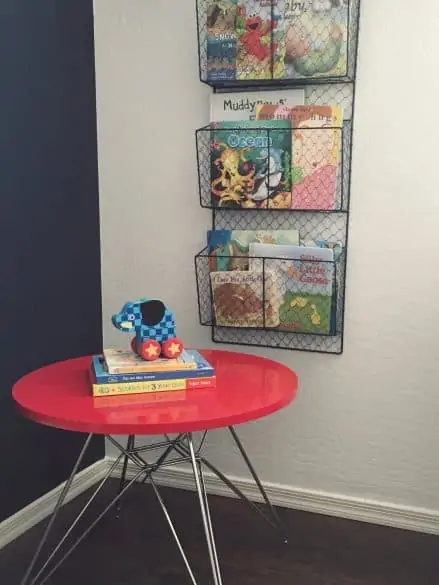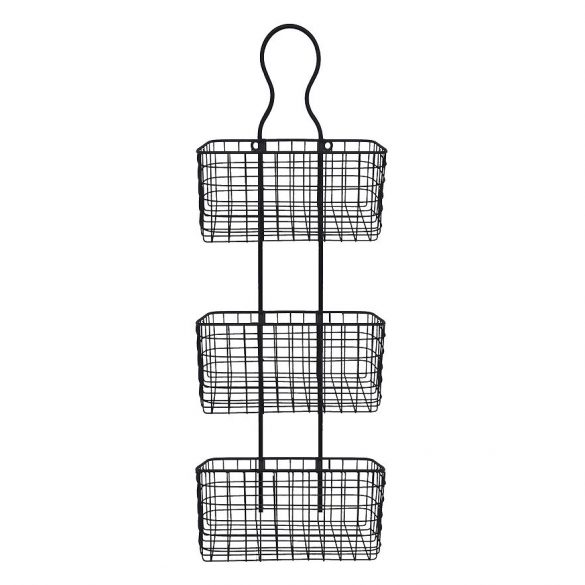 Wire Basket 3-Tier Metal Wall Decor / $39.99
3. Magazine Files
Instead of simply lining up books on a bookshelf, try using these handy magazine files. These are super affordable and a great way to keep books from falling over on the shelf. You can arrange them with the label side out to completely hide the books, or turn them around as shown here so the book binds are on display. Kids can learn to put books away themselves with these files, and they look great all lined up in a row.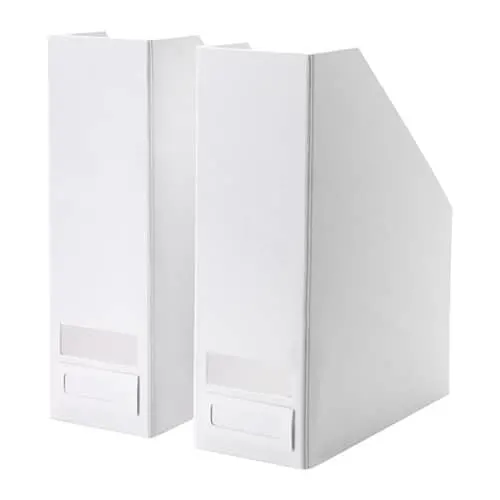 TJENA Magazine file / $4.99 for two
4. Picture Ledges
These skinny ledges are made for displaying photo frames, but they work great for books. Simply place your books on the shelves, leaning them against the wall. Add toys or other accessories for a little extra style. Kids love this method because they can see all their favorite book covers on display.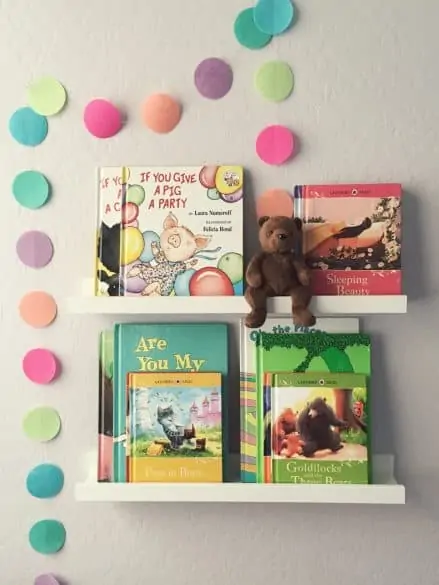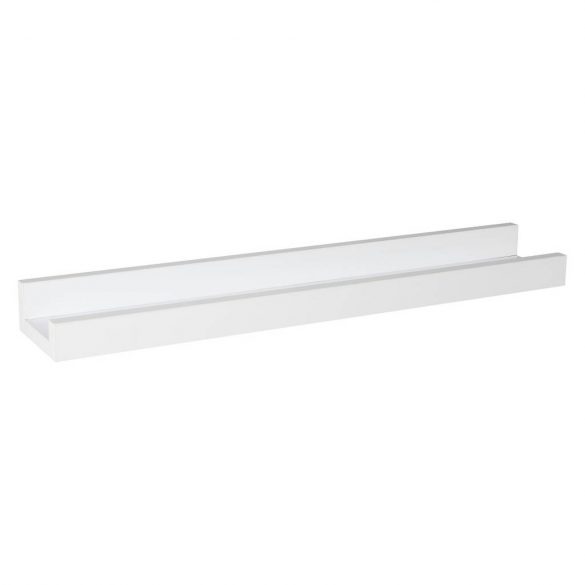 Picture Ledge / $12.99
5. Letter Tray with Drawers
This letter tray features pull-out drawers and can be found in the office section at IKEA. Stack the books on the trays, and watch your little ones delight in pulling out the drawers to select their book. Made of metal, so definitely durable, this option will hold up to the inevitable wear and tear from kids.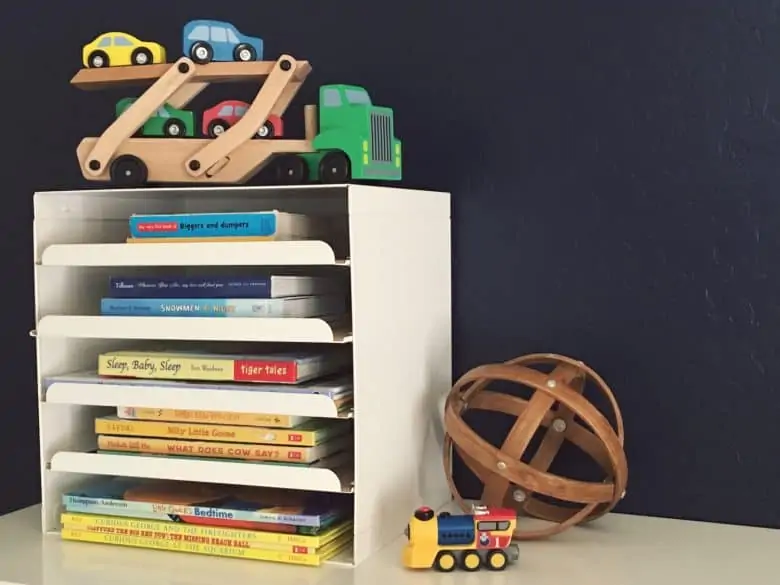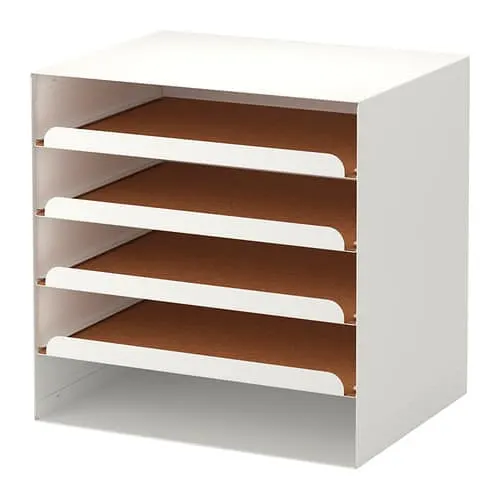 KVISSLE Letter tray / $19.99