Camping is a right of passage during the summer. Setting up camp whether you are tent or camper camping is a great family activity. However, sometimes, once your camping space is set up it can be a bit of a struggle to decide what to do next. If so, here are some fun activities to do on your next camping trip.
Awesome Camping Activities
Check out these activities to make your camping trick more enjoyable!
Table Games
This post may contain affiliate links. As an Amazon Associate I earn from qualifying purchases. For more information, see our disclosure.
When packing up for your trip, bring along everyone's favorite board or table games. Many campgrounds have picnic tables right at each site or easily accessible if not. If you are bringing a camper, this is the perfect activity for any time spent inside.
Before leaving, have every member of the family choose one game that they'd like to play together. This way, you will have plenty of choices and no one can argue that they didn't have a say in what games are to be played.
Inside tip: bring a table cloth to put down on any outside tables so that cards and small pieces don't get lost through the cracks! A large picnic blanket laid out on a flat dry piece of grass can work nicely for this activity, too!
Strap On Your Hiking Boots
No matter where you decided to pitch your tent, there is likely some kind of state or federal forest nearby. With that in mind, seek a hiking trail or mountain that is within reasonable driving distance that the entire family can partake in. Sites such as All Trails and Yelp are great for local recommendations!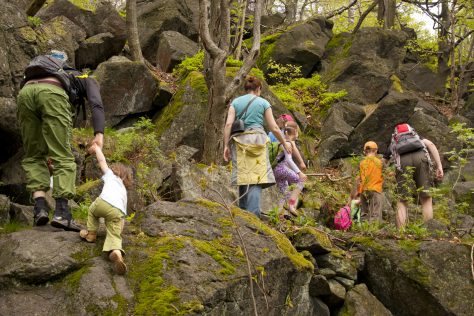 You may also want to ask campground employees or local forest rangers for suggestions, too. Keep in mind what you will need on your hike and the level of ability within your group! This activity is a fun way to spend time together and enjoy the beautiful surroundings at the same time.
Light Up the Night Sky
Once night falls, sit around the camp fire and tell stories of hopes, dreams and even loved ones lost and remembered. Then, give each member of the family a earth friendly paper lantern to release. Many people use these as a way to mark an event, such as a birthday or turning point in time. Maybe use them to mark the end of summer or to remember the birthday of someone that passed away.
Family Water Fun
Consider investing in a small portable kiddie pool to take along on your camping adventure! Also, pickup a family pack of water guns so you can cool down on those hot summer nights while camping. Another fun idea, is to prefill water balloons for a gigantic water balloon fight.
Typically, most campgrounds will have a clean water source somewhere on the property. If you aren't sure of where, just ask!
Get Creative
To keep kids entertained while camping, plan out some fun art or craft activities to bring along. Use items found in nature such as pine cones, twigs and small stones. Pinterest is great for out of the box ideas on different things to have children make.
Some paint, glue and glitter can go a long way here! Work together to make one of a kind creations that you can bring home to remember the great time you had while camping!