Is your garden overflowing with zucchini? Or do you have nice neighbors who gift you their extra zucchini? Then make some chocolate zucchini cake/bread!
Full disclosure. This recipe is called chocolate zucchini cake. I choose to put it in a bread pan and call it zucchini bread. For some reason it makes it feel healthier that way. Plus I can eat multiple slices of bread but I only feel justified in gobbling up one piece of cake!
This post may contain affiliate links. As an Amazon Associate I earn from qualifying purchases. For more information, see our disclosure.
This chocolate zucchini cake/bread a family recipe that comes from my husband's side of the family was given to me by my sister-in-law. I still have the 3×5 card that my sister-in-law gave me with the handwritten recipe. It has stains and smeared chocolate on it and is much loved.
First mix:
1/2 cup butter softened
1/2 cup applesauce
1 3/4 cups Sugar
I don't always have applesauce on hand and if I buy a jar for the chocolate zucchini cake/bread recipe the rest ends up going bad. I have started buying the small single serving plastic containers of applesauce. Each one contains about 1/2 cup and they have a longer shelf life than an opened jar of applesauce.
Next you add:
2 eggs
1 tsp. vanilla
1/2 cup buttermilk
Don't panic if you don't have buttermilk on hand. You can make your own by adding 1/2 tablespoon vinegar or lemon juice to 1/2 cup of milk and then let it sit for a bit and do its thing. You can get this and a list of other substitutions here. After you get that all blended together it's time to add your dry ingredients.
Finally add:
2 1/2 cups flour
4 tbsp. cocoa
1/2 tsp. cloves
1 tsp. baking soda
1/2 tsp. cinnamon
1/2 tsp. salt
Once those are mixed in its zucchini time.
To mix the zucchini in I like to forgo the mixer and use a spoon to fold it in. I am a HUGE fan of batter snitching BEFORE the zucchini goes in. Once the zucchini is in I prefer the chocolate zucchini cake/bread baked.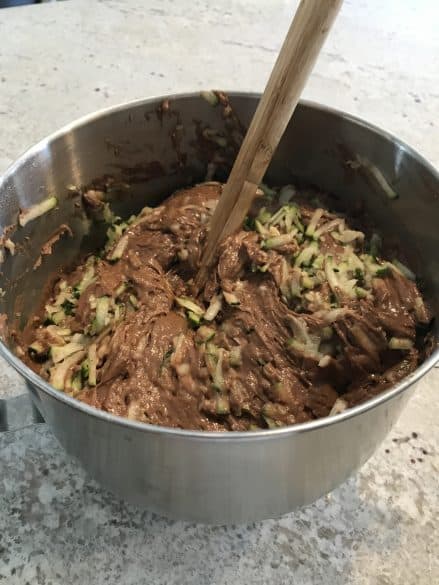 Spoon the batter into greased baking pans. You can top the cake or loaves with chocolate chips and/or some chopped nuts. This recipe will make 1 9×13 cake OR 2 9×5 loaves. I will usually double the recipe and get 3 regular loaves and 4 mini loaves. They bake at 350 degrees. My mini loaves tend to be done in about 30 minutes. The bigger loaves take 40-45 minutes. If your big loaf pan is extra full of batter it may take even longer to cook through.
Everybody loves this chocolate zucchini cake/bread. Doubling the recipe allows me to add chocolate chips and chopped nuts to some of the loaves (for my hubby) and leave other loaves plain (for the kiddos) and still have enough leftover loaves to take one to a friend or neighbor.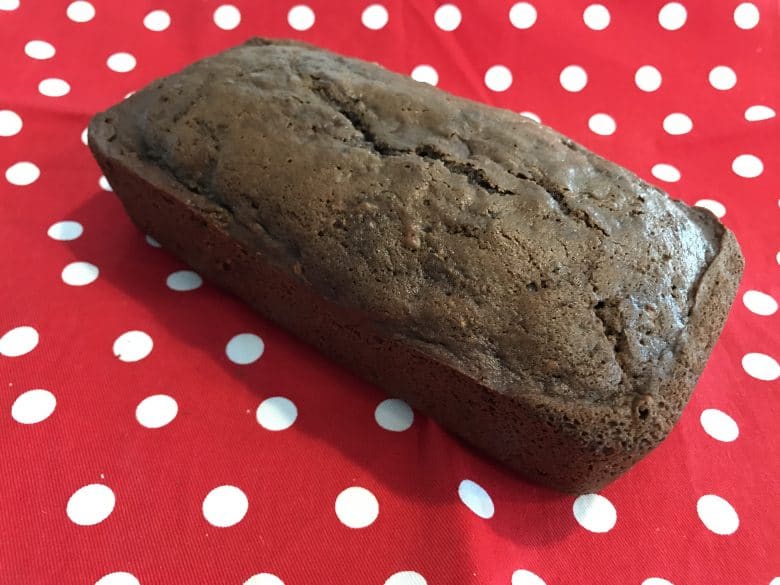 Nothing compares to the delicious smell of fresh baking bread. Zucchini bread is no exception. It's yummy to eat and even sneaks a vegetable into your family's diet. Once you discover for yourself this chocolate zucchini cake/bread it is sure to become a family favorite.