When I was in high school and college wearing white shoes was all the rage. In order to be on trend, our shoes were typically canvas, lace up, and paired with a casual dress or a pair of jeans. No visible socks. And most importantly these shoes had to be pristinely white. I still love this look.
I am thrilled to see it coming back. But, I haven't forgotten the difficulty in keeping white shoes clean. Making it through one outing without coming home in dingy white shoes is nearly impossible. Luckily shoes are something that is relatively easy to clean.
This post may contain affiliate links. As an Amazon Associate I earn from qualifying purchases. For more information, see our disclosure.
If your favorite pair of white shoes is in need of a refresh, check out these tips for how to clean white shoes!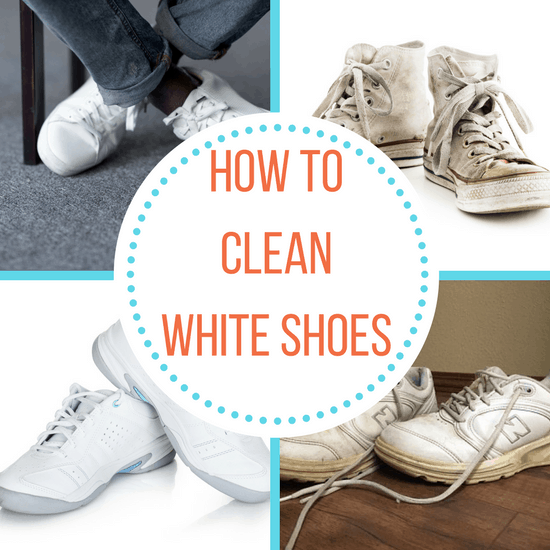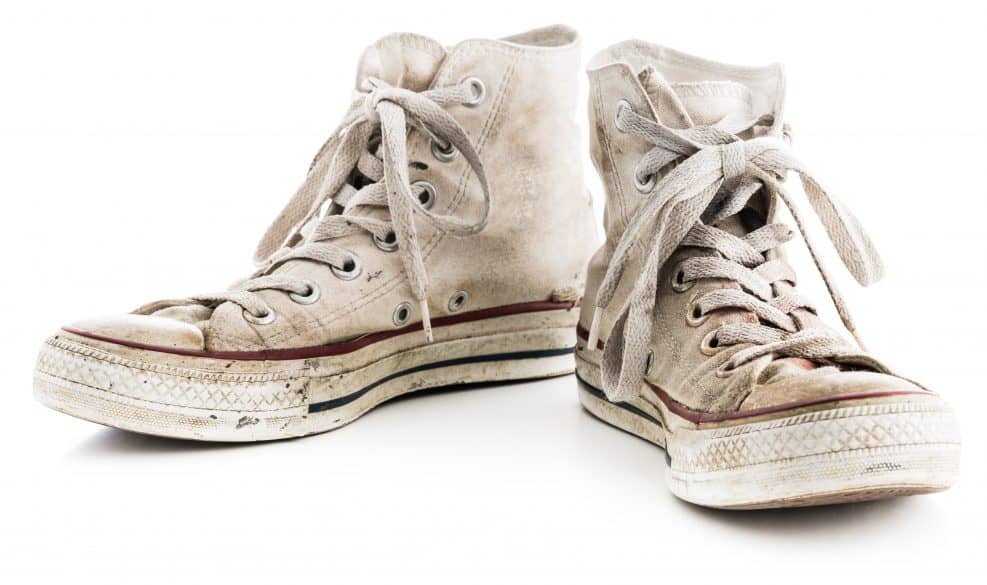 How to Clean White Shoes
In a few simple steps, you can have your white shoes looking like new again. Let's get started and learn how to clean different types of white shoes.
White shoes come in two main forms: canvas and leather. There's slightly different techniques for each of these to get your shoes as white as possible.
Now, let's dive in and see how to clean those white sneakers.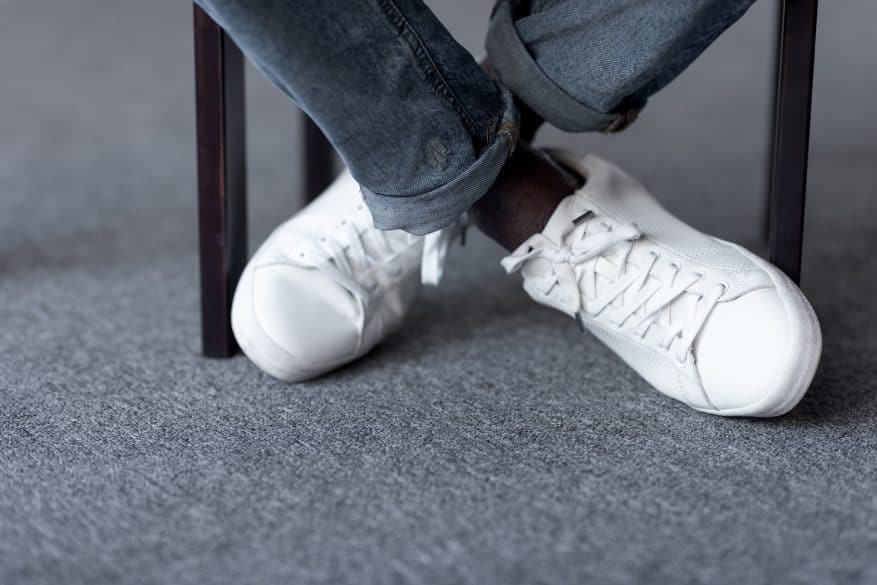 How to Clean White Canvas Shoes
First things first, let's take a look at what needs to be done to clean white canvas shoes. Think things like your favorite white Vans or white Converse sneakers.
1. Brush Off Loose Dirt
If your shoes are full of wet mud, try shaking it off. Or if they're dry, brush off any remaining loose dirt.
2. De-Lace the Shoes
If you truly want your shoes looking like new again, you'll need to remove the laces and wash them separately.
Better yet, replace them with a fresh new pair of white laces, or something more interesting like this:
Laces can be a fun way to give a pop of color to white shoes.
3. Rinse Thoroughly
Thoroughly rinse your shoes and laces with water to wash away as much dirt as you can. This is an important steps.
4. Scrub, Scrub, Scrub with Baking soda!
To clean white shoes, mix together one part baking soda and one and a half parts laundry detergent.
With an old toothbrush, scrub your shoes thoroughly with this mixture. Then put your shoelaces in the detergent and baking soda mixture and scrub them as clean as possible.
5. Rinse Until Clean
Rinse the baking soda and detergent mixture off of your shoes and laces until they are clean and white again.
Now, you're ready to enjoy your nice white sneakers!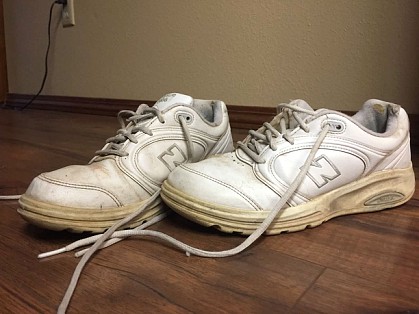 How to Clean White Leather Sneakers
The process is similar when it comes to white leather sneakers, but there are a few subtle differences.
Let's take a closer look
1. Brush Off Loose Dirt
Just like with canvas shoes, any loose dirt should be shaken or brushed off your shoes before you start cleaning them.
2. Wipe Down Your Shoes
Use a wet cloth to wipe down the surface of your shoes. The cloth should be damp not soaking as this is meant to be a surface wash.
3. Apply Toothpaste to Clean White Leather Shoes
Apply dabs of toothpaste to stains and scuffs that mar your shoes. This should be white toothpaste, non-gel.
Yes, you read that right, white toothpaste.
Nothing that will stain the shoes, defeating the entire purpose. Look for a white paste toothpaste.
This is a great option from Arm and Hammer, so of course it has the power of baking soda to get them extra clean!
4. Scrub, Scrub, Scrub
Use an old toothbrush to scrub in the toothpaste and remove stains on your leather shoes.
5. Rinse and Dry
Use a damp towel to wipe off the toothpaste you used to clean and then wipe away any remaining dirt. Then use a second towel, this one completely dry, to wipe everything down one last time.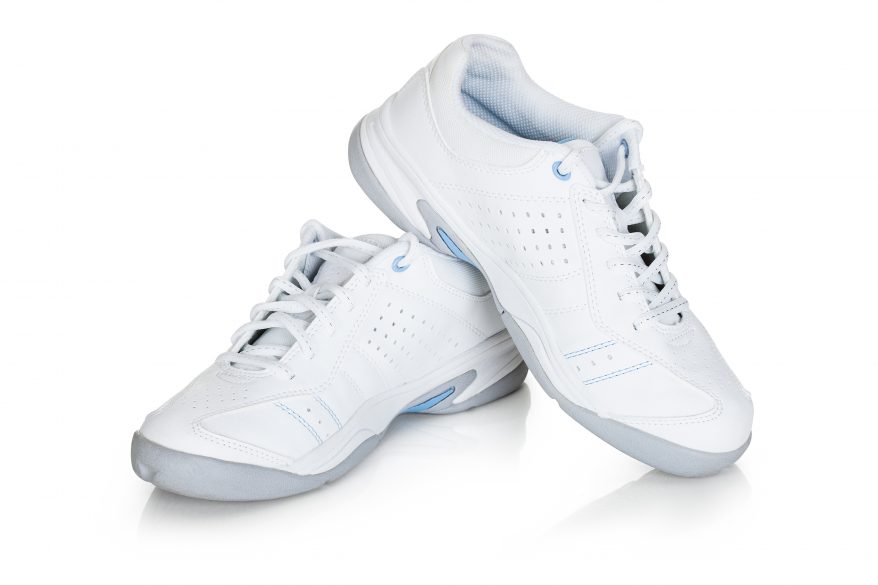 Additional Tips for Cleaning White Shoes.
Here are some more of our favorite tips when it comes to cleaning white sneakers.
Stuff your shoes with newspaper or paper towels to speed up the drying process after cleaning them.
Avoid putting your shoes in the washing machine. It can be rough on them and cause unnecessary wear on your shoes.
Use a Mr. Clean Magic Eraser Pen to remove small spots on otherwise clean white shoes.
Use white nail polish to cover scratches on white leather shoes.
Allow shoes to air dry indoors. The sun can cause damage to leather and fabrics over time.
With these tips for how to clean white shoes, you can wear your favorite sneakers without fear of getting dirty!