When driving it is always best to be prepared for an emergency. In fact, it is very important to have your car road ready especially during winter months. As mothers, we need to make sure we are protecting ourselves and our passengers. This is a great time to think of what items you need to create an emergency car kit.
This post may contain affiliate links. As an Amazon Associate I earn from qualifying purchases. For more information, see our disclosure.
Why you need an emergency car kit
With the threat of frigid temperatures, snow or ice, it is important to have a car kit. Due to frequent weather changes having a plan is essential, advises MotoFX. You never know when a car can break down or experience a car emergency such as a dead battery or flat tire. Thankfully, there are specific items that you can include as you create your own personal emergency car kit. Also, it is a good idea to consider being a member of a roadside assistance coverage or an auto club such as AAA.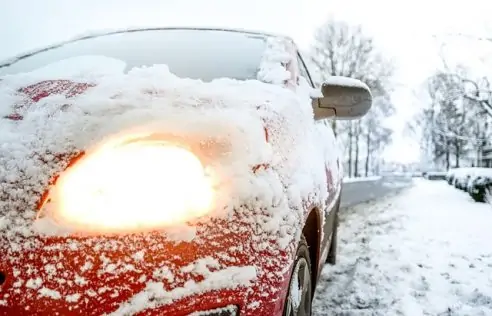 Important items to include
Sometimes we tend to ignore dangerous weather conditions and decide to drive to our destinations without proper planning. Therefore, when you create your kit it is best to include these items.
A portable cell phone charger – If your car battery is dead the car charger is no good in an emergency. However, a wireless charger is important in dire situations.
First Aid kit – All moms should carry this kit in your car regardless of any weather conditions. This is great to keep in your trunk for any personal emergencies.
Bottled water – Always keep water with you or for your passengers.
Blanket – This is essential if you lose power and to help prevent hypothermia.
Flashlight with batteries – One of the most important things to keep in your car for night conditions.
Windshield ice scraper – This is great to keep in your glove compartment.
Nonperishable snacks – These are snacks that you can keep in your car at all times.
Reflectors – It's important to keep these in your trunk or car kit for extreme situations.
Tire gauge – If you have a flat tire this is a lifesaver.
Essential medications – Having the important medications can be the difference between life and death,
No matter where you live, make sure your emergency car kit is ready to travel with you. However, if creating a DIY car kit is difficult AAA and the American Red Cross also offer emergency roadside kits. Although winter weather is unpredictable these tools are helpful for those unexpected emergencies.
SOURCES:
Heaps, Russ. "20 items you should include in your car emergency kit." Bankrate. September 02, 2017. Accessed December 29, 2017. https://www.bankrate.com/auto/20-must-haves-in-your-car-emergency-kit/.