I love wreaths! There is just something so welcoming and cozy about having a wreath on your front door. Over the years I have made or collected many wreaths and I put a different one up almost every month of the year. But it can be overwhelming to store that many wreaths! I started with just a Christmas wreath and then had a season-neutral wreath for the rest of the year. For those who get burned out from decorating for EVERY holiday or simply want a wreath they can keep up year-round, this article is for you!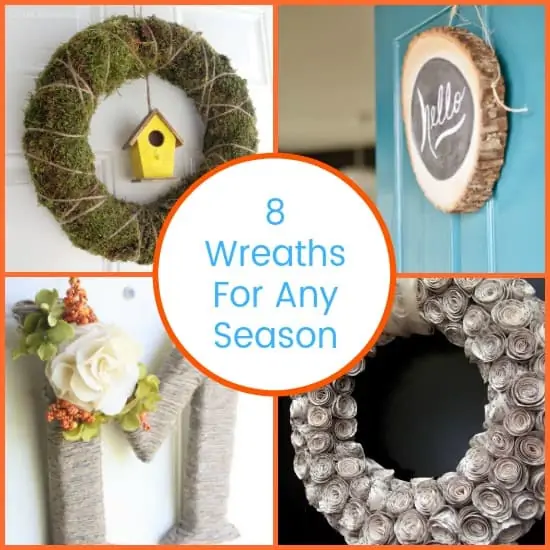 Boxwood Wreath

This wreath is so classic and looks good at any time of the year. You can get a real one which is dried and preserved or they also have some artificial ones that look pretty good. Add a little welcome sign and you are set!

Burlap Wreath

I love the rustic look of burlap. There are lots of variations out there and plenty of tutorials if you are interested in making one. Click here for a tutorial.

Yarn Wreath

I made one of these and they are so easy! You can alternate colors of yarn or do all the same color. Feel free to add felt flowers or a letter for your last name. Click here for a tutorial.

Grapevine Wreath

The possibilities are endless with the grapevine wreath! Try decorating with burlap flowers, feathers, or ribbons in your favorite colors.

Moss and Twine Wreath

There's just something about the fresh green color of moss that is so inviting. This crafter simply glued natural moss to a straw wreath and then wrapped it with twine. I love the cheery addition of the yellow birdhouse!

Recycled Book Wreath

The perfect wreath for someone who wants to upcycle all of those unread books gathering dust on the shelf. I have made some of these "book flowers" and it does take some time, but the result is stunning! A great season-neutral option for book lovers. Click here for tutorial.


Wood Slice Wreath

While this example is not technically a wreath, I still had to include it! I used this picture as inspiration and made this by getting a wood slice and painting it with some chalk paint. The great part is that the message you write can be completely customizable.


Front Door Letter

Technically not a wreath either, but a great choice for front door decor. There are many options of letters you can find at the craft store or on Etsy. All you have to do is attach a ribbon to hang it and add a few personalized touches.

This post may contain affiliate links. As an Amazon Associate I earn from qualifying purchases. For more information, see our disclosure.
I hope this gave you some ideas of wreaths that can work for any season of the year. Happy crafting!