Whether you're a new mom taking monthly pictures to track your baby's growth or a mom of school age kids trying to organize family portraits for your walls or photos of the kids for grandma or the family Christmas card, there are many fun ways to make your family photos special. And you can even take the pictures yourself. DIY family photos can be some of the most memorable and fun. With a little creativity, you can capture pictures of your family that will really stand out from the crowd. Check out these creative ideas for DIY family photos!
Get Creative with these Fun Ideas for DIY Family Photos
1. Create Your Own Backdrop for DIY Family Photos
One of the easiest ways to get creative with DIY family photos is by creating a special backdrop. And there are so many fun ways to do this.
This post may contain affiliate links. As an Amazon Associate I earn from qualifying purchases. For more information, see our disclosure.
This post about taking baby photos at home talks about draping tablecloths over your couch to create a distraction-free background in exactly the color you want. Sheets can be used for the same purpose and you can even hang them on a wall if you are trying to create an adult-sized backdrop for DIY family photos.
Another baby photo idea is to create a backdrop using a chalkboard. Then you can draw on the chalkboard to create different backgrounds.
This works especially well for taking monthly photos of your baby to track their growth.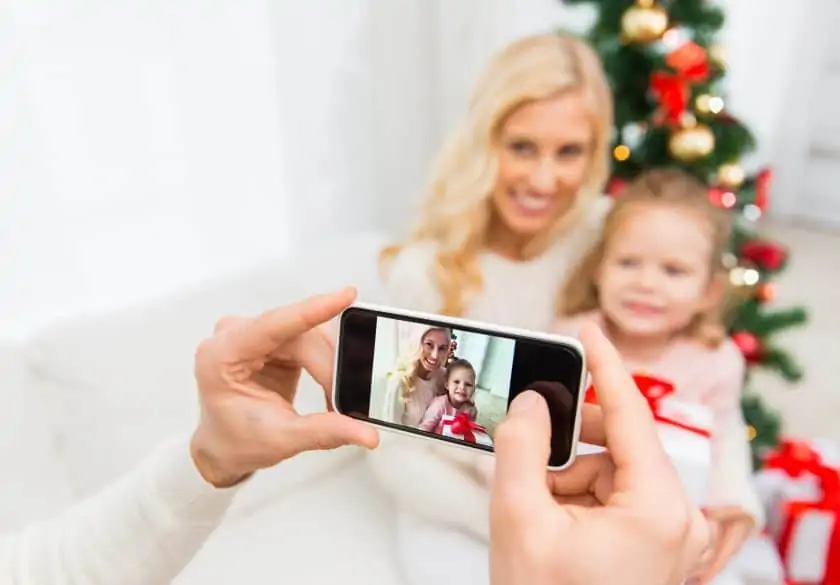 2. Use Your Smartphone for Great DIY Family Pictures
One of the reasons people hesitate about taking their own family photos is that their camera doesn't have all the filters and options of a professional photographer's equipment. But the truth is that you can still take great photos even with just a smartphone.
The headshot I use for all of my professional work was taken by my husband in my backyard with an iPhone.
This post about taking DIY family photos on a budget has of great tips for taking your own family photos with an iPhone. One of my favorites is how you can use the iPhone Live Photo feature to capture great moments with your iPhone camera, even with wiggly young children.
3. Coordinate Outfits (or Totally Don't)
A great way to make a DIY family photo look more formal is to coordinate your family's outfits. You can do this by having everyone wear the same color or the same style.
You can also match your outfits to fit the location of your photos. Taking your DIY family photos at the beach? Have everyone coordinate by wearing beachwear. Or taking pictures at the family farm? Maybe jeans and boots make more sense for your family.
But maybe you want your family photos to be completely different. And a more casual look appeals to you. In that case, you might prefer to have the outfits be mismatched.
Consider the look you're going for in your family photos and make decisions accordingly when it comes to clothes.
Because you're taking the photos yourself, multiple outfits and styles can be tested out before taking the final pictures.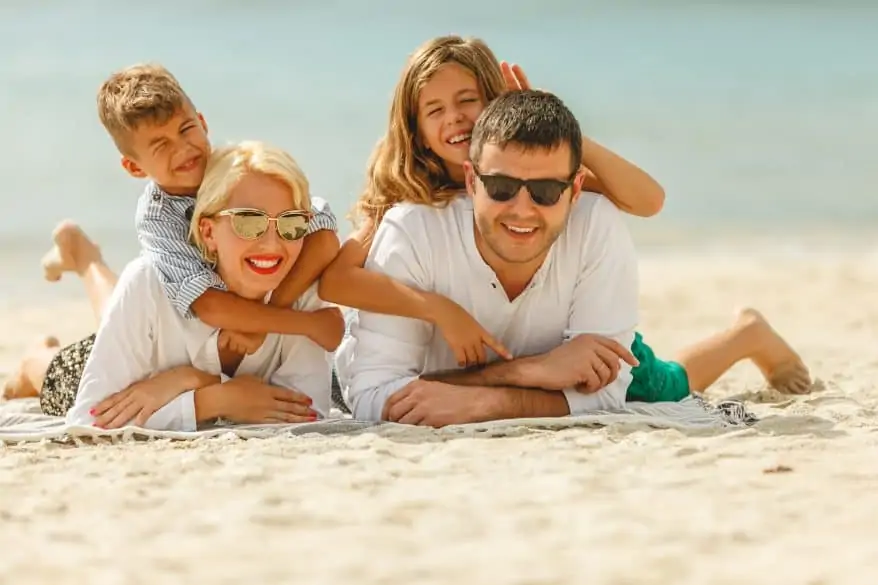 4. Pick a Fun Location
Picking a fun location is a great way to create memorable DIY family photos. If there is a photogenic location that is also special to your family in some way that might be the perfect place for your family pictures.
Maybe a favorite vacation spot, a favorite stretch of beach or just a local park where you have lots of fun memories.
You can even take photos on the spur of the moment as long as you keep your camera handy. Or even drive around looking for spots that appeal to you to get pictures with different outdoor backgrounds.
5. Re-Create a Favorite Photo
You've probably seen humorous pictures online where adult siblings have recreated childhood family photos to everyone's amusement. If you want to get creative with your DIY family photos, take some inspiration from those photos.
Is there a favorite family photo from the past you want to recreate so you can compare how things have changed?
Or a famous photo from history that your family might want to recreate for laughs? There are so many ways to make this idea work.
Sure, you may want some formal family photos. But your family might really get into the spirit of your DIY photo shoot if you make it fun too.
6. Choose a Unique Perspective
A great way to get creative with DIY family photos is to try taking photos with different angles and perspectives than the expected straight on facing front family photo.
Experiment with having the camera above your family looking down at you. Or below you looking up. Maybe everyone is turning their body away from the camera but looking back towards it.
All of these things can make your family photos stand out and show off your family's unique personality.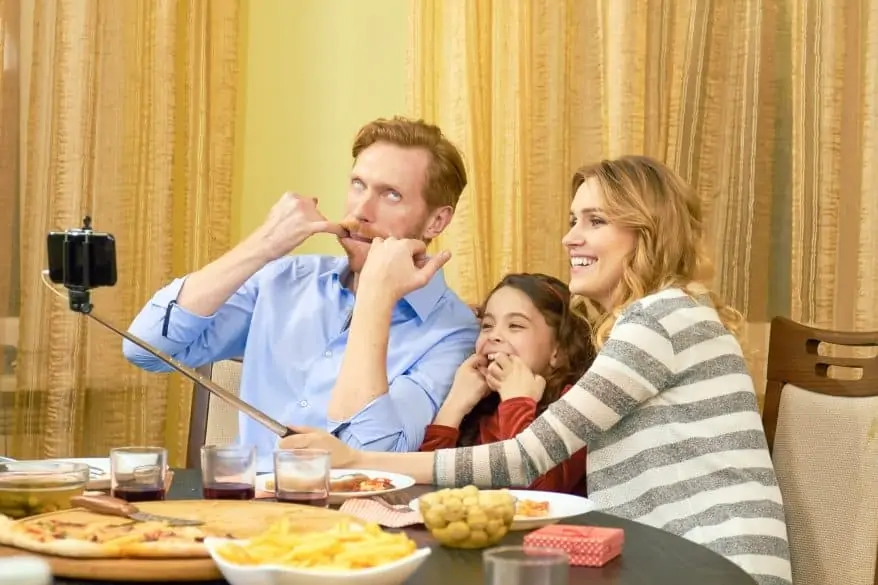 7. Make it a Goofy Family Photo
Maybe your family is all about humor and laughs. And the thought of lining everyone up for a formal family photograph is not appealing. That is perfectly ok! Your family photos should reflect who you are.
Have some fun with your family photo! Maybe everyone is wearing a shirt representing their favorite superhero. Or their Halloween costume. Or you all dress up as the characters to a favorite TV show.
Maybe you have your kids pretend to run away from the photographer and mom and dad are chasing them for a funny action shot.
These are DIY family photos so have fun with them.
8. Use Action Shots
If you want informal photos but not necessarily humorous ones consider including some action shots in your DIY family pictures. Take pictures of the family playing together, kids on the swings or everybody sitting and chatting on a picnic blanket.
Often some of the best photos of families are candid shots rather than those that have been posed. And this can make for a more relaxed time shooting pictures. Which can make things easier, especially if you have young children.
DIY Family Photos Can be Creative and Fun
DIY family photos are a great way to capture your family in a unique and special way. It's also budget-friendly and can be really fun. Get creative with your family photo shoot and let the pictures capture a memorable day for your family.