Finding a way to organize my family's electronics has become priority number one for me! Between the six of us, I don't even want to tell you how many phones, tablets, laptops, and portable gaming systems we have! Someone is always looking for a missing charger or device.
It's time to organize! If your family is anything like mine, you're probably tripping over cords and looking for lost games too. Here are some great ideas for keeping the electronics neat and easily accessible.
How to organize electronics
This post may contain affiliate links. As an Amazon Associate I earn from qualifying purchases. For more information, see our disclosure.
When it comes to electronics organization, there are many ways to do it. Let's go through a few of our favorites to give you some ideas for organizing electronics.
Use A Paper Organizer
This is a classic since there are so many different types of paper organizers out there, you are bound to find one to match your decor, and that your family likes!
Hide Them In A Bread Box
This is a genius upcycle from The Kim Six Fix! She took an old bread box, added a few holes for cords, painted it and voila: hidden phone storage.
Use a Shoe Box for Electronics Organization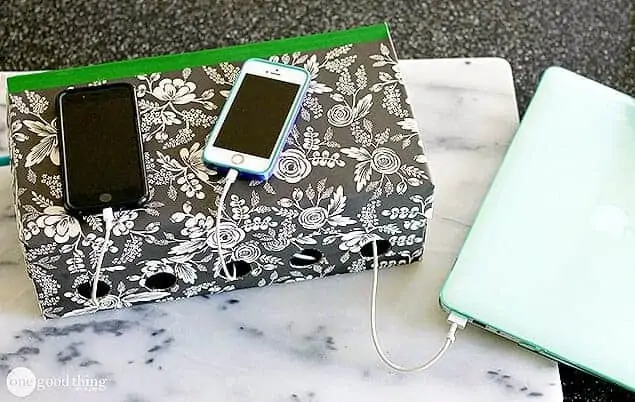 Image from One Good Thing by Jillee
Jillee at One Good Thing made this charging station using a shoe box, some pretty paper, and a power strip. This hides all the cords and chargers and keeps all the family electronics in the same area. Plus, it's an easy do-it-yourself project that doesn't require any special skills. Anyone can do it!
Build a Special Cabinet
Shirley Bovshow of Eden Makers Blog took an old cabinet and turned it into a phone booth where family and friends can stow away and charge their electronics. She gives detailed instructions in her post about how to turn an old bathroom cabinet into a super cool phone cabinet.
Use a Magazine Rack as storage for electronics
Shelly from 100 Things To Do gives a quick tutorial on how to turn a pretty magazine rack into a stylish electronics holder. Simply drill some holes in the bottom of the piece for cords then lay flat. Tablets fit perfectly and look great.
Magazine racks can be one of the most fun things to use for storage for electronics, since there are so many different styles out there.
Re-purpose An Old Buffet or Dresser for Electronics Organizations
April at Love Our Real Life had a genius idea of turning an old dresser into an electronics charging cabinet. This cabinet looks great and keeps the electronics hidden and organized. It's a great solution for large families and those with lots of phones, tablets, and other devices!
Use A Basket to Organize Electronics
A simple basket near a power source may be the simplest solution for keeping all your electronics in one place. There are so many options, but I especially love this basket hanging from a towel bar. It keeps the devices up off the floor and off the counters.
Before choosing one of these options for your family's charging station, take some time to determine how much space you'll need to store your family's electronics, your budget, and your comfort level with do-it-yourself projects. Then choose one of these, or get creative and come up with your own solution that's perfect for your home and your family's needs.