Every furry four legged K9 friend loves a good dog biscuit. If you want to be sure yours are good for your dog and inexpensive then try these DIY dog biscuits.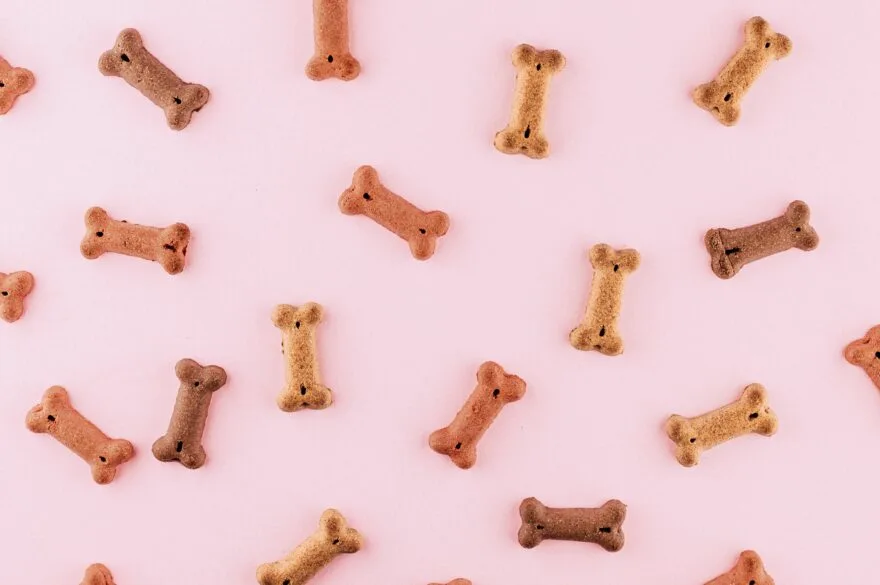 Homemade Dog Biscuits
Is it just me or have dog biscuits/treats gone up in price along with everything else? I have discovered a few DIY dog biscuit recipes that will help with your budget and have your dog barking for more.
Peanut Butter and Banana "Barkies"
This post may contain affiliate links. As an Amazon Associate I earn from qualifying purchases. For more information, see our disclosure.
I was inspired to try making my own dog treats because my 9 year old wanted to throw a birthday party for our dog, Ferb. Every party needs party favors and so we went in search of a good dog treat recipe.
The first recipe I tried I found on epicuricloud. One thing I love about this recipe is that it only takes 4 ingredients.
Oats(1 3/4 c.), banana (1/2), egg (1) and peanut butter 1/4 c.).
Steps to Make Peanut Butter and Banana "Barkies"
Begin by grounding up 1 1/2 c. of the oats in a food processor until it becomes the consistency of flour. Then put the oat flour into a bowl and set aside.
Next, add the half banana (cut into chunks) the egg and the peanut butter to the food processor. Blend it all together.
Pour the banana, egg and peanut butter mixture into the bowl with the oat flour. Then, add in the remaining oats and combine it all by stirring.
Take a scoop of dough and roll it into a ball. Place the ball on a cookie sheet. To get the real peanut butter cookie feel you can use a fork to make the criss cross marks on the ball of dough. Flattening out the ball as you do so.
Finally, put the cookie sheet of dog biscuits into the oven at 350 degrees for 15 min.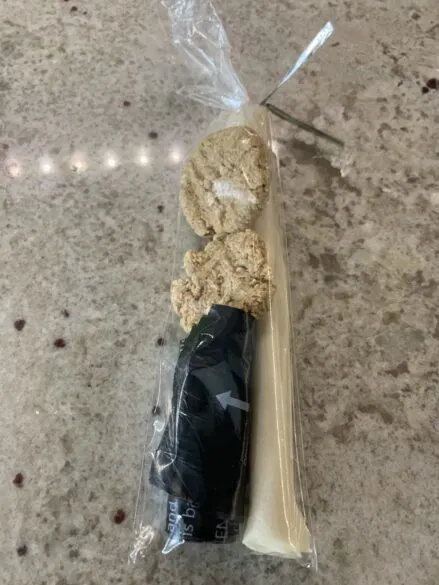 These DIY dog biscuits were a HUGE hit at the dog party. We put them in a bag with some doggy poop bags and a rawhide bone for each guest.
We had leftover treats that we stored in an airtight bag on the counter. They could also easily be frozen to preserve them for even longer. Although, you may want to take them out and allow them to thaw before you give them to your pup.
No Bake Dog Treats
These dog treats sound amazing. Especially because my oven is out of commission right now so no bake is the only way to go! I found this gem of a recipe on 17apart.com. I love that it takes 3 ingredients and they are things that are safe and good for your dog to have in a biscuit.
Steps to Making No Bake Dog Treats
The DIY recipe uses 1 1/2 c. oats, 1/2 c. natural peanut butter and 1 c. softened sweet potatoes. To soften sweet potatoes we often poke them with a fork a few times and toss them into the microwave for a few minutes. Remove the skin and mash them up a bit before adding them to the recipe.
We get right to it by combining all three ingredients into a bowl. You can use your stand mixer, your hand mixer or a spoon to combine everything together. Be sure to get all the ingredients mixed together well.
To shape this dog biscuit you can use a mold if you have one (see below in the article for mold ideas). You could also shape these biscuits by hand. Depending on your use for them you may want to shape them large or small.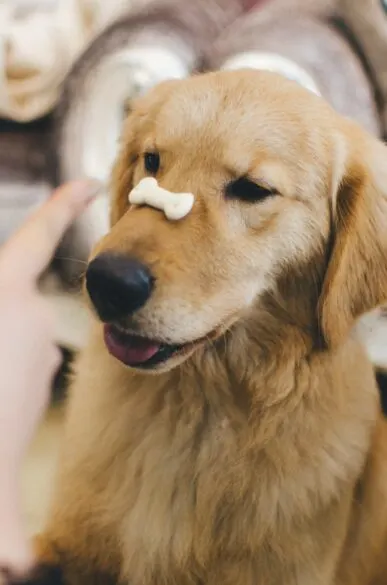 I like to have a bowl of dog biscuits close by so that anytime I catch my dog being good I can quickly reward him since he is still learning. Therefore, rolling these dog biscuits into smaller balls might work best when using them as training treats.
Since there is no baking involved with these dog biscuits you can let them chill in the fridge or freezer for a half hour or so until they are all firmed up. Then store them in the fridge so they stay nice and fresh for your furry friend.
When you give your dog this sweet treat you made for them you may want to give it to them right out of the fridge or let it warm up a bit first. It all depends on your dogs preference and how you think they would most enjoy this biscuit.
DIY Dog Biscuit Tools
To make your biscuit making even easier there are some tools you can invest in. Like this set of dog cookie cutters. Not only would they be great when baking your dog biscuits but they could also be used to cut out other dog friendly foods.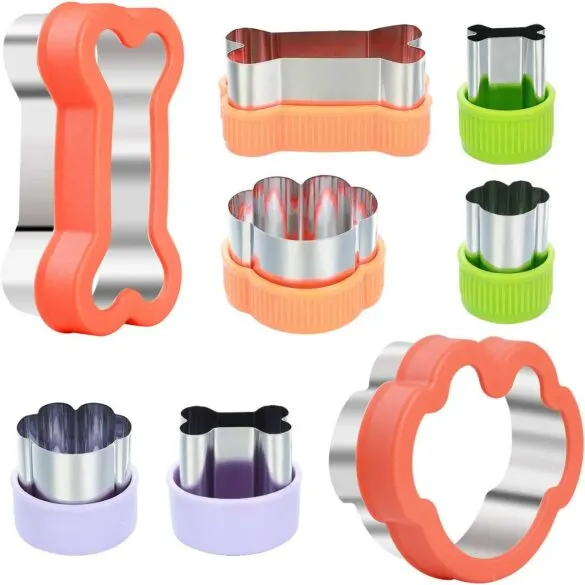 I prefer my dog biscuits to be smaller sized. It makes them perfect for training treats where you may be giving your dog a lot of them in a small amount of time as they learn something new and need to be rewarded frequently.
This silicone mold would be a great thing to use when baking your dog biscuits. You can get the fun bone shape and keep the size smaller. Of course if you are interested in bigger dog biscuits there is a silicone mold for that too.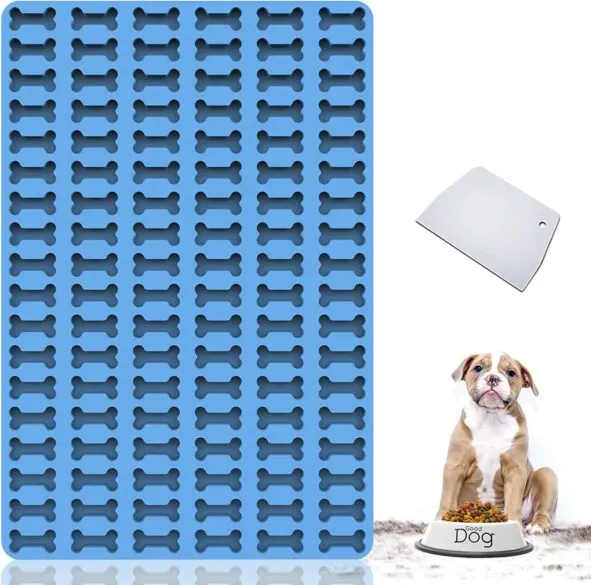 Last but not least is the Dog Treat Maker. This maker also comes with recipes to try out. It feels like something you should pull out on Saturday morning when the rest of the family has the waffle maker out.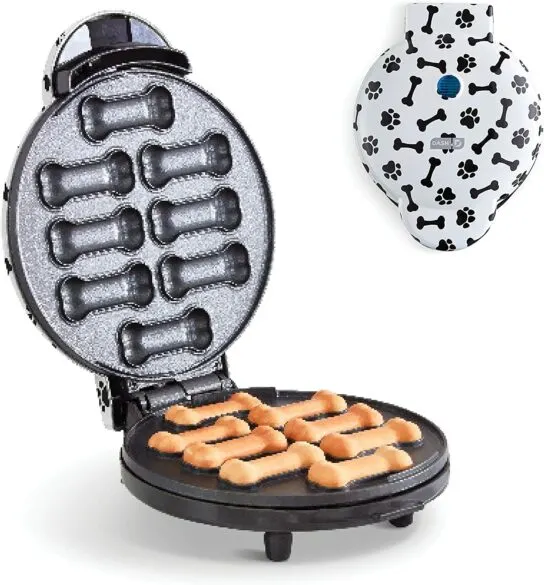 DIY dog biscuits are easy to make. Most recipes take less than 4 ingredients. Plus, making your own dog biscuits also allows you to control the size of the biscuits you give to your dog. You don't even have to have an oven to make you own dog treats. So get to work! Your dog will thank you for it.