The decision to homeschool your child was probably nerve recking and something that kept you awake many nights. However, the main concern is typically on the validity and weight of the homeschooler's proof of graduation and how it will impact their future studies and work opportunities. After all, you want what is best for your child, and any short-term benefits should have positive long-term effects. So, is it better for homeschoolers to get a Diploma or GED?
Although many colleges accept GED certificates with college-ready results, homeschoolers qualify for a diploma. Therefore, they do not need to write the GED exam. However, they will have to keep their schooling records, like transcripts and tests, as proof for college applications when required.
This post may contain affiliate links. As an Amazon Associate I earn from qualifying purchases. For more information, see our disclosure.
As a homeschool parent, you reached the final stretch of the marathon. Your child is completing the curriculum, and planning the future dominates the dinner table discussions. However, you have one remaining task – do you award a homeschool diploma or encourage a GED instead? But firstly, do homeschoolers get a diploma or GED, and which is best?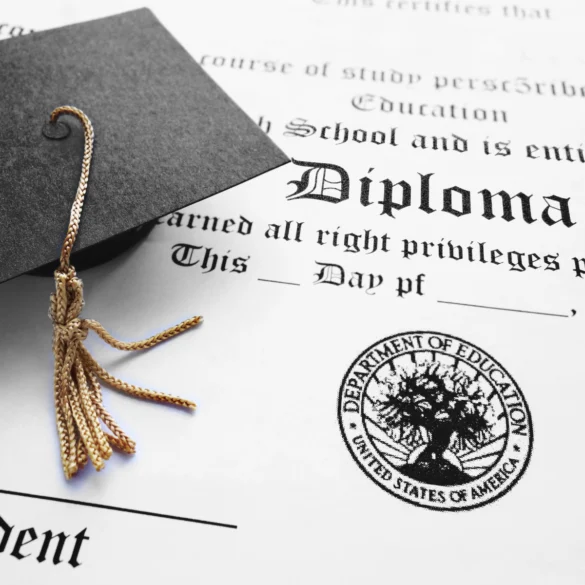 A Diploma or GED Certificate For My Homeschool Child
There is little difference between homeschoolers and other school graduations. Both take and complete the required high school courses per their state laws and requirements. Parents are the substitute educational institute for all schooling activities for homeschoolers. It includes the issuing of a final graduation diploma for the student. So, is there a difference between a diploma and a GED certificate?
The High School Diploma And GED Certificate Differ
A high school diploma differs from the General Education Development Certificate (GED). The High School Diploma is awarded to students attending and completing high school. It is a typical four-year period, from the 9th to the 12th grade. Therefore, it symbolizes the accomplishment of an academic pursuit over time. The same is true for a homeschool diploma.
A GED is often seen as an informal and unstructured high school graduation option to eliminate school attendance and record keeping. The GED certificate is equivalent to a grade 12 education with only an ability assessment. However, it is still of a high standard as the latest computer-based exam is challenging and allows graduates to enter colleges and the employment market with great success.
Do Homeschoolers Get A Diploma?
Once you successfully complete the homeschool courses, your parent or homeschool educator will provide you with a diploma. However, you must keep records of all transcripts, tests, and projects as proof of completion. The homeschool diploma is regarded on the same level as any high school diploma. Therefore, the only difference is that you attended home schooling.
Do Homeschoolers Get A GED Certificate?
No, the homeschooler will receive a diploma like traditional high school graduates. The GED exam is a separate exam that is optional for any person to test their abilities on a grade 12 level. There may be advantages and disadvantages for a homeschooled student to opt for the GED certificate, but we will touch on that later.
Do Homeschoolers Need A Diploma?
As with any prospective college student, you must apply to get accepted into any college. Therefore, your homeschool diploma will be required and carry the same weight as the regular high school diploma. In addition, when applying for a job, the labor market may also request your high school qualification. So, again, the certification is your proof of completion.
Do Homeschoolers Need A GED Certificate?
You are entitled to a diploma when you complete your homeschool curriculum successfully. That is all you need to embark on any plans you may have for your future. Therefore, homeschooled students do not need a GED to get into college or apply for a position in the labor market. In addition, nothing stops you from completing the GED exam, but what will you gain by doing that? We will discuss that later.
The Pros And Cons Of A High School Diploma
As the high school diploma is the highest level you can attain before stepping into the life of adulthood, it has no disadvantages. High school completion equates to years of dedication to learning and growing into a rounded and educated individual. That must count for some points.
However, for homeschool diplomas, ensure you have a record of your successes, like transcripts, test results, and projects. Remember, the certification is just a piece of paper that may be meaningless without proof. In addition, some colleges will require various supporting documentation from homeschoolers instead of only the diploma.
Also, many homeschool educators will keep your records for availability on request. However, the parent educator must ensure they have a system that subscribes to record-keeping methodologies. This additional education information is most important during the application process. So, ensure you have it ready when required.
Therefore, if you must look for homeschool diploma cons, it will be a diploma without the required backing. Lastly, the diploma will be the official secondary education completion document to accompany your application to employers, businesses, or colleges.
The Pros And Cons Of A GED Certificate
Having a GED is much better than not having any secondary school qualification. Many would consider the GED certificate the best alternative to a high school diploma. In fact, it is the only alternative as proof of your grade 12 abilities. In addition, when you hold a GED, you can apply to college or employment on the same level as your diploma participants.
Remember, you should attain College-Ready scores to increase your college application chances. It also means you could be exempt from additional remedial coursework before being accepted. A GED certificate symbolizes somebody who can think for themselves and are street smart on a grade 12 ability level. That is good enough for most colleges and employers.
However, it will take time to rid GED of the high-school dropout connotation as some still rate it as a replacement for failing to graduate high school. Nevertheless, there is light at the end of the tunnel. The new computer-based exams, coupled with the college-ready scores, are challenging to conquer; therefore, it substantially increased the value and respect of a GED certificate.
When Should Homeschoolers Get A GED Certificate?
We have established that a homeschooled high school graduate automatically qualifies for a diploma without obtaining the GED. However, in some circumstances, it may be beneficial to additionally write the exam as a supplement to your diploma.
Firstly, when your homeschooling records lack substance and content or do not conform to the accepted standards, it may negatively impact your college application. A GED qualification with College-Ready marks can only be a benefit. However, it would be best if you attempted to never get to such a situation, as all the hard work over the years would be partially for nothing.
However, check the HSLDA website to see the requirement in your state, as the issuing of high school diploma laws may vary between states. Lastly, the homeschooled population is growing. More than two-thirds of homeschoolers graduate from college while being accepted with their homeschool diploma qualification.
Conclusion
Homeschoolers get a diploma issued by their homeschool institution or parent educators indicating the successful completion of their secondary school education. However, it is essential to record all the work, like transcripts and tests, as it may be required with study or work applications. Failure to do so may result in college application rejections and writing the GED exam as a supplement.